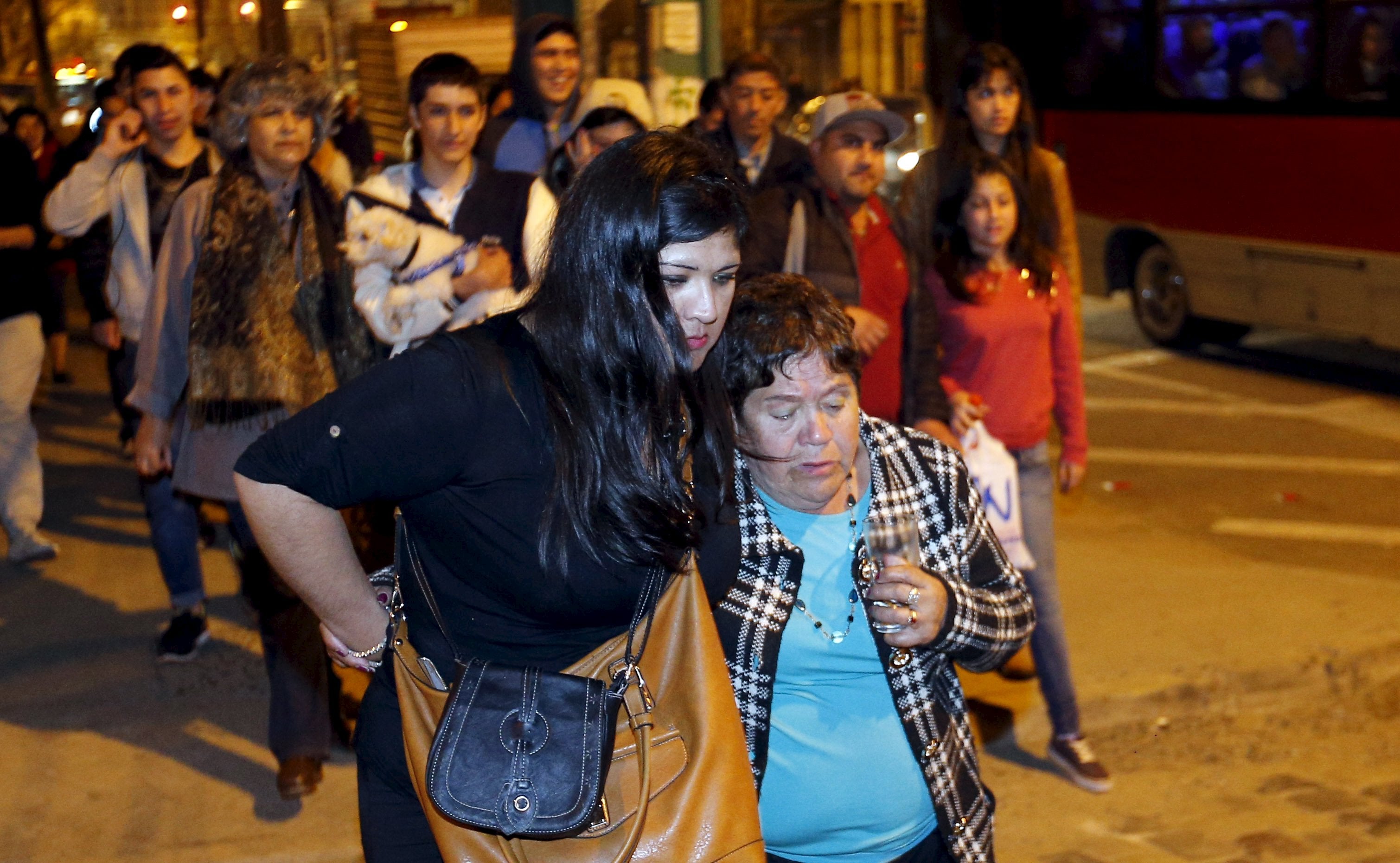 Chile rocked by deadly 8.3 magnitude earthquake
SANTIAGO, Chile -- A powerful magnitude-8.3 earthquake hit off Chile's northern coast Wednesday night, causing buildings to sway in Santiago and bringing flooding from small tsunami waves in some shore towns.
Officials reported five deaths, and roughly a million people fled their homes.
There were no reports of serious damage hours after the quake, but officials were still checking the region late into the night.
Authorities had issued a tsunami alert for Chile's entire Pacific coast, and the tremor was so strong that people on the other side of the continent, in Buenos Aires, Argentina, reported feeling it.
Operations were suspended at two major copper mines.
Numerous strong aftershocks, including one measuring 7.0 magnitude and three above 6, rattled the region after the first major tremor since a powerful quake and tsunami killed hundreds in 2010 and leveled part of the city of Concepcion in south-central Chile.
"Once again we must confront a powerful blow from nature," President Michelle Bachelet said, addressing the nation late Wednesday.
Bachelet urged people who had been evacuated from coastal areas to stay on high ground until authorities could fully evaluate the situation early Thursday.
Late Wednesday, authorities lifted the tsunami warning for Chile's far southern regions. The warnings remained in effect everywhere else, and authorities said school classes would be canceled in most of the country Thursday.
The Pacific Tsunami Warning Center initially issued a tsunami watch for Hawaii, but later downgraded its advisory and said no major tsunami was expected.
"Based on all available data, a major tsunami is not expected to strike the state of Hawaii," the Pacific Tsunami Warning Center said in a statement late Wednesday, according to CBS affiliate KGMB. "However, sea level changes and strong currents may occur along all coasts that could be a hazard to swimmers and boaters as well as to persons near the shore at beaches and in harbors and marinas. The threat may continue for several hours after the initial wave arrival."
Tsunami advisories, less urgent than watches or warnings, were also issued for California and New Zealand.
CBS Los Angeles reported the advisory went into effect at 6:45 p.m. local time for coastal areas from San Onofre State Beach to Ragged Point, according to the National Tsunami Warning Center.
Estimated tsunami start times would begin Thursday morning as early as 4:46 a.m. for Newport Beach; 4:47 a.m. for the Los Angeles harbor; and 5:06 a.m. for Santa Barbara.
NOAA said, "Widespread inundation of land is not expected for advisory areas." The maximum wave height was expected to be less than a foot.
Jorge Medina, a Santiago resident, said he was in an aerobics class when the quake hit.
"People started screaming that everything was shaking," he said.
Officials ordered people to evacuate low-lying areas along the 2,400 miles of Chile's Pacific shore, from Puerto Aysen in the south to Arica in the north. Fishing boats headed out to sea and cars streamed inland carrying people to higher ground. Santiago's main airport was evacuated as a precaution and authorities announced classes would be suspended in the port city of Valparaiso on Thursday.
Chile state TV showed water flowing in streets of Concon, a coastal town known for its beautiful beaches that is close to Valparaiso. Higher water was also seen in other cities but no destructive high waves had been reported.
Authorities said some adobe houses collapsed in the inland city of Illapel, about 175 miles north of Santiago. Illapel is about 34 miles east of the quake's epicenter.
Illapel's mayor, Denis Cortes, told a local television station that a woman had been killed in the city but declined to give any details.
Electricity was knocked out, leaving the city in darkness. "We are very scared. Our city panicked," Cortes said.
The U.S. Geological Survey initially reported the quake at a preliminary magnitude of 7.9 but quickly revised the reading upward to 8.3. Chilean authorities put the magnitude at 8.4.
U.S. officials said the quake struck just offshore in the Pacific at 7:54 p.m. (6:54 p.m. EDT, 1154 GMT) and was centered about 141 miles north-northwest of Santiago. It said the quake was 7.4 miles below the surface.
"The first one was long and frightening and the aftershocks are still coming," Santiago resident Timothy Luader told CBS News.
Luader said he was home alone with his newborn son when the quake hit, but that the baby "slept through the whole thing."
"When you see Chilean grabbing their go bags and jamming their doors open, you know it's serious," Luader said.
U.S. Olympic skier Travis Ganong is among the American skiers in Chile training for the World Cup ski racing season. Gangong posted video to Instagram after the quake.
A magnitude-8.8 quake and ensuing tsunami in central Chile in 2010 killed more than 500 people, destroyed 220,000 homes, and washed away docks, riverfronts and seaside resorts. That quake released so much energy, it actually it shortened the Earth's day by a fraction of a second by changing the planet's rotation.
The quake had huge ramifications, both political and practical, prompting the Andean nation to improve its alert systems for both quakes and tsunamis.
Chile is one of the world's most earthquake-prone countries because just off the coast, the Nazca tectonic plate plunges beneath the South American plate, pushing the towering Andes cordillera to ever-higher altitudes.
The strongest earthquake ever recorded on Earth happened in Chile -- a magnitude-9.5 tremor in 1960 that killed more than 5,000 people..
Thanks for reading CBS NEWS.
Create your free account or log in
for more features.