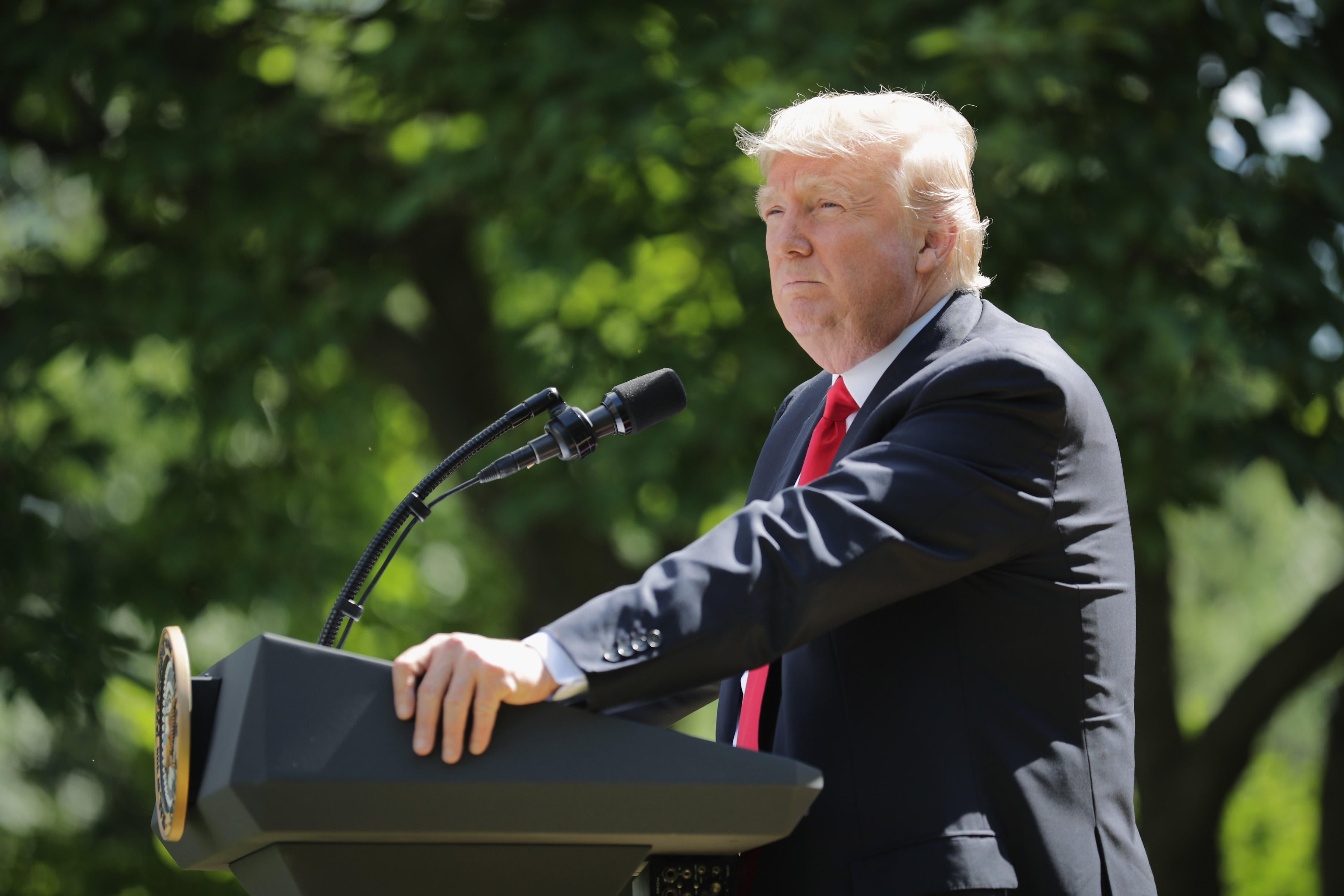 Trump supporters, opponents react to Paris climate agreement pullout
President Trump followed through on his campaign promise to withdraw from the Paris climate accord by formally announcing the U.S. intention to pull out of the agreement, saying the move would help American workers and the economy.
"The Paris climate accord is simply the latest example of Washington entering an agreement that disadvantages the U.S. leaving American workers, who I love, and tax payers to absorb the cost in terms of lost jobs and lower wages and vastly diminished economic reduction," Mr. Trump said.
Following Mr. Trump's announcement , reaction from both supporters applauding Mr. Trump's move, as well as those who disagree with the pull out, was swift across the political spectrum.
Former President Barack Obama:
"The nations that remain in the Paris Agreement will be the nations that reap the benefits in jobs and industries created. I believe the United States of America should be at the front of the pack. But even in the absence of American leadership; even as this Administration joins a small handful of nations that reject the future; I'm confident that our states, cities, and businesses will step up and do even more to lead the way, and help protect for future generations the one planet we've got."
Former Vice President and environmental activist Al Gore:
"Removing the United States from the Paris Agreement is a reckless and indefensible action. It undermines America's standing in the world and threatens to damage humanity's ability to solve the climate crisis in time. But make no mistake: if President Trump won't lead, the American people will. President Trump's decision is profoundly in conflict with what the majority of Americans want from our president; but no matter what he does, we will ensure that our inevitable transition to a clean energy economy continues."
Rep. Paul Ryan, R-Wisconsin:
"The Paris climate agreement was simply a raw deal for America. Signed by President Obama without Senate ratification, it would have driven up the cost of energy, hitting middle-class and low-income Americans the hardest. In order to unleash the power of the American economy, our government must encourage production of American energy. I commend President Trump for fulfilling his commitment to the American people and withdrawing from this bad deal."
Sen. Mitch McConnell, R-Kentucky:
"I applaud President Trump and his administration for dealing yet another significant blow to the Obama Administration's assault on domestic energy production and jobs. President Obama made commitments in this deal based off a costly power plan that we knew at the time was on shaky legal ground. By withdrawing from this unattainable mandate, President Trump has reiterated his commitment to protecting middle class families across the country and workers throughout coal country from higher energy prices and potential job loss."
Sen Chuck Schumer, D-New York:
"President Trump's decision to withdraw from the Paris Climate Agreement is a devastating failure of historic proportions. Future generations will look back on President Trump's decision as one of the worst policy moves made in the 21st century because of the huge damage to our economy, our environment and our geopolitical standing. Pulling out of the Paris agreement doesn't put America first, it puts America last in recognizing science, in being a world leader and protecting our own shore line, our economy and our planet. It's now crystal clear President Trump is comfortable both ceding the moral high ground and the economic upper hand to countries like China, and endangering the future of our planet."
Rep. Nancy Pelosi, D-California:
"By walking away from this pact, President Trump is abandoning America's leadership position in the fight against the climate crisis and is sending a strong message to the rest of the world to create, design and manufacture clean energy solutions and create jobs elsewhere. If President Trump wants nations like China and India to take stronger and swifter action on climate, then he should do so through the accountability and enforcement provisions in the Paris Agreement, not by breaking our word and storming out of the room."
Sen. Joe Manchin, D-West Virginia:
Sen. Susan Collins, R-Maine:
Elon Musk, Tesla, SpaceX CEO:
Jeff Immelt, General Electric CEO:
Sen. Bernie Sanders, I-Vermont:
Rick Perry, Department of Energy Secretary:
"Today the President announced that the United States will no longer be bound by an agreement unilaterally entered into by the Obama Administration. This was neither submitted to nor ratified by the U.S. Senate, and is not in the best long term economic interest of the United States. President Trump's decision will prove to be the right course of action and one I fully support.
Sen. Lindsey Graham, R-South Carolina:
Mayor Bill Peduto, D-Philadelphia:
Mayor Marty Walsh, D-Boston:
"Withdrawing the U.S. from the Paris climate agreement isn't just a setback, it's irresponsible. This damages our nation's reputation as an international leader and puts future generations at risk to the threat of climate change. Boston will not standby given what's at stake. As Mayor, I will continue to work with U.S. Mayors and cities around the world to uphold the tenets of the Paris climate agreement and protect Boston against the very real impacts of climate change."
Nikki Haley, US Ambassador to the United Nations:
"As a Governor, I always worked to balance economic growth and environmental protection. We can, and we must do both. President Trump acted in America's best interest, moving away from a flawed agreement that placed too heavy a burden on American jobs, and opening the door to a new agreement that reaches the right balance. America will remain a leader in environmental protection. But we will not jeopardize our economy in order to please other counties that don't come anywhere near our environmental standards."
Stéphane Dujarric, Spokesman for the UN Secretary-General:
"The decision by the United States to withdraw from the Paris Agreement on climate change is a major disappointment for global efforts to reduce greenhouse gas emissions and promote global security. The Secretary-General remains confident that cities, states and businesses within the United States -- along with other countries -- will continue to demonstrate vision and leadership by working for the low-carbon, resilient economic growth that will create quality jobs and markets for 21st century prosperity. It is crucial that the United States remains a leader on environmental issues."
Thanks for reading CBS NEWS.
Create your free account or log in
for more features.