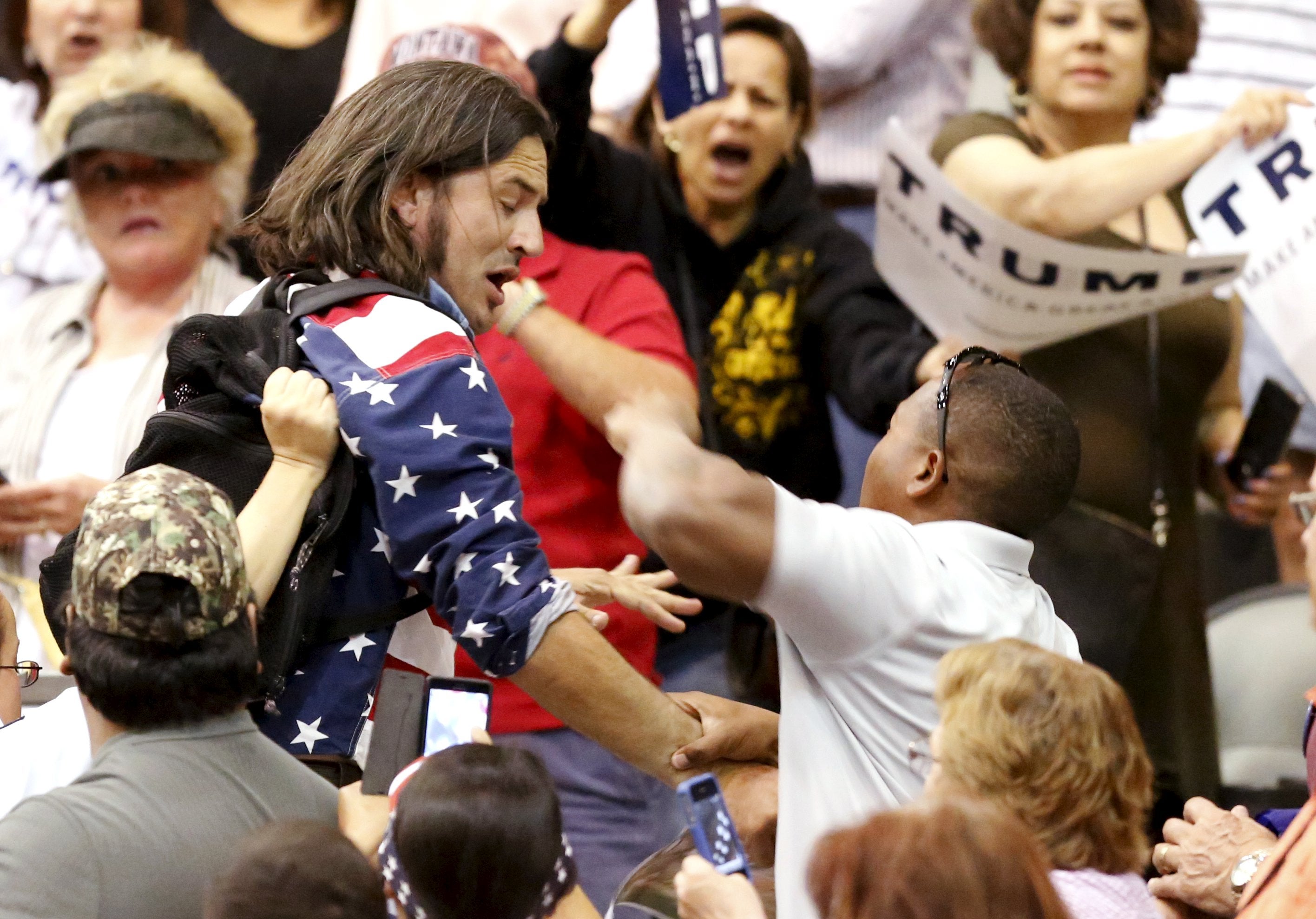 Trump supporter in rally assault is active duty Air Force
TUCSON, Ariz. - A man captured on video sucker-punching and stomping on an anti-Donald Trump protester at the presidential candidate's rally in Tucson on Saturday is a member of the Air Force.
Staff Sgt. Tony Pettway, a response force leader, is assigned to the Davis-Monthan Air Force Base in Tucson and was arrested on Saturday on a misdemeanor charge of assault with injury. He works in security forces.
Pettway was one of several people arrested at two Trump rallies in Arizona this weekend.
Pettway's attack was captured on multiple videos, showing him ripping the sign out of the hand of a protester being escorted away from him and then punching the man. After the victim is on the ground, Pettway then repeatedly kicks him.
CBS affiliate KOLD in Tucson reports the victim's name is Bryan Sanders.
"I was being escorted out of the building, I had that in my right hand a peace sign up," Sanders said. "A guy grabbed the sign out of my right hand and sucker punched me. Then he go to top of me and hit me several more times."
Amateur video from earlier in the rally appears to show Sanders accompanying a woman who was wearing a hood in the style of the Ku Klux Klan, as she makes what appears to be a Nazi-style salute. It appears the sign Sanders was carrying was a picture of Trump with the Confederate flag superimposed on top.
People can be heard cheering as Trump talks about the scene.
"There's a disgusting guy. Puts a Ku Klux Klan hat on. Thinks he's cute. He's a disgusting guy," Trump said. "I'm going to tell you folks, that's a disgrace. They are taking away our First Amendment rights."
In a statement to KOLD, Capt. Casey Osborne, 55th Fighter Wing Chief of Public Affairs, said: "We are reviewing the situation, fully cooperating with local authorities, and will take appropriate action. All DOD members are authorized to participate in the political process in their personal capacity without implying any endorsement from the DOD. We believe wholeheartedly in our fellow Americans' rights to express their views on political issues, and we strongly condemn any attempt to silence those views through force or violence."
Pettway was released without being booked into jail. It is unclear if he has an attorney.
Pettway, 32, began active duty in the Air Force in August 2002 and completed his basic training at Lackland Air Force Base in Texas, Air Force Personnel Center spokesman Mike Dickerson said. He was stationed in South Korea twice and in New Mexico before moving to Davis-Monthan in December 2012. Dickerson said Pettway has received a commendation medal on three occasions but didn't know what they were for.
Tucson police also arrested 67-year-old Linda Rothman on a misdemeanor count of assault without injury. They haven't said why she was arrested.
Authorities in Phoenix, where Trump held a rally earlier in the day, also arrested several protesters. Maricopa County Sheriff's deputies identified three protesters who were arrested while helping block the only major highway leading to a Trump rally in metropolitan Phoenix.
Steffany Laughlin, Jacinta Gonzalez and Michael Cassidy were all booked on one count of obstructing a public thoroughfare, deputies said.
The incident with Pettway was similar to an earlier Trump rally assault in Fayetville, North Carolina, when Trump supporter John Franklin McGraw, 78, sucker-punched a protester being escorted out.
McGraw has been charged with assault and disorderly conduct.
Trump has been dismissive of the many who criticize him for inciting violence against protesters at his rallies. He has instead blamed the violence on "thugs" and "professional protesters." He also blamed Democratic presidential candidate Bernie Sanders and threatened to set his supporters on the Vermont senator's rallies.
Thanks for reading CBS NEWS.
Create your free account or log in
for more features.