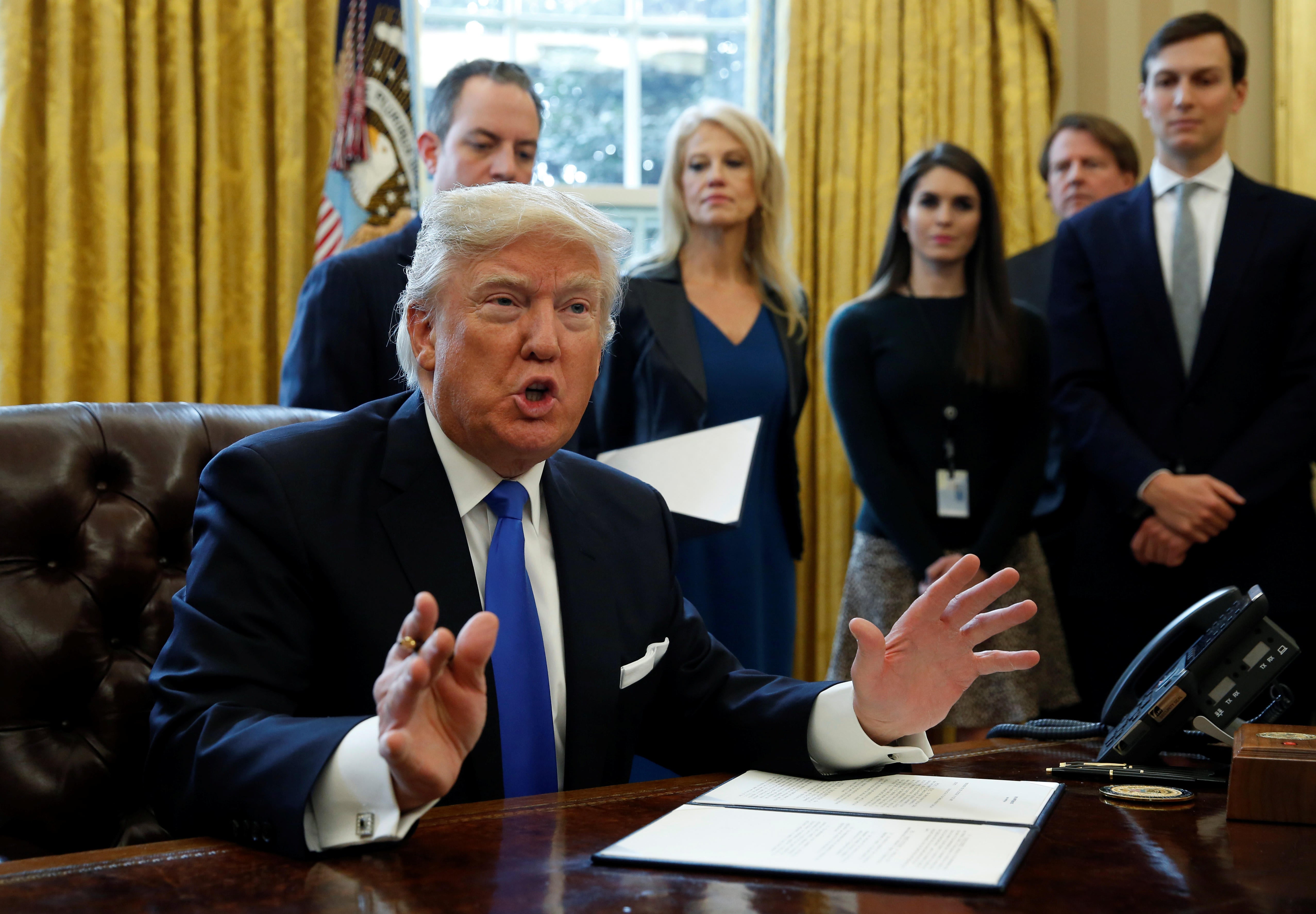 Trump signs executive actions advancing Dakota Access and Keystone XL pipelines
Donald Trump signed executive orders Tuesday, including two that would advance the Keystone XL and Dakota Access pipelines, a pair of projects that were blocked by the Obama administration due in part to environmental concerns.
As he signed the memo, the president said of the Keystone XL pipeline that it was "something's that's been in dispute," and he suggested that the pipeline construction would create 28,000 jobs.
Republicans and some union groups who backed the projects have long sought administration's green light.
Former President Obama stopped the proposed Keystone XL pipeline in late 2015, declaring it would have undercut U.S. efforts to clinch a global climate change deal that was a centerpiece of his environmental legacy. The pipeline would run from Canada to U.S. refineries in the Gulf Coast. The U.S. government needed to approve the pipeline because it crossed the border.
Separately, late last year, the Army Corps of Engineers declined to allow construction of the Dakota Access pipeline under Lake Oahe, saying alternative routes needed to be considered. The Standing Rock Sioux tribe and its supporters say the project threatens drinking water and Native American sites, though Energy Transfer Partners, the company that wants to build the pipeline, disputes that and says the pipeline will be safe.
The pipeline is to carry North Dakota oil through South Dakota and Iowa to a shipping point in Illinois.
Mr. Trump also signed an executive action that would loosen regulations. Regulatory process in this country "has become a tangled up mess," Mr. Trump opined. The directive would expedite environmental reviews for high-priority infrastructure projects.
Mr. Trump has moved swiftly this week to make good on some of his core campaign pledges he says are aimed at creating jobs and growing the economy. On Monday, he signed a memorandum withdrawing the U.S. from the Trans-Pacific Partnership trade pact, a proposed accord with 11 Pacific Rim countries and another of Obama's prized accomplishments.
"Great thing for the American worker what we just did," Mr. Trump said as he signed the order in the Oval Office.
In addition to his executive action on TPP, Mr. Trump signed memorandums freezing most federal government hiring - though he noted an exception for the military - and reinstating a ban on providing federal money to international groups that perform abortions or provide information on the option. The regulation, known as the "Mexico City Policy," has been a political volleyball, instituted by Republican administrations and rescinded by Democratic ones since 1984.
The actions were among the long list of steps candidate Trump pledged to take on his opening day as president. But other "Day One" promises were going unfulfilled, including plans to propose a constitutional amendment imposing term limits on members of Congress and terminating Obama's executive actions deferring deportations for some people living in the U.S. illegally.
On Tuesday, the president summoned the heads of the big three American automakers, General Motors, Ford Motor Co. and Fiat Chrysler, for a breakfast meeting at the White House. He pledged to scrap regulations and reduce taxes on corporations that keep jobs in the U.S., though he did not specify his plans for either.
His administration, he said, will "go down as one of the most friendly countries" for business.
Mr. Trump's actions signal a reset after a tumultuous weekend dominated by his and his spokesman's false statements about inauguration crowds and their vigorous complaints about media coverage of the celebrations. While his advisers have long accepted his tendency to become fixated on seemingly insignificant issues, some privately concede that his focus on inauguration crowds was unhelpful on the opening weekend of his presidency.
On Monday, President Trump signed three executive memos -- one withdraws the U.S. from the Trans Pacific Partnership (TPP) trade deal, another reinstates the Mexico City Policy dealing with non-governmental organizations (NGOs) and abortion access, and a third freezes federal workforce hiring.
On Friday evening, Mr. Trump signed one executive order that cancelled an FHA mortgage premium cut that helps low-income home buyers and another that waived provisions of the Affordable Care Act that impose a financial burden on states or individuals.
Thanks for reading CBS NEWS.
Create your free account or log in
for more features.