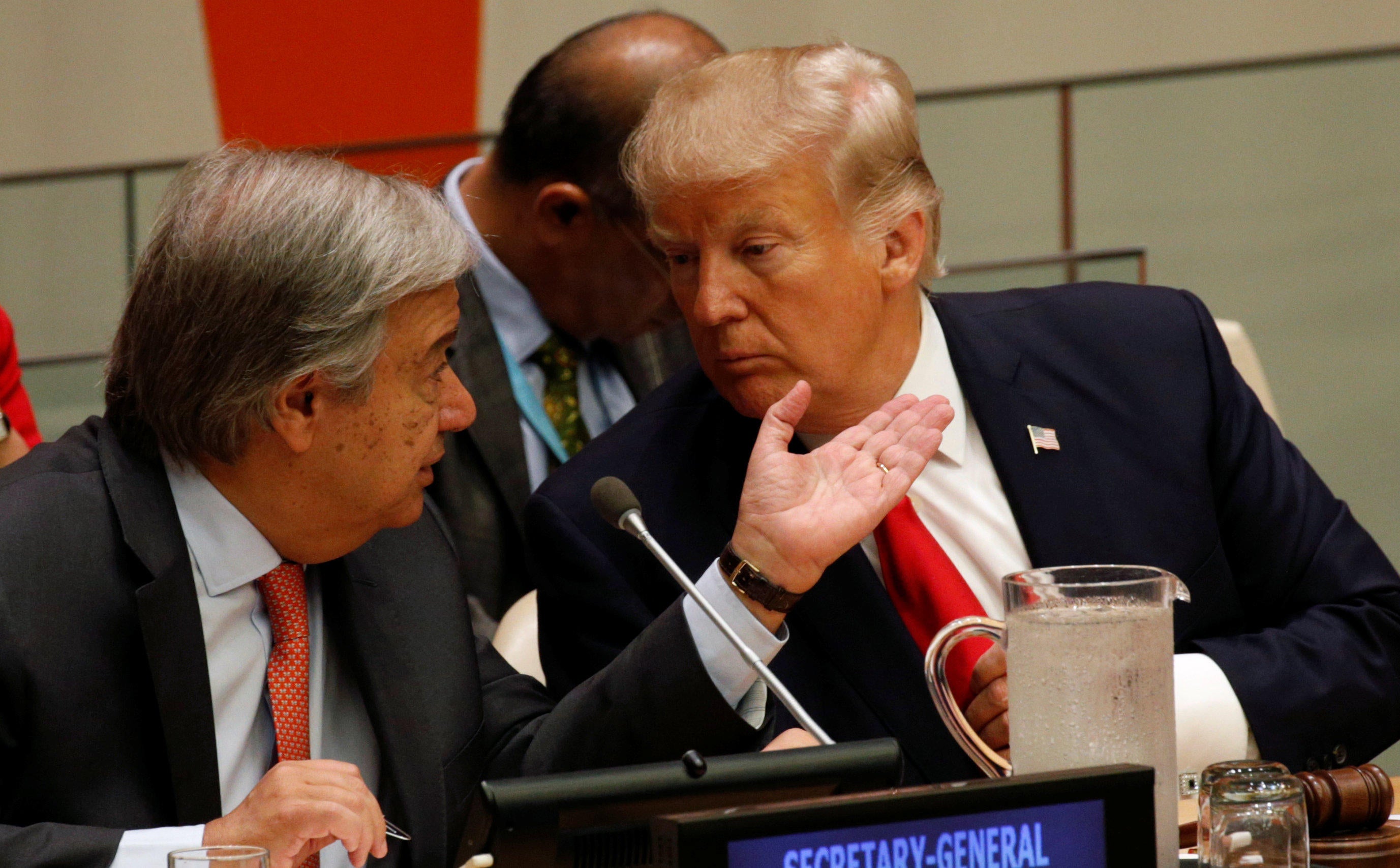 After bad-mouthing U.N., Trump seeks world body's help against N. Korea
This weekend United States bombers and fighter jets took part in a new show of force against North Korea. Military video released overnight shows warplanes dropping live bombs during the joint missions involving American, Japanese, and South Korean forces. The practice attacks followed Friday's missile test by North Korea.
Pyongyang's nuclear program is a major focus right now at the United Nations, where President Donald Trump starts a weeklong series of meetings this morning.
He will speak to the General Assembly for the first time tomorrow.
Mr. Trump campaigned on the slogan "America first." In March 2016 he spoke against the U.N., saying, "The United Nations is not a friend of democracy. It's not a friend to freedom."
As president he has frequently made clear he's willing to go at it alone if other nations won't follow America's lead.
But now, as CBS News correspondent Chip Reid reports, with numerous crises brewing around the world, Mr. Trump will be looking to other world leaders for help.
Ambassador Nikki Haley said military options for North Korea are on the table, and the United States will be forceful in its response. "We have pretty much exhausted all the things that we could do at the Security Council at this point," she told CNN's "State of the Union." "If the United States has to defend itself or defend its allies in any way, North Korea will be destroyed."
But on "Face the Nation" yesterday, Secretary of State Rex Tillerson said diplomacy was still the administration's preferred option. "To be clear, we seek a peaceful solution to this," he said.
Crippling economic sanctions haven't slowed down North Korea's missile tests, and the president needs continued support from the U.N. to enforce a package that cuts off 90 percent of North Korea's trade exports.
That will require Mr. Trump to persuade a group he's ridiculed as inefficient and elitist … "a club for people to get together, talk and have a good time," he tweeted in December.
But ahead of the president's speech Tuesday, Ambassador Haley claimed Mr. Trump's critical tone has already brought change.
"We can say it's a new day at the U.N.," she said. "You've got a United Nations that's action-oriented. We've passed two resolutions on North Korea just in the last month. And you also have a United Nations that is totally moving towards reform."
The president will have a chance to personally deliver his message during a meeting today with 120 other world leaders.
National security adviser H.R. McMaster told ABC News' "This Week" that the "is going to say the United Nations can't be effective unless it reforms its bureaucracy and unless it achieves a higher degree of accountability for member states."
On Sunday, the president tweeted that he spoke with the leader of South Korea about the North's threat, calling Kim Jong Un "Rocket Man." But North Korea isn't the only thorny policy issue facing Mr. Trump this week. His dismissive attitude toward cooperation agreements like the Iran nuclear deal and the Paris climate accords have been worrying America's allies for months.
Regarding the Paris agreement, U.S. officials at a climate change conference in Montreal this weekend reportedly opened the door to staying in the deal. That was immediately knocked down as false by several White House officials. But then, Secretary of State Rex Tillerson told John Dickerson on "Face the Nation" that the administration would remain in the accord "under the right conditions."
Thanks for reading CBS NEWS.
Create your free account or log in
for more features.