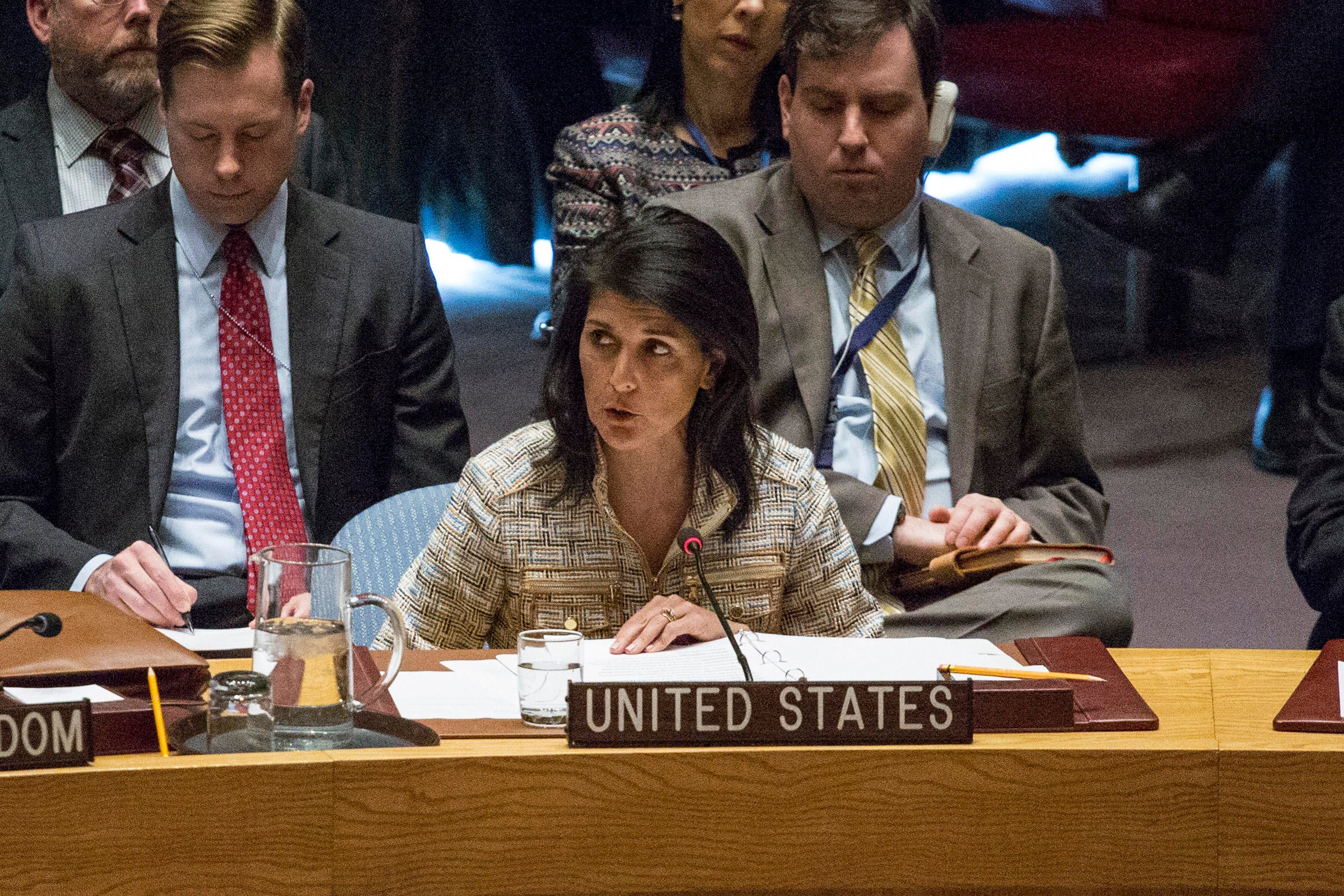 How would Trump's budget hit UN programs?
UNITED NATIONS -- President Trump's budget proposal would take a big axe to several United Nations programs; in particular, eliminating pledged payments to U.N. climate-change programs, and reducing funding for U.N. peacekeeping missions.
Mr. Trump's envoy to the U.N., Ambassador Nikki Haley, has said she doesn't believe in a "slash and burn" approach, but she agrees with the president's stance that the U.S. contribution to the global body is outdated and disproportionate. The U.S. contributes more to the U.N. budget than any other nation: 22 percent of the regular budget ($5.4 billion) and 28.5 percent of the peacekeeping budget ($8.27 billion).

The U.S. contributes to the core U.N. budget in addition to related groups, such as the International Atomic Energy Agency (IAEA), which monitors Iran's compliance with the nuclear deal, the World Health Organization and dozens more. The U.S. is the largest contributor to the IAEA, amounting to approximately $200 million annually, making up 25 percent of the regular budget.
Two U.N. Security Council diplomats tell CBS News they've already been warned severe cuts in U.S. contributions are coming, but they say they've been reassured by Haley that the U.S. funding to the general budget won't be reduced. Similar to the Trump administration's stance on NATO, it is calling for other nations to pay more.
Several U.N. programs have wide support among both Democrats and Republicans in the U.S. Congress, including the children's fund (UNICEF) and the World Food Program (WFP).
Others, however, have become highly contested. When scandals erupted over rape and sexual abuse by U.N. peacekeepers and the introduction of cholera in Haiti, U.S. lawmakers called for a reduction in the American contribution to the U.N. peacekeeping budget.
A U.S. diplomat tells CBS News there is an evaluation of all peacekeeping missions, and cuts will be made.
The U.S. is already conditioning its continued membership in the Human Rights Council (HRC) on much-needed reform, underscored in a letter from U.S. Secretary of State Rex Tillerson to several human rights organizations.
That in and of itself has some diplomats worried.
"Human rights are violated on a daily basis across the world, we, more than ever, need America's commitment to defend and promote human rights worldwide," France's U.N. Ambassador François Delattre tells CBS News.
Louis Charbonneau, United Nations director for the advocacy group Human Rights Watch, says U.S. membership in the Human Rights Council has had a visible impact on reducing resolutions that condemn Israel, producing reports on North Korea's human rights record and documenting Russian and Syrian government abuses in Syria's civil war.
He says a U.S. withdrawal would be counterproductive for the U.S., and "suggests a worrying lack of commitment to human rights by the Trump administration."
Stephen Schlesinger, a fellow at the Century Foundation and author of, "Act of Creation, a history of the founding of the U.N.," tells CBS News that America's Western allies are trying to persuade Ambassador Haley to keep humanitarian programs that provide food to famine-threatened countries and schools in war-torn countries in-tact.
"The U.S. is seeking more than just a trimming of U.N. programs -- it wants drastic aid cuts," he says.
U.S. contributions in the past have funded U.N. peacekeeping missions and the two international war crimes tribunals, which are winding down, according to the Congressional Research Service's analysis of the fiscal year 2017 budget.
On April 1, the U.S. will take over the monthly rotating presidency of the U.N. Security Council. That will enable Washington to shine a light on issues of interest to the president and play a leadership role.
A Security Council diplomat tells CBS News that the U.S. is reviewing ideas for its high-level debates with other Council members, including "peacekeeping performance" and human rights violations.
In the past, the U.S. president has chaired Security Council meetings during its presidency, and the Secretary of State has frequented the meetings.
Security Council diplomats are excited about the prospect that the Trump administration might follow tradition and have the 15-member Council visit the White House, where they would be able to directly make their case about what to save, and what to cut.
Thanks for reading CBS NEWS.
Create your free account or log in
for more features.