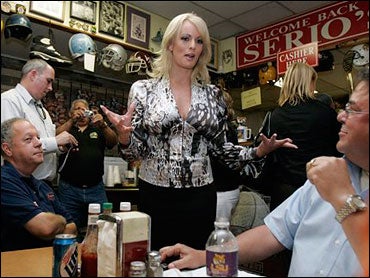 Trump lawyer complained he wasn't reimbursed for $130K payment to porn star - report
At some point after President Trump's personal lawyer, Michael Cohen, wired $130,000 to adult film actress Stephanie Clifford (whose stage name is Stormy Daniels), the bank he used flagged the transaction and reported it to the Treasury Department, the Wall Street Journal reported Monday, citing a person familiar with the matter. Further, the WSJ also reported that Cohen grumbled about that fact that he was never repaid.
The Journal reported that Cohen wired the money from First Republic Bank in October, and it was received on Oct. 27, 2016, just 12 days before Election Day. The WSJ's source also said that Cohen had missed two deadlines to pay off Clifford because he was unable to reach Mr. Trump. The Journal reported in January that Cohen paid Clifford the money to stop her from publicly discussing an alleged sexual relationship between her and Mr. Trump.
In February, Cohen told CBS News that neither the Trump Organization nor the Trump campaign "was a party to the transaction with Ms. Clifford, and neither reimbursed me for the payment." He also said the payment to Clifford was "not a campaign contribution or a campaign expenditure by anyone." However, the WSJ also reported that after Mr. Trump won the presidency, Cohen complained to his friends that he hadn't been reimbursed for the payment to Clifford.
Reached by CBS News, the Treasury Department would neither confirm nor deny that the transaction had been flagged.
Cohen dismissed the report as "Fake News" to the Journal. On Monday, White House press secretary Sarah Sanders was asked whether Mr. Trump and Cohen talked about a payment to Stormy Daniels. "Not that I'm aware of," Sanders replied. "And I'd refer you to Michael."
The bank that received the payment from Cohen, City National Bank, in Los Angeles, sought information about the wire transfer independently, a development reported by the Washington Post.
Clifford divulged in a 2011 interview with InTouch Weekly that she had a sexual affair with Donald Trump that began in 2006 and lasted for several months. The interview was only finally published years later -- in January. The story had been put aside, and InTouch's editor was not sure why the story had never been printed, according to the Washington Post. Although Clifford reportedly signed an agreement not to talk about the affair, once Cohen talked about the payment publicly, Clifford said she felt she was free to talk.
City National Bank launched an internal inquiry of its own about the payment a year after Mr. Davidson received the funds in his client-trust account there, the WSJ's source said. City National sought information about the source of funds wired to Mr. Davidson's account, the person said. That inquiry was first reported by The Washington Post.
Thanks for reading CBS NEWS.
Create your free account or log in
for more features.