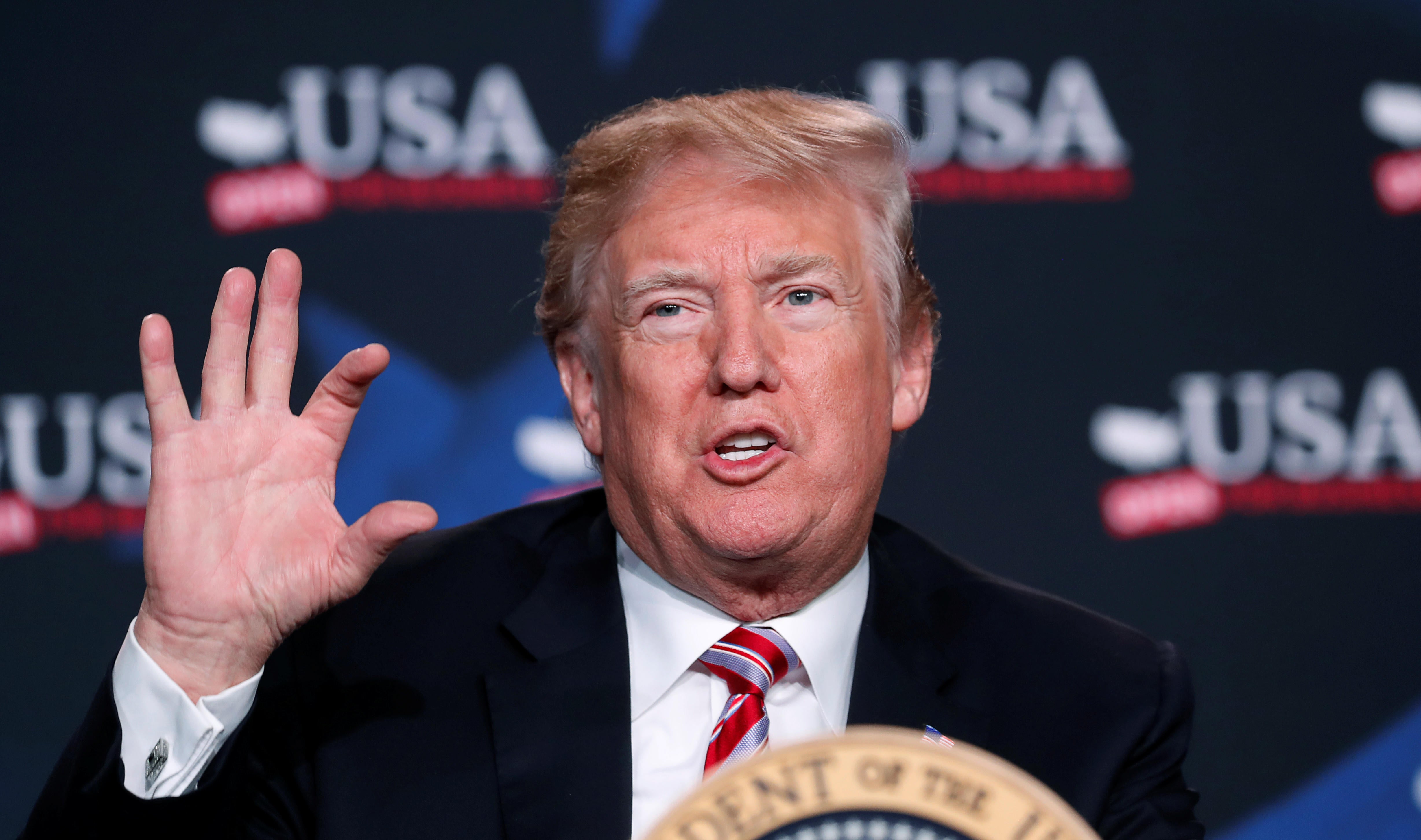 Trump touts "successful hit" in Syria, pushes tax cuts for businesses
President Trump hailed coalition airstrikes in Syria on Friday as a "big successful hit" and touted his new national security adviser's role in the operation at a small business roundtable event in Hialeah, Florida on Monday.
John Bolton received a loud round of applause and a standing ovation at the event when Mr. Trump singled him out, and the president went on to remark, "John, that's pretty good. I didn't expect that, I'm a little jealous." The crowd laughed as Mr. Trump joked, "Are you giving him all the credit? Oh no you know that means the end of his job."
The president thanked the military and his generals for doing a "great job" in the Syria strike, adding that forces in the region were unable to shoot down the coalition's precision missiles.
"And you know with way over 100 missiles shot in, they didn't shoot one down, the equipment didn't work too well their equipment and they didn't shoot one," said Mr. Trump. He added, "Every single one hit its target, think about it how genius." Russia claimed that Syria downed 71 of the 103 cruise missiles launched by the U.S. and its allies, but the Pentagon says that none "were successfully engaged by Syrian air defenses."
The president also promoted the $1.5 trillion tax cut package pushed through by Republicans at the end of last year while participating in a roundtable discussion with small business leaders in Hialeah.
He credited the "massive" tax cuts with allowing larger corporations to give bonuses to some of their employees. Mr. Trump also claimed the tax plan means this was the "last time you're going to fill out that long complicated horrible return."
"I would say some of these companies that do all that work on getting a lot of money for doing your tax returns, they won't be too happy with us."
On trade, Mr. Trump slammed unfair trade deals with the United States and its international partners, saying "in many cases our friends are worse than our enemies."
He slighted Mexico and the European Union as being "very hard to do business" with, once again vowing to renegotiate the North American Free Trade Agreement.
"We're not going to let it go on any longer, we can't let it go on any longer," he said.
Monday's event was also the first public appearance for Mr. Trump since ABC News' interview with fired FBI Director James Comey on Sunday. While the president didn't discuss Comey at the event, White House Press Secretary Sarah Huckabee Sanders told reporters aboard Air Force One on Monday that the president "saw bits and pieces" of the interview but "didn't watch the whole thing."
"We didn't learn anything new. Comey is a self-admitted leaker. He's been proven to be dishonest and I think his credibility is really at hand and it's quite interesting that he would question someone else's when he has such a lack of credibility himself," added Sanders.
Following his roundtable event, the president heads to his Mar-a-Lago estate in Palm Beach where he'll be hosting Japanese Prime Minister Shinzo Abe Tuesday to discuss developments in North Korea.
Thanks for reading CBS NEWS.
Create your free account or log in
for more features.