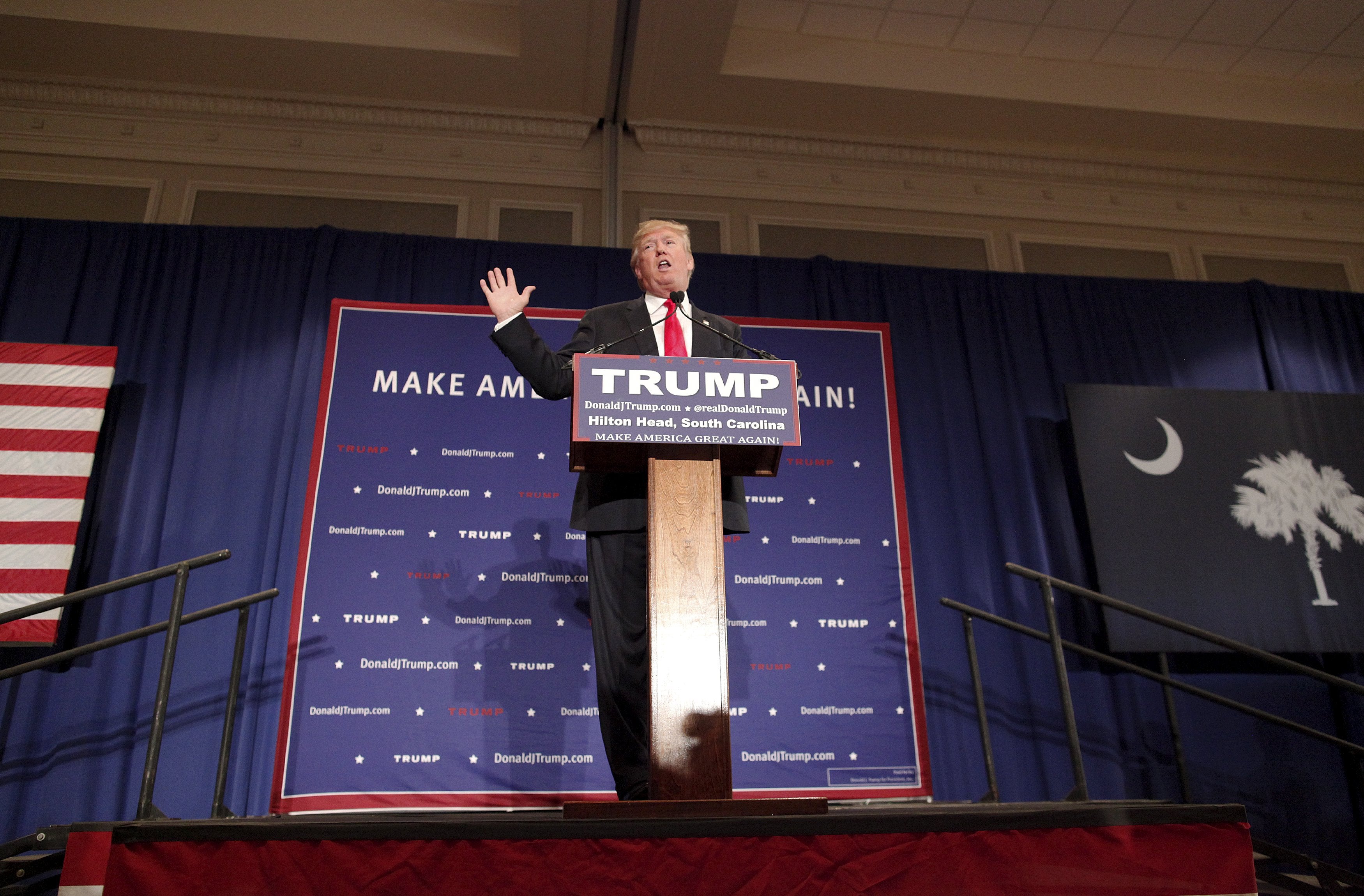 Trump: Bill Clinton "is one of the great abusers of the world"
Although Donald Trump hopes to run against Hillary Clinton in the 2016 race, the GOP front-runner is also keeping husband Bill Clinton squarely in his crosshairs -- once again raising the specter of the former president's past sexual misconduct.
On Wednesday, Trump attacked the political couple in response to the charge that Hillary would most like to run against him in the general election. Trump dismissed that, telling a crowd in South Carolina that "when they say they want to run against me, that means they don't want to run against me. Do you understand that?"
"It's reverse psychology," he added.
Trump then brought up the former president: "They don't want to run against Trump ... The husband wants to come and she wants to accuse me of things and the husband is one of the great abusers of the world. Give me a break."
Earlier in his speech, Trump also hit Clinton over her accusation that he was running a sexist campaign.
"She came out with the sexism which is so nonsense and but she's playing that card and then I had to hit her back so I hit her and talked about her husband and her abuse of husband and the tremendous abuse of women," he said. "You look at it, it's tremendous abuse."
Of having a female in the White House, Trump said that "by the way I love the concept, I love, love, love having a woman president."
But, he added, "It can't be her. She's horrible."
Trump also asserted that Clinton, though she plays the "women card," isn't very popular among voters of her gender.
"I'll tell you who doesn't like Hillary are woman," he told the crowd. "Women don't like Hillary. I see it all the time. And always so theatrical."
Trump's latest comments continue a line of attack the GOP contender has been pursuing since last week.
The day after Christmas, Trump took to Twitter to slam Hillary Clinton's choice to have her husband campaign for her.
"HE'S DEMONSTRATED A PENCHANT FOR SEXISM," Trump wrote in a tweet. He added that it was "so inappropriate!"
And on Sunday, Trump said on NBC's "Meet the Press" that he believed "the media seems to have given President Clinton a pass on this," referring to the scandal involving Monica Lewinsky.
"He took advantage of a girl that was 20 years old and an intern in his office," he said. "There is no excuse for that."
After critics lambasted his revival of the Lewinsky controversy in the 2016 White House campaign, Trump claimed that it was "fair game" to attack Clinton and her husband in that manner.
"If she's going to play [the woman card], which she started about a week ago, talking about oh, he mentioned and, you know, the whole thing, playing up the women's card very, very strongly, and if she's going to play that game and if he's going to be out there campaigning, then he's certainly fair game, and I think just about everybody agrees with me on that," Trump told NBC's "Today Show" on Tuesday.
The billionaire added that there was "certainly a lot of abuse of women" by Clinton, including Lewinsky and Paula Jones.
Thanks for reading CBS NEWS.
Create your free account or log in
for more features.