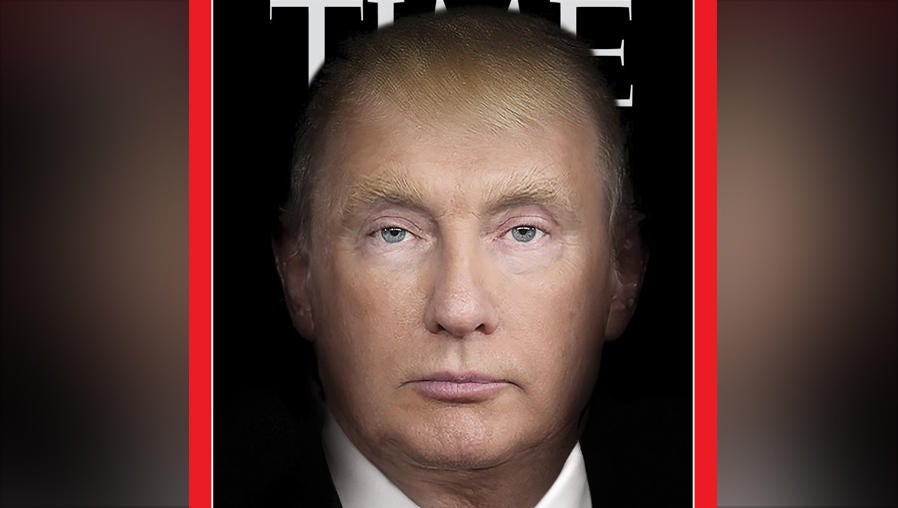 Trump and Putin morph into the same person on the cover of Time magazine
Time magazine has released the cover of its newest issue, and it makes quite a visual and political statement. The cover shows the faces of U.S. President Donald Trump and Russian President Vladimir Putin morphing together. The close-up image shows the leaders' faces blended so that it's unclear where one begins and the other ends. An animated version online shows President Trump fully transforming into Putin in about 15 seconds.
The cover illustrates an article on the two leaders' recent Helsinki summit and the persistent controversy over what author Brian Bennett calls President Trump's "puzzling affinity for Putin."
"The composite image, by visual artist Nancy Burson, is meant to represent this particular moment in U.S. foreign policy, following the pair's recent meeting in Helsinki, Finland," Time magazine writes.
Twitter users shared a wide range of opinions of the polarizing and provocative cover.
The cover was released just days after the two leaders' joint press conference in Helsinki, during which Mr. Trump appeared to cast doubt on the conclusion of U.S. intelligence agencies that Russia interfered with the 2016 election.
"All I can do is ask the question -- my people came to me, Dan Coats came to me and some others, they said they think it's Russia. I have President Putin he just said it's not Russia. I will say this, I don't see any reason why it would be. But I really want to see the server. But I have confidence in both parties," Mr. Trump said as Putin stood at a podium by his side.
The next day, after a barrage of criticism from Republicans as well as Democrats, Mr. Trump said he misspoke and that he accepts the findings of the U.S. intelligence community.
"I have felt very strongly that, while Russia's actions had no impact at all on the outcome of the election, let me be totally clear in saying that, and I have said this many times, I accept our intelligence community's conclusion that Russia's meddling in the 2016 election took place," he said, but added, "It could be other people, also. There are lots of people out there."
In an interview with "CBS Evening News" anchor Jeff Glor Wednesday, President Trump was asked if he holds Putin personally responsible for meddling.
"Well I would, because he's in charge of the country. Just like I consider myself to be responsible for things that happen in this country. So certainly as the leader of a country you would have to hold him responsible, yes," Mr. Trump said.
The Time magazine cover was released just hours after the first portion of the interview aired on Wednesday, and both fueled the discussion about Mr. Trump's remarks during the press conference with Mr. Putin.
A CBS News poll released Thursday found more Americans see Mr. Trump as too friendly toward Russia now than they did last year.
The new Time cover imagined the two world leaders as not just "friendly," but as the same person.
Thanks for reading CBS NEWS.
Create your free account or log in
for more features.