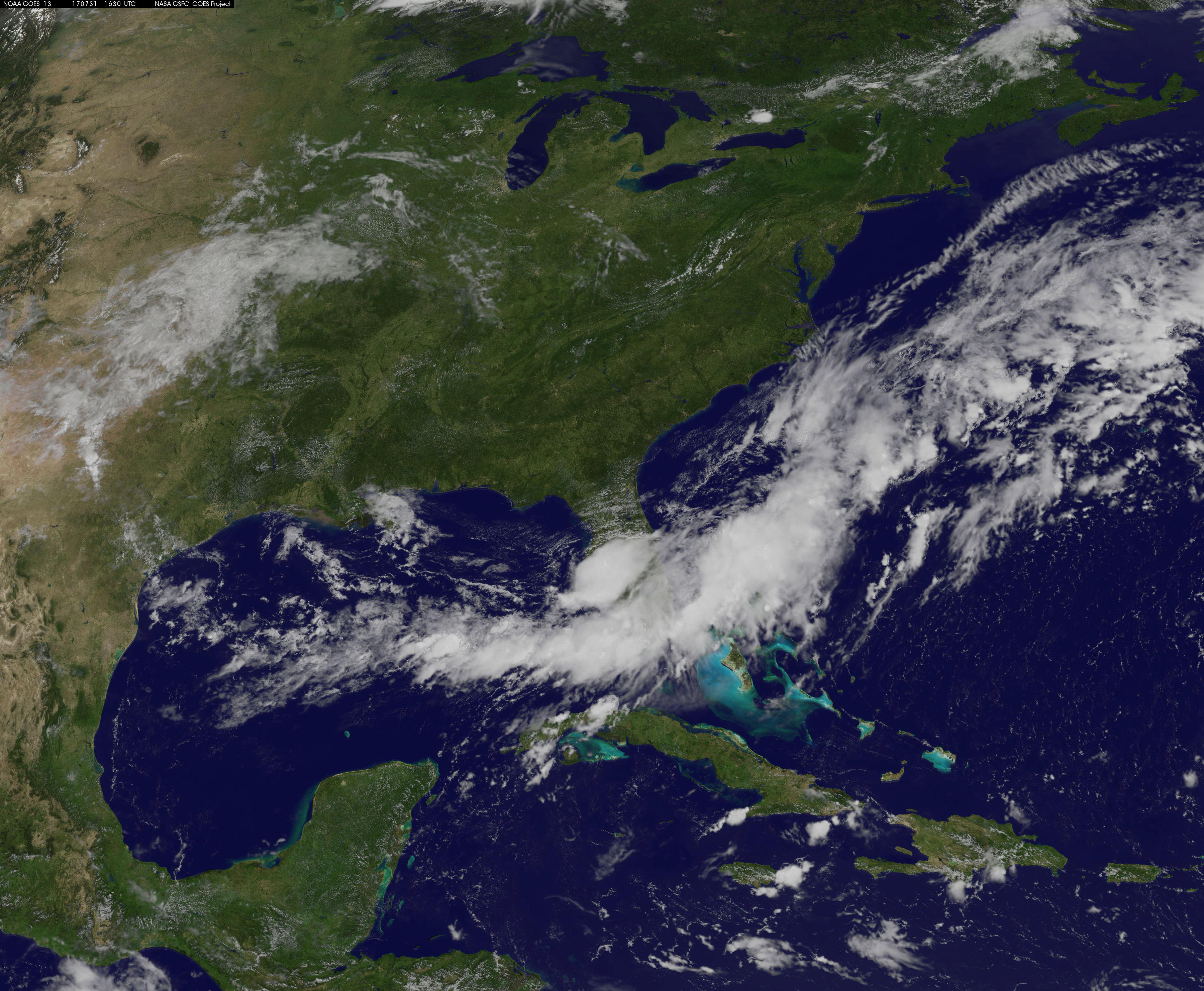 Emily weakens to tropical depression over Florida
MIAMI -- Emily is a tropical storm no more. The National Hurricane Center said Emily lasted only a few hours as a tropical storm after forming earlier Monday in the Gulf of Mexico off Florida.
As of 5 p.m. ET on Monday, Emily was downgraded to a tropical depression, though forecasters say heavy rain is still possible across southeastern Florida as the ill-defined system heads toward the Atlantic coast in coming hours. The Miami-based center said 1 to 2 inches of rain are possible in the region, with totals of up to 8 inches possible in some isolated spots.
The storm system was centered late Monday afternoon about 30 miles northwest of Sebring in south-central Florida and moving toward the east-northeast at 12 mph. The center said the storm's top winds had dropped to near 35 mph and some additional weakening is possible as Emily moves across the central Florida peninsula overnight.
Forecasters said Emily should enter the Atlantic by Tuesday, with some slow strengthening in the forecast once the storm system is back out over open water.
A tropical storm warning along Florida's Gulf Coast has been discontinued.
Meanwhile, Florida Gov. Rick Scott took to Twitter Monday evening to announce there are no unmet needs or evacuation orders at this time:
Scott had declared a state of emergency in 31 counties as Emily battered the central part of the state.
The governor said at an afternoon news briefing in the state capital of Tallahassee that about 18,000 homes and businesses lost power, mostly in hard-hit Manatee County, on the Gulf Coast south of St. Petersburg. Scott, who was on vacation in Maine and returned to the state when the advisory changed, said the storm was a reminder that severe weather can strike the state at any time.
The storm formed in the Gulf of Mexico off the coast of Tampa on Monday morning and moved inland, bringing heavy rain and wind to central and southern Florida.
A flood watch was in effect for much of the Tampa area, which could see scattered street flooding in low-lying areas. Law enforcement agencies urged motorists to drive with caution on a day that began as a miserable Monday morning commute for many. A few Tampa area communities, such as Pinellas Park and Tarpon Springs, offered residents sandbags to stave off any flooding.
Forecasters also warned of possible isolated tornadoes and offshore waterspouts spinning off of the system, which sent swirling rain bands across parts of south Florida. A tropical storm warning was in effect from the Anclote River to Bonita Beach on the Gulf Coast but was lifted once the storm headed inland.
Emily is the fifth named storm of the 2017 Atlantic hurricane season.
No injuries have been reported, although two fishermen were rescued from Tampa Bay while clinging to a channel marker light after their boat sank.
Coast Guard officials said they were called Monday morning about the two brothers, who had been out fishing when their boat engine died. While the brothers worked on the inoperable pump, the boat drifted and struck the range light, according to a Coast Guard statement. The brothers tied their boat off to the light and were forced to cling to the navigation aid and call for help when the vessel sank. A boat from Coast Guard station St. Petersburg rescued the men.
Thanks for reading CBS NEWS.
Create your free account or log in
for more features.