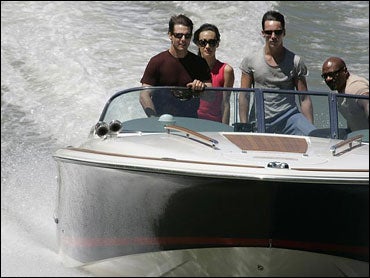 Tom Cruise Talks About His Father
Tom Cruise is talking about what has long been known to be a sore subject.
In an interview with Parade magazine, the 43-year-old actor looks back on two difficult aspects of his early years: his father and bullies at school.
Cruise says his father, Thomas Cruise Mapother III, "was a bully and a coward... the kind of person where, if something goes wrong, they kick you. It was a great lesson in my life - how he'd lull you in, make you feel safe and then, bang!"
"For me," Cruise told Parade, it was like, "'There's something wrong with this guy. Don't trust him. Be careful around him.' There's that anxiety."
The 5'7" star of the upcoming film, "Mission: Impossible III," also says he was harassed by his classmates while he was growing up.
"So many times the big bully comes up, pushes me," he recalled. "Your heart's pounding, you sweat, and you feel like you're going to vomit ... I don't like bullies."
When Cruise was 12, his mother, Mary Lee, left his father and took Cruise and his sister, Lee Anne, with her, the magazine says. His parents divorced in 1974.
Cruise says he reunited with his father ten years later, when Mapother was "in the hospital dying of cancer, and he would only meet me on the basis that I didn't ask him anything about the past."
"When I saw him in pain, I thought, 'Wow, what a lonely life,"' Cruise says. "He was in his late 40s. It was sad."
Cruise has made a point of staying close to others in his immediate family, including his mother, and one of his three sisters, Lee Anne DeVette, is publicist for both Cruise and his 27-year-old fiancée, Katie Holmes.
Holmes is in the final stages of pregnancy with a baby whose gender has not been revealed – although she and Cruise very likely know the answer to that one. It was widely reported months ago that the excited expectant dad bought an ultrasound machine so he and Holmes could take as many photos as they wanted – at home.
The baby is the first for Holmes and a third child for Cruise, who has two other children from the over ten years that he was married to actress Nicole Kidman.
They split up nearly five years ago but that doesn't mean Cruise is out of the picture when it comes to the kids.
He's on call as dad and four years ago, caught the attention of the evening gown set when he ducked out early from the Academy Awards ceremony, headed home for his turn with the children.
Cruise is similarly focused on the impending arrival of the new baby and recently told interviewers in Germany that he had two pilots standing by, ready to fly him home, if Holmes happened to go into labor.
The two are engaged but haven't yet tied the knot.
They plan to marry this year, Cruise said, in an interview with the German tabloid Bild, after the opening and the promotions for his latest movie, "Mission Impossible III."
"First the baby, then the film," he was quoted as saying. "Then, in summer, we want to get married. I won't let this woman get away."
Thanks for reading CBS NEWS.
Create your free account or log in
for more features.