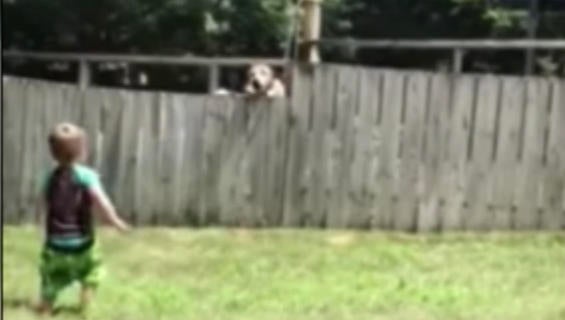 Toddler boys play catch with neighbor's dog over fence
Video of two toddlers in Savage, Minnesota, playing an unconventional game of catch has gone viral online. The boys aren't playing catch with each other, but instead they're seen throwing a ball over their neighbor's fence. Normally that would mean it's game over and your ball is lost. But in these videos, the neighbor's dog is on the other side of the fence, and he's happy to throw the ball back for an unconventional game of catch.
Erin Richter says her 3-year-old son, Landon, discovered over a year ago that if he threw a ball over their neighbor's fence, Dozer, a Labrador retriever, would give it back. Richter posted a video of the game of catch on YouTube. Landon is seen picking up a ball, walking up to the short fence and tipping the ball over into the neighbor's backyard. Moments later, the pup's head peeks over the fence and Dozer drops the ball from his mouth back onto Landon's side.
Landon and Dozer have played countless games of catch ever since. "My son plays with him every time they are both outside," Richter told CBS News. Landon's best friend, Conway, also likes to get in on the games. Richter posted another video of Conway doing the same thing -- throwing the ball over the fence and waiting for Dozer to pop up on the other side and "throw" the ball back.
As for Dozer's owner, she says she knows her dog often plays with the neighborhood kids.
"She says she knows when we are playing with him because he comes inside out of breath," Richter said. Life is "ruff" when you're trying to keep up with two toddlers.
Thanks for reading CBS NEWS.
Create your free account or log in
for more features.