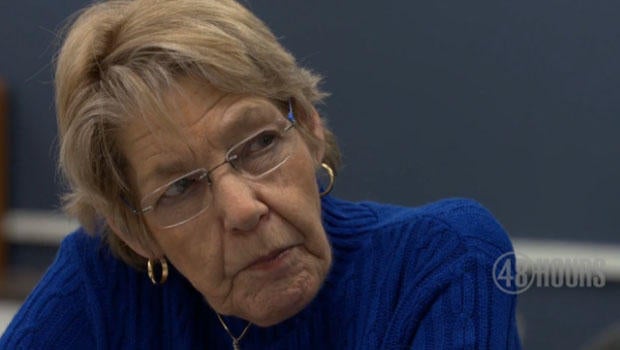 Todd Kohlhepp case: Mother of suspected South Carolina serial killer found dead
SPARTANBURG, S.C. -- A South Carolina woman whose son faces seven murder charges has died.
Spartanburg County Coroner Rusty Clevenger said that 70-year-old Regina Ann Tague was found dead Sunday morning in her home by her husband. The coroner said law enforcement officials investigated Tague's death and found no indication of foul play. He expected to release the cause of death on Monday.
Clevenger said Tague is the mother of Todd Kohlhepp, who is charged with four notorious slayings at a motorcycle store in 2003 and three more recent killings. Kohlhepp, a real-estate agent, was arrested in November after 30-year-old Kala Brown was found alive and chained in a storage container on his property.
Three others were dead, buried on the sprawling lot, including Brown's boyfriend Charlie Carver and Spartanburg couple Meagan and Johnny Coxie. "48 Hours" investigated the case in the episode, "Buried Truth."
Tague told "48 Hours" in November that her son was misunderstood and not a monster, describing him as a "loner."
She painted a picture of Kohlhepp that was a stark contrast to the crimes he's accused of, calling him kind and ambitious. She said he worked hard at his real estate business, selling at least one house a day.
Tague told CBS News' David Begnaud that Kohlhepp confessed to her that he killed seven people because they "embarassed" him. Her response to him, she said, was "How could you do this?"
Tague contended her son wasn't a serial killer.
"The people that understand him and know him now just don't understand how he could do this, because this is not the man they know," Tague said, crying.
Thanks for reading CBS NEWS.
Create your free account or log in
for more features.