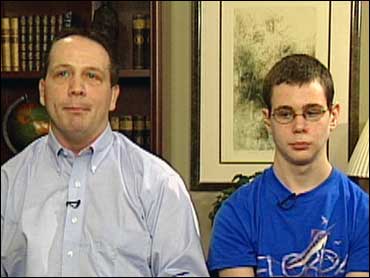 Tigger Accused Of Hitting Teen
When the Monaco family traveled from New Hampshire to Florida all they wanted was a nice time at Disney World. Instead, they say, one of their sons got a punch on the head from the loveable Winnie the Pooh character, Tigger.
Home video footage shows Jerry Monaco Jr. standing next to Tigger, played by Michael J. Fedelem, as the family posed with the character Saturday. Then the character appears to smack the teen in the face.
"I attempted to get in a shot with Tigger when he stuck his arm out and I figured the photographer could get a shot with two little guys," father Jerry Monaco told The Early Show co-anchor Hannah Storm. "At that point he started bumping into me and I apologized and I figured it was hot out and give him some space. At that point I backed off and went to take some home video of the rest of the family and, out of nowhere, he sucker-punched my son."
Now an investigation is underway. A spokeswoman says park officials have temporarily suspended the employee while they investigate the accusations. In a statement, Disney World said: "We received the complaint alleging that a character struck a guest; guest and character altercation is not tolerated. The Orange County sheriff is launching an investigation and we are conducting our own investigation and we have suspended the cast member pending the outcome."
Monaco said that before he tried to take a photo Tigger appeared irritated when a little girl attempted to get an autograph.
"So at that point he's waving and got his pen," Monaco said. "I didn't know what was going on. I figured out that it wasn't on a clear sheet of paper, he couldn't sign it. So I thought, 'No big deal.' Then my family came up, they were two or three people behind them. That's when this whole thing took place."
Monaco took his son to the hospital that night after he woke up with a pain in his neck.
"I'm a little sore and most of the pain is gone because I have medicine," Jerry Monaco Jr. said.
The family's attorney, Mark Morsch, said the family wants an apology from the park and from the actor who played Tigger.
"It was their dream to come to Disney," Morsch said. "They were looking forward to it and had no idea they would be in a situation where Tigger was going to hit their son."
Thanks for reading CBS NEWS.
Create your free account or log in
for more features.