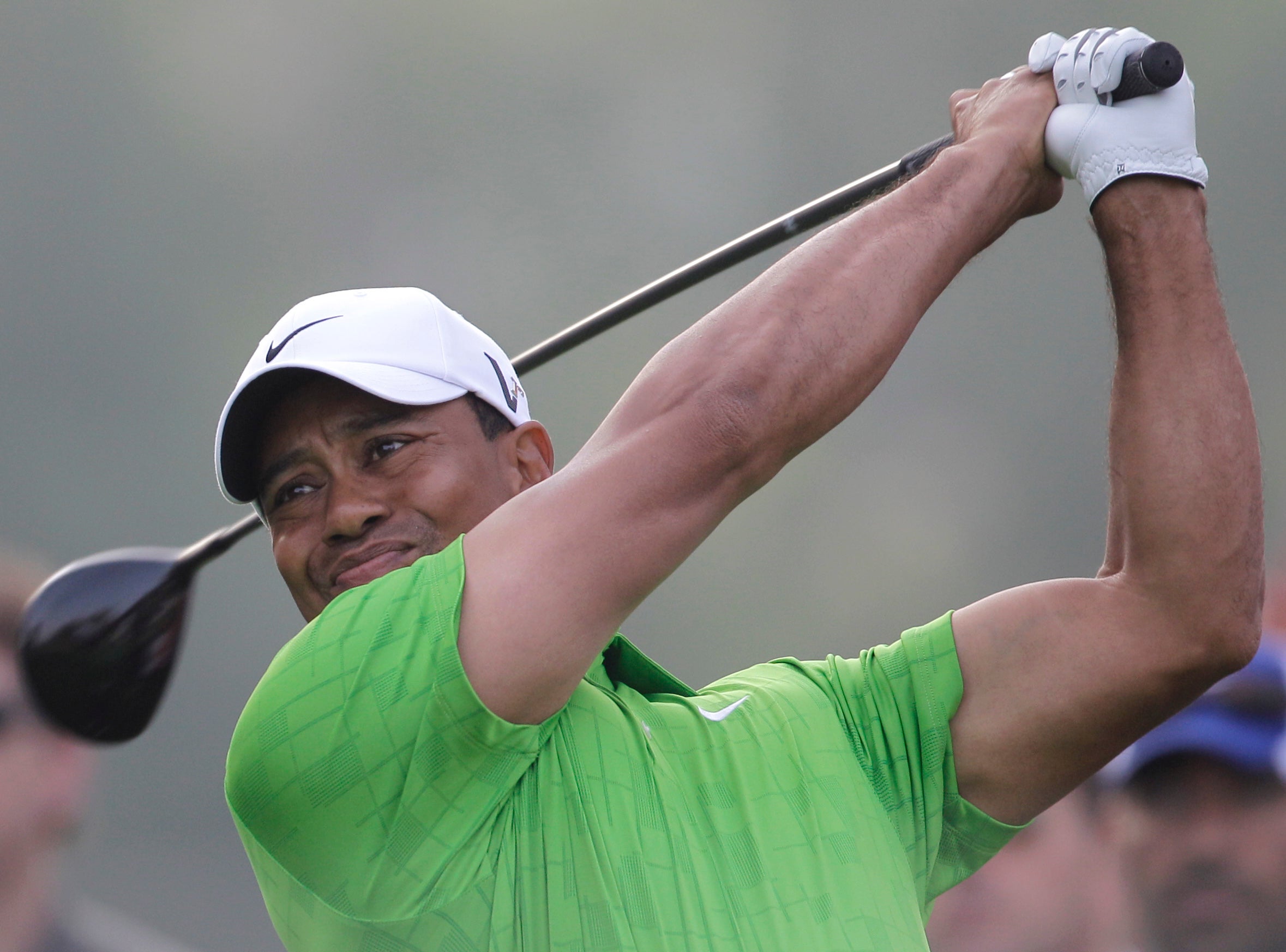 Tiger Claws Back in Dubai with Strong 2nd Round
DUBAI, United Arab Emirates - Tiger Woods surged into contention at the Dubai Desert Classic on Friday, shooting a bogey-free 6-under 66 in his bid to win his first tournament in more than a year.
With stellar putting and a consistent short game, Woods made six birdies for the day's low score. He was at 7-under 137 after two rounds, four shots behind leader Rory McIlroy.
CBSSports.com: Dubai Desert Classic Leaderboard
McIlroy followed his opening 65 with a 68 to maintain his lead going into the weekend at Emirates Golf Club. The 21-year-old golfer from Northern Ireland earned his only European Tour victory at this tournament two years ago.
A shot behind at 10 under were Sergio Garcia (67) and South Africa's Thomas Aiken (67), followed by England's Steve Webster (68) at 8 under.
Woods was tied for fifth with Jean-Baptiste Gonnet of France, Anders Hansen of Denmark, Michael Hoey of Northern Ireland and Brett Rumford of Australia.
Woods, who has been outdriving his playing partners, No. 1-ranked Lee Westwood and No. 2 Martin Kaymer, added accuracy to his blistering drives and approach shots. And unlike Thursday when he missed several makable putts and hit approach shots wide of the green, the winner of 14 majors routinely gave himself chances.
"It felt good today. I hit a lot of good shots," said Woods, who likened his game on Friday to the way he played at last year's Chevron World Challenge, where he lost in a playoff to U.S. Open champion Graeme McDowell.
"I felt like I drove it pretty good and more than anything I controlled my traj (trajectory), which was nice," he said. "I feel good. We worked out a few of the things last night that I didn't like."
Elling: Tiger Paid $55M in Dubai Deal, Report Says
U.S. Serviceman Plays Golf with Tiger
McIlroy has struggled to meet expectations since winning the Quail Hollow Championship in 2009. He says his approaching his game with more patience this season, and it seems to be paying dividends
he finished second in last month's Abu Dhabi Championship.
McIlroy bogeyed the par-4 second hole then settled himself with five birdies over his last 12 holes, including the 18th for the second straight day.
"I thought after the start that I had, I really hung in there and stayed patient and just sort of picked up my birdies when I could," McIlroy said. "I think I was 5 under from 7 onwards. So, really pleased with the round, and sets me up for a good weekend."
Much of the talk going into the tournament was on the powerhouse group of Woods, Westwood and Kaymer. But only Woods delivered on Friday, with Westwood (70) at 5-under 139 and Kaymer (71) at 4 under.
Westwood had four birdies but bogeyed two of his last four holes, missing two makable putts. Kaymer, meanwhile, never seemed to get going, posting three birdies but also two bogeys in a row during his first six holes.
"I didn't hit it so good. I didn't give myself enough chances," Westwood said. "It was just a plod round really, a bit of a boring day."
Westwood, who last year struggled with a calf injury, said his distance has been suffering as has his control. It showed on approach shots that fell short, leaving him long putts on several holes that just missed.
"Distance control is poor when you are not striking it very well," he said. "I'm just playing for the fat of the greens really and trying to make a few long ones which I haven't, which is the reason I'm 5 under. Still in there with a chance."
Aiken, ranked 97th and known as much for his shoulder-length hair as for his swing, has 67s in the first two rounds.
"Missed one green the whole day and I was on the fringe and I got to putt," he said. "Just been putting the ball in the right positions, and these greens are so pure that you're going to sink some putts."
Garcia, once ranked No. 2 but now No. 79, has shown the consistency this week that had been lacking last year. He has had two bogey-free rounds.
"I think that probably putting has been the thing I'm doing the best these past three weeks," said Garcia, who had a top-10 finish in Qatar last week. "It's nice to see my game, my long game catching up with that."There was more at stake this weekend than the tournament title.
Westwood could lose the top ranking if Kaymer wins and he finishes lower than second, and if Kaymer finishes second and Westwood is out of the top 10. If Kaymer is tied for second, he could still become No. 1 for the first time if Westwood finishes out of the top 36. Woods could move ahead of Kaymer if he wins and Kaymer finishes outside the top five.
Woods, who won this tournament in 2006 and 2008, said he could do even better going into a weekend where much stronger wind is forecast. Still, he said he relished his second round, calling his sixth hole emblematic of his day.
Woods drove the fairway on the 485-yard, par-4 hole and hit an 8-iron about 160 yards to a foot of the pin, where he made an easy birdie putt. Much as he did with a monster drive on 18 on Thursday that led to an eagle, the shot brought cheers from the crowd and a reminder of how good Woods can be when he gets his game on track.
Thanks for reading CBS NEWS.
Create your free account or log in
for more features.