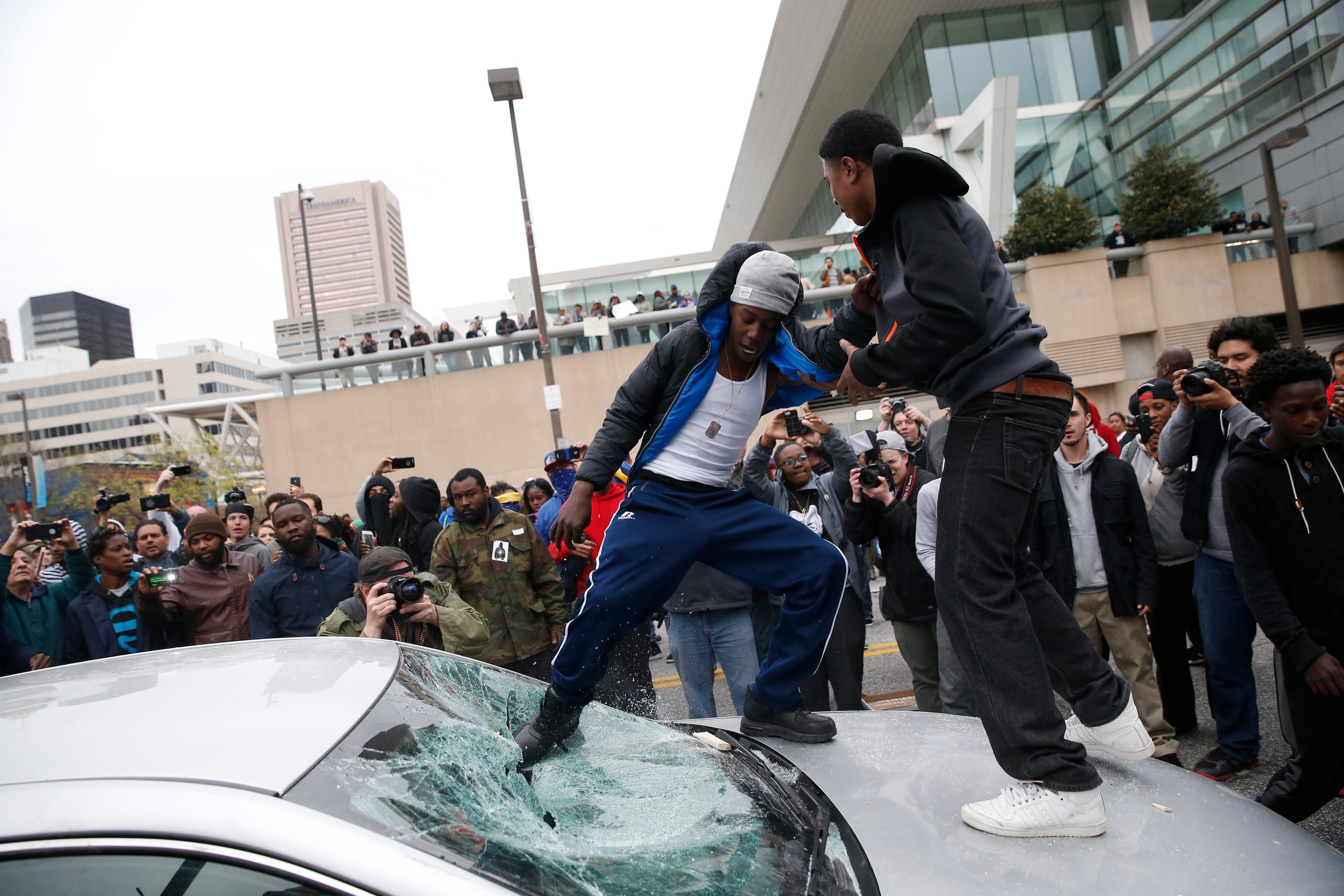 Protest over police custody death becomes violent
BALTIMORE -- A crowd of several thousand marched toward City Hall in Baltimore Saturday to protest the death of Freddie Gray, 25, who died while in police custody. However the crowd, which included families and young children, became volatile in some places.
Businesses and police cars sustained damage, baseball fans had trouble getting into Camden Yards for the Orioles game against the Boston Red Sox and several events scheduled for downtown Baltimore were canceled.
Officers in riot gear with batons were pushing the crowd back. Some protesters ran toward the line of officers, which also includes several mounted officers. At least 12 people were taken into custody, Baltimore police said.
Smaller groups of protesters split off from the main demonstration, throwing cans, bottles and trash cans at police, storefronts and restaurants.
At least two people have been injured.
A group of roughly 100 protesters broke out a window of a department store with a chair they got at a restaurant across the street at The Gallery, a downtown shopping mall. No police officers responded.
A few minutes earlier, the same group broke the windows of bars and restaurants, including a Subway sandwich shop near Camden Yards, tossing chairs and tables through the glass. A woman inside one of the restaurants jumped in front of the protesters and begged them to stop throwing things.
At least two bystanders - a man and woman - were bleeding from the head. Some people were struck by beer cans, bottles and trash cans. That group also engaged with a group of fans at a bar near the baseball stadium and fights broke out.
A downtown wedding had to be moved inside after another group of protesters engaged in a standoff with officers. Nearby, there were several cars with broken windows.
Police are calling for officers scheduled on later shifts to report for duty immediately.
One protester broke out the window of a police cruiser, grabbed a police hat inside and wore it while standing on top of the cruiser with several other protesters. At that point, scores of officers rushed into the area, stopped and formed a line, three officers deep. The protesters scattered but returned a few minutes later and began yelling "What do we want? Justice! When do we want it? Now!"
Earlier in the day a racially diverse crowd demonstrated while chanting "all night all day we will fight for Freddie Gray" and waving signs that read "racism is a disease, revolution is the cure."
Marchers paused for a moment of silence in front of Shock Trauma hospital, where Gray died a week ago from a traumatic spine injury he suffered while in police custody.
At the back of the march was a caravan of at least 20 cars blocking the traffic on the periphery of Camden Yards.
Protesters and the curious were steadily streaming into the plaza directly across from City Hall. Some were wearing shirts that say "black lives matter" and holding signs that state "I'm not a threat" and "Stop killing us" as music and civil rights speeches were played through large speakers.
Justice Allah, 30, who is with Black Lawyers for Justice, said the goal of the protest was to call attention to the problem of killings by police officers.
"We're tired of this, what is going on with this police department," Allah said. "We're tired of our mayor turning a blind eye."
Gray was arrested April 12 after he made eye contact with officers and ran away, police said. Officers held him down, handcuffed him and loaded him into a police van. While inside, he became irate and leg cuffs were put on him, police have said.
Gray was not buckled with a seat belt, a violation of the police department's policy.
He asked for medical help several times and after a 30-minute ride, paramedics were called. At some point - either during his arrest or inside the van - he suffered a mysterious spinal injury. Authorities have not explained how or when it occurred. Six officers have been suspended with pay during the investigation.
Gray was in the hospital for a week. He died Sunday.
"It cannot be business as usual with that man's spine broken, with his back broken, with no justice on the scene," said Malik Shabazz, also with Black Lawyers for Justice. He has demanded the arrest of the six officers involved, reports CBS Baltimore.
Meanwhile, Baltimore Mayor Stephanie Rawlings-Blake said on Friday the investigations into Gray's death are continuing. But she is also continuing to call for protests to remain peaceful.
"I will not deny we have had a very long and complicated history on issues such as these," she said.
"But it's important to remember that we have an equally long history of peaceful and legal protest."
Thanks for reading CBS NEWS.
Create your free account or log in
for more features.