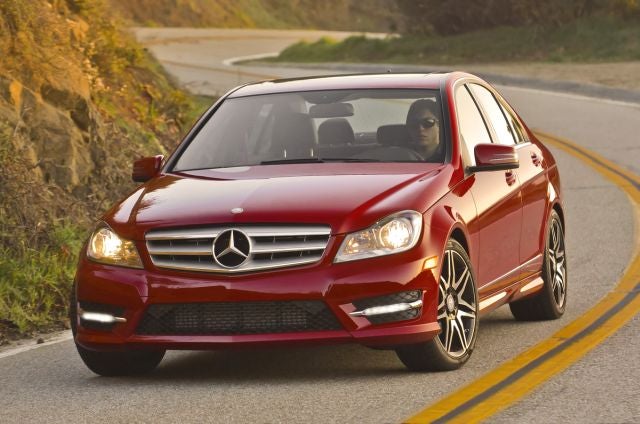 Can you afford a luxury car?
If you've been casting envious eyes on those Mercedes and BMWs in the office parking lot, you may be wondering if you could fit a luxury car into your budget. Luxury brands have been reading your mind and indeed have brought out more affordable models. But make sure you calculate all the costs that come with owning a luxury car -- not just the purchase price.
You wouldn't be the only one considering so-called entry-level luxury cars -- those with purchase prices often starting under $35,000. Growth in this segment has been a major reason that luxury vehicles have increased their market share in recent years, according to an April report from analysts at the National Auto Dealers Association Used Car Guide. "The data suggests that the growth was due almost exclusively to new buyers entering the market," not habitual luxury buyers trading down to less expensive models.
One of the entry-level luxury models' best financial qualities is high resale value. And that leads to a more affordable way to drive a prestige model -- by leasing it. The NADA Guide report notes that entry-level luxury cars on average retain 48.8% of their original value after three years, more than other luxury segments.

"The lower the rate of depreciation, the lower the lease payment," notes NADA analyst Laurence Dixon III. For instance, the Lexus ES currently has a lease deal for $349 a month for two years with $2,999 due at signing.
Whether you get a good lease deal or buy the luxury car, that's only the beginning of your expenses. As with any car, insurance, fuel maintenance and repair costs still have to be paid. To see the differential in costs, let's compare an entry-level Mercedes-Benz C250 (selling at an average of about $35,900, according to TrueCar.com) with one of the best-selling midsize sedans, the Toyota Camry XLE, the best-equipped Camry with an average selling price of $23,061.
Here's a look at comparative costs to own these cars:
Fuel Cost -- The Mercedes, like most luxury cars, requires premium gasoline, while the Toyota, like most mainstream brands, uses regular. The current national average for regular is $3.64 a gallon vs. $4 for premium, according to AAA. The Mercedes C250, with a rating of 25 MPG in combined city and highway driving would rack up fuel costs of $2,400 per year, according to fueleconomy.gov. The Toyota, with a 28 MPG combined rating would come in at $1,950. That's an extra $450 in your gas budget each year.
Insurance -- First-time luxury car buyers are sometimes startled at their bill to insure that car. Following our example, InsuranceQuotes.com gives the following comparison for the two cars being insured in Northern California. For an age 40 married man or woman, the monthly insurance bill would be $173 for the Mercedes and $130 a month for the Toyota Camry. That's more than $500 a year in extra insurance costs. To compare the insurance costs of your current vehicle to cars you might buy, go to Insurancequotes.com and scroll down the right side to the section called Car vs. Car. You can get an estimate using your age and zip code.
Maintenance -- Oil changes and other routine maintenance typically cost more at luxury brand dealerships. As a selling point, some luxury brands like BMW offer free maintenance for the first 50,000 miles on a new car. But in our comparison, Mercedes-Benz does not offer a free maintenance program for this model. Toyota, unusually for mainstream brands, does have free maintenance for two years or 25,000 miles, whichever comes first.
Repairs -- For repairs that go beyond standard maintenance, luxury dealers are also more expensive. You may be able to cut repair costs by avoiding dealers and going to independent repair shops that specialize, say, in German cars. But double check to see if that still meets the conditions of your warranty.
The comfort, style and prestige of owning a luxury car may in fact outweigh the extra costs for you. Just be sure you have an idea of those costs before you decide to buy or lease.
Thanks for reading CBS NEWS.
Create your free account or log in
for more features.