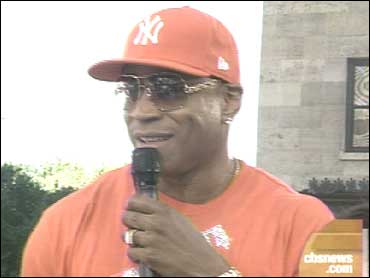 There's No Doubt "Ladies Love Cool James"
LL Cool J fans need not worry - the two-time Grammy Award-winning rapper/hop-hop artist isn't exiting the hip-hop scene, instead his new album, "Exit 13" represents his last album with Def Jam Records before his contract ends.
"I definitely want to continue to make music for all of the wonderful people. I am really excited about the record and I am having a great time. I just look at the high and bright side of things. I hope that you enjoy the record as much as I had putting it together. I really put my heart into it. I feel like I am on top of the world," LL Cool J told Early Show co-anchor Maggie Rodriguez.
On his new album, LL Cool J (James Todd Smith) teamed up with a diverse set of artists, such as 50 Cent, Wyclef Jean, Richie Sambora and The Dream, and producers such as Suits, DJ Scratch, Ilfonics and Raw Uncut.
"I am really blessed. This is a legend here. So, when the call came in I said sure I 'm on it! Please believe it!" producer/performer, The Dream said.
In addition to busting out the rhymes, fitness has always been a priority for the extremely well-toned LL Cool J.
He released a book called "The Platinum Workout," where he dishes his fitness tips.
"I think fitness is important. I think a healthy lifestyle is important. I think putting positive energy out there is important and just staying connected with the people."
The ladies indeed love LL Cool J and his physique. The looker, whose hit song "Around The Way Girl" gave him much success, admitted that he loves the ladies too.
At age 16, LL Cool J's old high school buddy "Playboy Mikey D" helped coin the rapper's moniker LL Cool J, which stands for "Ladies Love Cool James."
The two friends thought their monikers would help them with the ladies, but needless to say, LL Cool J didn't need any help.
"It (the nickname) was just wishful thinking, just hoping for the best," he admitted.
In addition to being a recording artist, author and NAACP Image Award winner, he is an actor and a designer. He released a line of street clothes and accessories with Sears.
The pop culture icon, whose career spans nearly 25 years, has appeared in over 30 movies - alongside Samuel L. Jackson and Colin Farrell in "S.W.A.T.," Al Pacino, Jamie Foxx and Cameron Diaz in "Any Given Sunday," and Gabrielle Union in "Deliver Us from Eva," to name a few.
He has also made guest appearances in FOX's "House" and the NBC comedy "30 Rock."

Thanks for reading CBS NEWS.
Create your free account or log in
for more features.