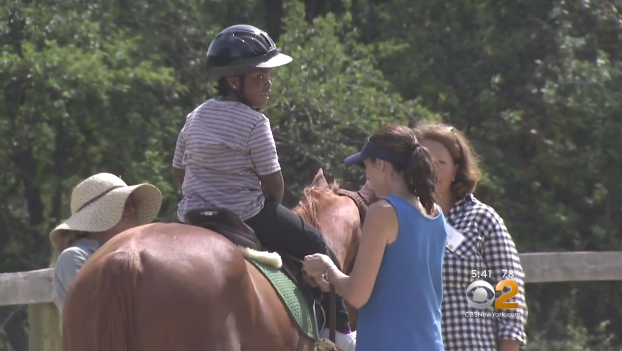 Therapeutic horsemanship shows benefits for kids with disabilities
NEW YORK -- There's a new opportunity for kids with physical disabilities to do something that most have never dreamed possible — ride a horse.
It's called therapeutic horsemanship, and it has all sorts of physical and emotional benefits, CBS New York reports.
You've probably seen a variety of adaptive sports for kids and adults -- things like wheelchair basketball, mono-skis for amputees and even golf for the blind. While putting a child with cerebral palsy atop a thousand-pound animal sounds risky, families and providers say it's actually great.
It can be a little challenging to help a young person, who spends most of their day in a wheelchair, saddle up on a horse.
They're a little apprehensive, even scared at first. Like Julian Prince, their muscles are often very tight from cerebral palsy. But all that changes with a short ride.
"Took me about five minutes to get used to, it's not that bad, I started riding the horse. Alright, it's like a motorcycle with legs, and it feels nice," Prince said.
It's a collaboration between the Adaptive Sports Academy at the Hospital for Special Surgery and Endeavour Therapeutic Horsemanship in Mount Kisco.
Something as gentle as being walked around the ring can have tremendous benefits.
"The horse's movements come up through the patient's pelvis, so that they get to experience what normal gate feels like, normal walking feels like, what normal pelvic movement feels like," Christina Pierozzi from the Hospital for Special Surgery said. "It activates their postural system."
For kids who spend hours in physical and occupational therapy, even grooming a horse is therapeutic because it doesn't feel like therapy.
"It can really help with your socialization skills, it can help with multitasking sequencing, it can help with empathy," Kelly Slonaker from Endeavour Therapeutic Horsemanship said.
Almost as important are the benefits parents get out of watching their kids ride.
"Seeing him up there like right now, as comfortable and relaxed as he is, this is smiling. My heart is smiling, this is beautiful," Prince's father, Kirk, said.
According to CBS New York, therapeutic horsemanship isn't just for kids with physical disabilities. It's been shown to help adults with strokes, depression, anxiety, and domestic trauma as well.
Perhaps we should add horses to the list of man's best friend.
Thanks for reading CBS NEWS.
Create your free account or log in
for more features.