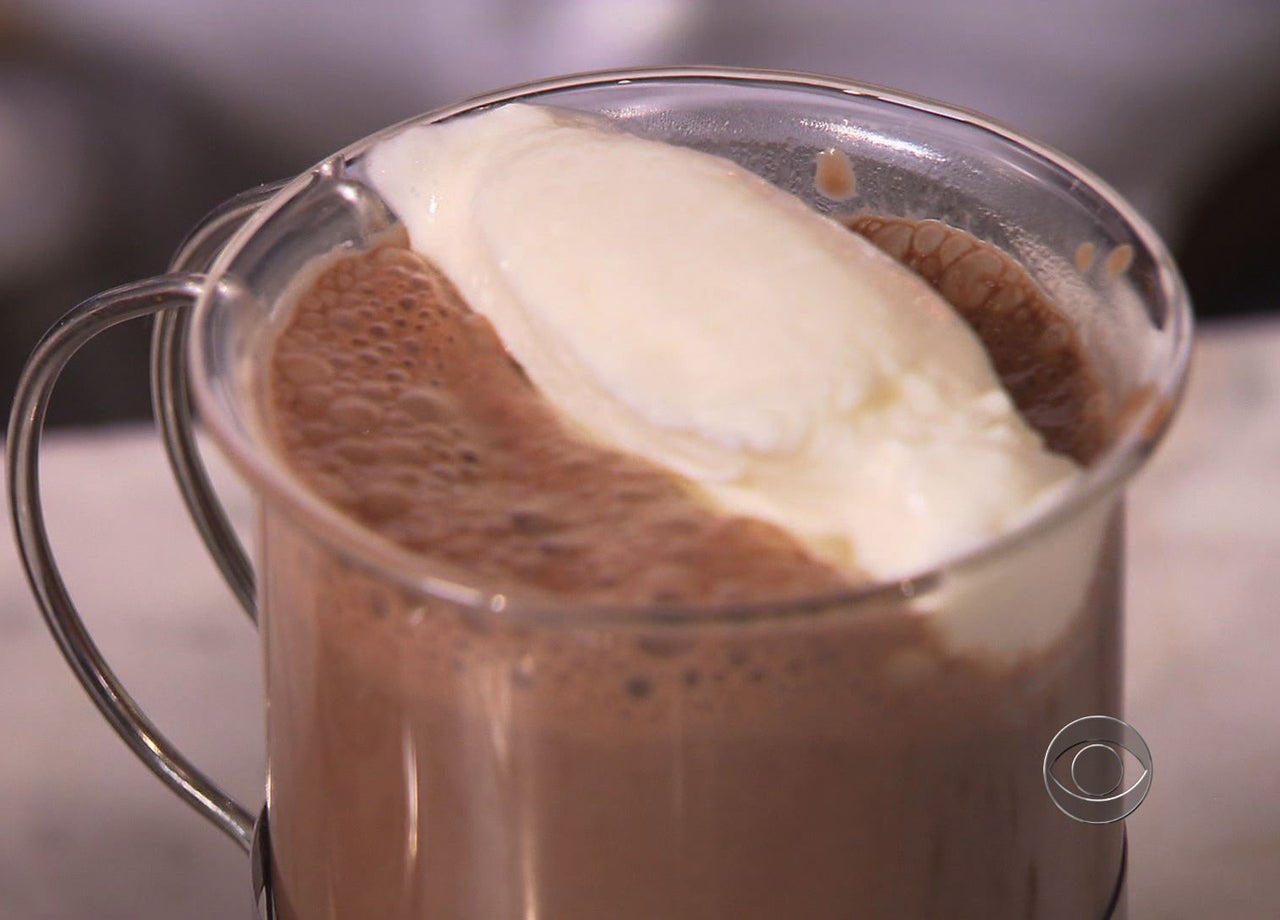 The secrets of hot chocolate
Here's some HOT STUFF for a cold winter's day! It's hot chocolate . . . and though much of it these days comes pre-packed off the supermarket shelf there IS another way. Serena Altschul has been to see some hot chocolate craftsmen at work:
Wouldn't it be nice to have New York chocolate-maker Jacques Torres on-call 24/7, ready to satisfy your cold-weather craving for a cup of hot chocolate?
But Torres says his secret is quite simple: Heat your milk once . . . put the powder mix in, boil it again . . . and use good chocolate, such as the mix he sells for $18 a tin. Not for him those packs of instant cocoa.
And while customers eagerly gobble up his hand-crafted bon-bons, Torres confides that HOT is the best way to enjoy chocolate - an instant infusion of a chocolate experience.
"This is a burst of flavor. That what's going on, because it's hot," he said. "This is a great breakfast, I'm telling you!"
Although we Americans consider the drink mostly a treat for children, in many parts of the world, hot chocolate really is the preferred way for grown-ups to start the day.
In Spain, chocolate and churros - delicate tubes of fried dough - are the breakfast of champions.
In fact, the European taste for chocolate took root after Spain's conquest of Mesoamerica - modern-day Mexico and Central America - in the 1500s.
The Mesoamericans revered the seed-filled pods of the cacao tree. Aztec king Montezuma demanded his tribute in cacao beans. Ancient Mayan drawings depict ritual consumption of a chocolate drink.
Yes, more than two thousand years before the Hershey bar, the original way to enjoy chocolate was as a beverage.
"They thought of it like we think of black coffee," said reknowned Chicago chef and restaurateur Rick Bayless. "It was a beverage that was sort of a bitter and very complex in its aroma and very special - bitter not sweet. Sometimes they would even add chilies or herbs to it."
Bayless has made it his mission to introduce Americans to authentic hot chocolate - the Aztec way. Consider this a kind of edible archaeology.
Using a stone-grinder, Bayless unlocks the oils in the cacao beans to prepare a drink that's creamy, yet is made with nothing but water - plus a hint of sugar and spice.
"It's sweet, it's savory," said Altschul.
"Savory, because of that little bit of chile" said Bayless. "You can see how it fits the bill for all your dessert needs."
If that's not enough to convince you that hot chocolate is more than just kids' stuff, then belly-up to the bar at Phillip Ward's Mayahuel in downtown Manhattan.
Ward combines hot chocolate with another Mexican import - mezcal. For those who haven't tried it, mezcal is something like the rough and rowdy big brother of tequila.
"Mezcal works good in here 'cause mezcal doesn't really go away whenever you put it in anything. It has a big personality."
It's a combination that packs a big punch as well - and something Montezuma himself would no doubt enjoy.
Recipe: Mezcal-spiked hot chocolate
Phillip Ward shares Mayahuel's recipe for a special winter beverage
Hot Chocolate:
Ingredients:
1 gallon whole milk
1/2 ounce chile de arbol (tree chili)
24.5 ounces Mexican chocolate
Simmer on stove until chocolate has dissolved and chile has infused milk - about 1 hour.
Strain and serve as described below.
Whipped Cream:
Blend in 1 ounce Grand Marnier to 1 quart whipped cream.
To make drink:
Pour 11/2 ounces mezcal in cup.
Top with chocolate, then whipped cream.
Shave cinnamon on top.
For more info:
Thanks for reading CBS NEWS.
Create your free account or log in
for more features.