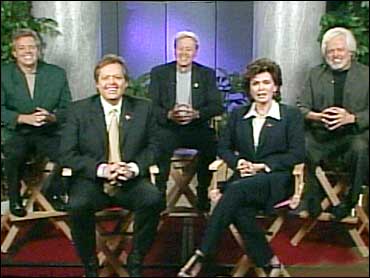 To be honored with a star in Hollywood's Walk of Fame, is considered prestigious and one of the highest achievements in show business.
And after more than 40 years of television and 47 gold and platinum records, the infamous Osmond family is overjoyed about this honor and visited The CBS Early Show to talk about their successes.
From Pop, Rock & Roll, to Country and Gospel music, the family has had sold-out engagements from Vegas all way over to the U.K. Mastering a variety of musical genres is the contributing factor to the Osmond legacy and life-long success, which has enabled them to touch audiences both young and old, and every age in between.
Some say the family was just born to be stars, having sold 100 million records world wide, as Marie Osmond told Early Show Anchor Julie Chen, "For me, going into show business seemed normal. It really did." It was a natural thing," she added, "It was what our family did, it really was."
When asked how the group got started or what was the pinnacle of your career, Chen asked the group. Jimmy Osmond said, "In 1957, we did a show for Walt Disney, and in 1962, we sang on the Andy Williams show."
Today, the Osmonds are one of the most prolific entertainment families in the world. Their example of an unfailing belief in God and family, along with a wide-range of talent, creates the unique combination that has led to the tremendous success of the Osmonds.
They've spent over forty years working together as a family and entertaining audiences all over the world, giving them the accomplishment of the longest running group in history.
In fact, the Osmond family has collectively been awarded 47 gold and platinum records--surpassing both Elvis' and the Beatles' best single year success by being honored with nine gold records in 1971. The Osmond Brothers have created a niche all their own in the field of entertainment.
Being the only girl in the group, "When you were growing up, were your brothers very protective of you," Chen asked Marie. "What do you think?" giggling while looking around her brothers Marie said. "They even picked me up from my hotel room so that I couldn't walk down by myself," Marie said as her brothers giggled from behind.
"It's all about family for us," said Jimmy Osmond, who was the epidemy of Michael Jackson performing with the Jackson 5 in 1962 on the Andy Williams show. Some say he was the little cute boy singing lead for the group, "he was the cute boy who followed the cameras as he was singing," said sister Marie." He got us our first record, she said.
The Osmond Family star will be located at 7080 Hollywood Boulevard along side of many past Walk of Fame honorees like: Rowan & Martin, The Beatles; and KISS. As well as legends like Mac Davis, Earth Wind & Fire; Pearl Bailey, Terry Bradshaw, Don Johnson; and several others. Also, the star is not too far from the center island where Elvis' star is.
And, because it recognizes a life-long contribution of both public and peer appreciation, it is an honor uniquely in a class by itself. The Walk of Fame is a permanent monument of the past, as well as the present.
Today Hollywood added yet another star to their Walk of fame...commemorating the Osmonds...Donny, Marie, Jimmy, Alan, Jay, and Merrill...for four decades of great success.
Thanks for reading CBS NEWS.
Create your free account or log in
for more features.