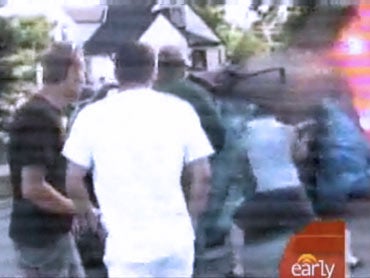 The Odd Truth, June 13, 2003
The Odd Truth is a collection of strange but factual news stories from around the world compiled by CBSNews.com's Brian Bernbaum. A new collection of stories is published each weekday. On weekends, you can read a week's worth of The Odd Truth.
Chinese Reality TV
BEIJING - Chinese archeologists opened a 1,000-year-old coffin live on national television Thursday, revealing what was believed to be the body of an ancient tribal nobleman.
Titled "the mystery of the 1,000-year-old coffin," the event was shown on the main state television noon news from a research center in the northern region of Inner Mongolia.
Archeologists and police guards in rubber gloves and face masks first lifted off a cover of an outer sarcophagus. They then opened an inner coffin, revealing a body covered in a silk blanket and wearing a necklace, bells around the ankles and a metal-studded mask and helmet.
Both boxes were made of thick slabs of wood with brass handles and decorated with gilt designs of birds, servants and swirling pattern.
Experts would have to decide whether to clean and study the remains inside the coffin or remove them, the head of the recovery team, Ta La, told China Central Television.
The identity of the deceased is unknown, the broadcast said.
CCTV said the coffin dated from the Liao dynasty, established by warriors from the Khitan tribe who seized power in northern China in 907 A.D. during the decline of the Tang dynasty.
It was found in a treasure-filled grave in Inner Mongolia's Tuerji mountain, CCTV said. The report didn't say when it was found.
Shoplift Like A Butterfly, Sting Like A Bee?
SEDALIA, Mo. - A shoplifter caused a buzz in a department store restroom and made off with about $60 worth of CDs, perfume, batteries and scissors.
The man released a swarm of honeybees in a Kmart restroom, creating a diversion that allowed him to escape, authorities said.
Store security spotted the man shoplifting Monday and followed him to the restroom to confront him. When the worker opened the door, about 100 bees buzzed out.
"He probably started yelling 'Bees! Bees!' or whatever the case may be, then created that big diversion, then got out," said police Cmdr. John DeGonia.
Store employees pulled cans of bug spray off store shelves to kill the bees. No one was stung.
Mistaken In Miami
MIAMI - A middle Georgia woman is free to go after being mistaken for a French fugitive and arrested in Miami.
Authorities in South Florida thought they had caught up with Nadine Tretiakoff last Friday. She's wanted for kidnapping her two children from their father. But they had really found Nona Cason of Macon, Georgia, who had to spend six nights in jail before DNA tests cleared her this week.
When officers brandishing guns ran toward her car, Cason thought they were after somebody else. But she was taken into custody and didn't even know what had happened to her kids for a couple of nights.
Even Tretiakoff's former husband thought Cason was the missing woman. But he admits he hadn't seen Tretiakoff in about six years.
Cason moved to Florida in March, seeking nontraditional medical treatment for an autistic daughter. Tretiakoff is still missing, along with her kids.
North Korea Develops Blood-Cleansing 'Jewel'
SEOUL, South Korea - North Korea claimed Friday that it has developed a wearable device that uses a "jewel" to convert the sun's rays into a photo-electromagnetic field to purify blood and heal a range of serious diseases.
The device, worn as a wristband or ring, was tested on more than 500 patients, the state-run Korean Central News Agency reported Friday.
Within hours, it cured 98.8 percent of the patients of a range of conditions, including blood clots in the brain, heart attacks, blocked arteries, the report said. It didn't elaborate.
"It is much better than medicinal therapy, dietary and exercise remedies," KCNA said.
The country remains the world's most isolated country. Its claims cannot be independently verified.
North Korea's communist government is cash-strapped and has been accused of resorting to selling narcotics and missiles to raise money. Alternative health remedies are believed to be popular in the country as health care is poor.
Art, Schmart
BEACON, N.Y. - The phrase, "I could do that" is often heard at modern art museums.
Some electricians working at the Dia:Beacon museum tried to prove it.
After viewing abstract sculptures by John Chamberlain crafted with materials such as crushed automobile parts, a group of electricians created their own work and placed it alongside Chamberlain's.
About a week passed before anyone noticed the addition to the exhibit, featuring such works as "Norma Jean Risen" and "The Privet."
"We saw some artwork upstairs," David Vega, the group foreman, told radio station WNYC in an interview to be aired this weekend. "We tried to imitate it see how long they'd take to find it.
"And a couple of guys who were walking about, around it, they didn't even notice it," he said. "It was just for fun."
Workers setting up the exhibit discovered and removed the piece before Dia:Beacon opened to the public May 18, said Amy Weisser, the museum's assistant director.
"The electricians made a sculpture, an homage to John's work," she said. "When the art installers saw it, they knew it wasn't John's work. This was something that wasn't mistaken as a work of art by anyone other than the electricians."
The museum threw away the electricians' sculpture.
The Dia:Beacon occupies a restored printing plant on the Hudson River, 60 miles north of New York City.
Durian-Scented Condoms A Hit In Indonesia
JAKARTA, Indonesia - AIDS activists are selling condoms that smell like durian — Southeast Asia's popular but pungent fruit — to encourage safe sex in Indonesia.
Foreigners often shy away from the spiky skinned durian, comparing its odor with stale cheese, old gym shoes or a gas leak.
But the perfume is liked by many Asians.
DKT Indonesia, an AIDS group, started distributing durian condoms in Jakarta about two weeks ago to overwhelming demand.
"It's been really good," Christopher Purdy, country director for the Washington-based DKT, an anti-AIDS and family planning organization, said Friday.
"In the first week, we've sold about 150,000 condoms, he said. "We're trying to bring a little humor into a serious subject and break down some of the barriers."
The condom campaign aims to raise awareness about HIV in a country where infection rates have doubled in the past five years to between 80,000 and 120,000 people, Purdy said. HIV infection rates range from 5 percent to 25 percent among high-risk groups like sex workers and drug addicts, he added.
"For many people, the durian might not be a pleasant smell," Purdy said. "But the average Indonesian grows up with that smell and loves that smell," he said.
Iowa Town Turns To Goat Racing For Boost
MYSTIC, Iowa - This dwindling Iowa town is hoping goat races will revive its Independence Day celebration.
The clatter of hoofs on the brick main street will be heard July 5 during the first annual Mystic Goat Races.
Once a bustling coal town of 3,000 people, the town near the Missouri border, now has about 600 residents.
Gone are the stores, its school and many of the town's homes. Also gone are the crowds that once filled Mystic's streets for the Fourth of July celebration.
The Mystic Booster Club hopes to revive those days this year with a parade, Mystic Queen pageant, live music and the goat race.
Promoters say they hope to attract people, and contestants, from all over the state.
There also will be a celebrity goat race, featuring the county sheriff, the dean of the local community college and several local business people.
During a race, a goat jockey runs behind the goat barefoot, holding onto its leash and guiding it with a branch.
Local rules will disqualify anyone who swats their goat. Racers also won't be able to drag or carry their goat. Shoes are optional.
Phone Exec's Contract Bars E-mail Firing
LONDON - The next leader of British mobile phone giant Vodafone Group PLC has signed a contract that prevents him from being fired by text message or e-mail.
If the board of the telecom company wants to sack the new chief executive, Arun Sarin, it will have to send a fax or use old-fashioned paper and ink. The agreement specifically rules out notifying Sarin by "electronic mail or any other electronic messaging service."
The news comes less than two weeks after British newspapers reported that employees of The Accident Group, a personal-injury claims specialist, learned by text message that they were losing their jobs.
Sarin is scheduled to take over from Sir Christopher Gent at Vodafone's annual meeting next month, but Gent is staying on until the end of the year to aid the transition. Gent helped build up the company over the last 17 years, including the last six as CEO.
Wanted: Smart Sperm
BEIJING - China's first "smart sperm" bank, which accepts only highly educated donors, says it has 400 women on a waiting list for fertilization.
Now it needs donors. Four years after it was set up, the center says it has fewer than 20.
"The biggest problem we are facing is the lack of suitable donors," its director, Huang Ping, told the official Xinhua News Agency.
The creation of the center in the southwestern city of Chengdu set off a debate in the Chinese press over its focus on the sperm of highly educated men.
Donors are required to have academic qualifications equal to a university associate professor, and the selection process can take up to six months.
"Potential donors are usually busy men," Huang said. "They have little time to spend on this."
Most of China's family planning efforts are aimed at reining in the growth of its population of 1.3 billion people. But the government has begun to support research into fertility treatments, sperm banks and other ways to help childless couples conceive.
Four couples have had children with the help of the Chengdu sperm bank, Xinhua said. It said the center was tracking the oldest — a 2-year-old — with plans to issue a research report later.
Fake Cop Pulls Over Real Cop
KANSAS CITY, Mo. - A man impersonating a police officer was arrested after he tried to pull over a motorist — who turned out to be a real cop.
The off duty officer became suspicious because the lights on the imposter's car were blue. Kansas City police use a combination of blue and red flashing lights, said police spokesman Capt. Rich Lockhart.
The officer called a dispatcher and a nearby patrol car tried to stop the suspect, who was driving a blue Crown Victoria, a vehicle commonly used by police.
The suspect led police on a six-mile chase that ended after officers used "stop sticks" to puncture the suspect's tires. The man lost control of his car and crashed into a utility pole, Lockhart said.
The 30-year-old suspect, who was not identified, jumped out of his car and ran a short distance before he was captured.
Authorities were questioning the man Wednesday and had not released a possible motive.
Kid Sent Home From School After Prop Musket Scare
MILL CREEK, Washington - Authorities feared the worst when the report came in of a kid with a gun at a Washington state middle school. But it was just a homemade prop used in a Civil War presentation. Police in a Seattle suburb locked-downed Jackson High and Heatherwood Middle schools, after a parent spotted what looked like a rifle. It was actually a prop musket, made from broomsticks, foil and wood. Mill Creek police spokeswoman Becky Erk says everyone is relieved it's just a case of mistaken identity. The 14-year-old boy was sent home. School officials are deciding if he'll be allowed to finish the term, which ends next Wednesday.
Koosh Ball Injury Prompts 'Rosie' Lawsuit
NEW YORK - A 71-year-old Westchester County woman has sued the producers of Rosie O'Donnell's defunct talk show for $3 million, saying she was hit in the mouth with a hard rubber ball while she was in the studio audience.
Lucille DeBellis, of Hartsdale, N.Y., said she was at a taping of "The Rosie O'Donnell Show" in Manhattan on Nov. 29, 2001, when a show staffer used a slingshot-type device to fire an object called a "cuzball" - or koosh ball - into the audience during the warm-up.
DeBellis says in papers filed in Manhattan's state Supreme Court that the ball struck her "squarely in the mouth, causing her to suffer pain and swelling, as well as bleeding in her gums."
DeBellis' lawyer, William J. Dealy, said Wednesday that by the time his client arrived home, the injury had worsened and she had swelling and lumps in her mouth. He said a doctor gave her steroids, antibiotics and cortisone injections to reduce the lesions.
DeBellis' physical discomfort and embarrassment about her appearance caused her to turn down holiday parties and other social events and spend the 2001 Christmas season in her home, court papers say.
"Furthermore, the pain and soreness around plaintiff's mouth adversely affected plaintiff's relationship with her boyfriend," court papers say.
DeBellis' lawsuit names the show's producer, Warner Bros. Television, its affiliated companies AOL Time Warner Inc. and Turner Broadcasting System Inc., and two unknown individuals as defendants. O'Donnell is not a defendant.
A Warner spokeswoman and vice president, Kate Chilton, did not immediately return a telephone call for comment.
Picnic Gives Way To Rescue Mission
CAPE GIRARDEAU, Mo. - Call it a case of picnic plans gone adrift.
A couple who boated out to a sandbar for a late lunch Monday afternoon became stranded overnight when their boat floated away.
The couple tried to flag down passing watercraft for help, but no one responded.
"Several other boats went by," said Fire Capt. Mark Starnes. "But they must have thought they were waving just to be friendly."
Early next morning, an observer spotted the couple and called authorities. Cape Girardeau firefighters boated out and rescued them, Starnes said.
Bono Praises Orrin Hatch's 'Beautiful' Music
WASHINGTON - Irish rocker Bono has some surprising things to say about Senator Orrin Hatch, who does some moonlighting as a songwriter.
He's praising the Republican's songs as "beautiful." But he says they're not likely to get a lot of play. The singer for U2 says the conservative Hatch might have more luck if he changed his name to "Johnny Trapdoor."
Hatch showed off his songwriting talent when he met with Bono to discuss hunger and AIDS in Africa.
Last year was Hatch's most successful year as a songwriter. He took in just over $18,000 according to his Senate financial disclosure forms.
Hatch has written dozens of hymns and flag-waving soft-rock ballads, including "America United" and "America Rocks!" Entertainers from Gladys Knight to Donny Osmond have recorded his work.
Iowa Man Heads For Sheep Shearing Championship
BATTLE CREEK, Iowa - An Iowa man plans to compete for a world sheep shearing championship — and at least one Montanan is on his team.
Paul Hoffman of Battle Creek, Iowa, is one of five people who will represent the United States at the international competition June 19th in Edinburgh, Scotland. Hoffman says teammates also come from Minnesota and Pennsylvania. A roster wasn't available.
Competitors must be able to shear six sheep in less than five minutes. Hoffman says competitors are penalized for cuts or blemishes left on the animals.
He says tough competition is expected from Australia and New Zealand. Those countries have more sheep shearers and more than five times as many sheep as the United States, where the herds total only about five million head.
Contempt Of Check
NEW BRUNSWICK, N.J. - A woman's decision to write an offensive comment on her check when she paid a parking ticket has proven costly: She had to pay an additional $100 fine for contempt of court.
Eva Sas, 24, made an anatomical reference in the memo portion of the $22 check she mailed to the New Brunswick Municipal Court. She received the contempt summons last month after Ralph Stanzione, the city's chief judge, refused to accept her check.
"Maybe what I did was a bit immature or disrespectful, but it's my right, and it's not illegal," Sas said.
A 1999 directive from the state judiciary, which oversees municipal courts, prohibits judges from penalizing citizens for writing obscene comments. Court officials would not comment on why the order was not followed in this case.
Sas, a Rutgers University student, initially planned to appeal but instead paid the fine last month — in cash.
Sewer Scam?
FORT PIERCE, Fla. - A homeowner who has been paying a monthly sewer bill since 1979 learned after plumbing trouble that he has a septic tank and has never been connected to the city utility.
Donald Griffith went to court Tuesday with a civil lawsuit against the Fort Pierce Utilities Authority, asking for his money to be returned — with interest.
Griffith, 66, says the utility company has been billing him unfairly since 1979. After his system backed up last year, Griffith said he discovered he has a septic tank, not a sewer connection.
The retired sheet metal and roofing contractor said he tried to work out a deal with FPUA, but the utility turned him down. The company owes him $16,000 in paid bills, the suit claims.
"We tried to resolve this amicably, but that was not possible," said Bud Boudreaux, FPUA utilities director. "If it has to go to court, it has to go to court."
Griffith said FPUA originally agreed to hook his home up to the sewer system and pay him a few thousand dollars for past bills. After Griffith met with an attorney, FPUA took its offer off the table, he said.
China Cracks Down On Clubs, Associations
BEIJING - China has launched a new crackdown. The targets: Accountants, Russian linguists and admirers of a racy Ming dynasty novel.
More than 100 social groups ranging from language study associations to a fan club for ballroom dance music have been told to disband for failing to meet strict registration requirements, state media said Wednesday.
The Ministry of Civil Affairs told 63 national-level groups to shut down or face "serious punishment," according to its Web site. In Sichuan province in the southwest, the newspaper West China City Daily said 50 hobby clubs also were told to close.
The closures highlight the communist government's continuing insistence on closely regulating social, religious and other activities despite two decades of looser economic and social controls.
Elaborate rules require even hobby clubs to register members with the government.
National-level groups have to show a "source of assets" and at least 100,000 yuan ($12,000) in "activity fees" - the equivalent of nearly 20 years' income for the average Chinese.
Groups hit by the latest crackdown include those devoted to studying Russian, German, French and Spanish, the China Fishing Association and fans of "The Golden Lotus," a sexually explicit novel from the 17th century.
"Effective immediately, no person is allowed to hold activities using the names of these groups," said the Ministry of Civil Affairs order.
No one at the ministry was available for comment.
Sri Lanka Top Official Refused Retirement Request
COLOMBO, Sri Lanka - After 33 years of service and five heart attacks, Sri Lanka's top election official has this plea: Let me retire. But the government won't let him.
Election Commissioner Dayananda Dissanayake is asking the Supreme Court to overrule a government decree that he must stay in his post until a replacement is found.
"I have suffered five heat attacks and I want to retire," Dissanayake said Wednesday, a day after lawyers filed his petition to the highest court. "I am 61 plus and I have the right to take some rest."
Dissanayake already is past Sri Lanka's usual retirement age of 60. He entered government service in 1970, and assumed his current post in February 1995.
A 2001 constitutional amendment called for a new election commission with more powers to replace the existing one, and stipulated that Dissanayake stay in office until the new agency is formed and a commissioner appointed.
The government, which has yet to set up the new commission, has not commented on the case.
The Supreme Court was scheduled to review the petition Friday.
Sri Lanka has a history of bloody and difficult elections. Violence surrounding the last general elections in December 2001 claimed 61 lives.
Burglars Need Not Apply
STILLWATER, Okla. - A burglar caught on videotape was arrested two days later when he applied for a job at the construction company he burglarized, deputies said.
The owner of JB Construction recognized the job applicant as the man on the tape who stole a $100 laser level tool from the business and $1,000 in CDs from an employees' car.
"The owner called and said, 'I think he's here filling out a job application,"' Payne County sheriff's deputy Sammie Dawson said.
Anthony Kaleb Phillips, 20, was still filling out the application when deputies arrived Thursday. Phillips was ordered jailed in lieu of $5,000 bail Friday.
"He has a six months' pregnant wife at home," sheriff's investigator Noel Bagwell said. "He'd lost his previous job."
Phillips admitted to the burglary when investigators told him he was caught on a surveillance video, Bagwell said. He told them he went to the construction company Tuesday to apply for a job, but found the business unlocked and no one inside.
"He said his conscience bothered him and he wanted to return them," Bagwell said.
Deputies recovered 101 CDs and the tool from Bagwell's home.
Snakes Roam Beijing Streets
BEIJING - First SARS, now snakes.
As China's capital begins to return to normal following the SARS outbreak, it faces a slithery new dilemma - what to do with all those snakes?
Once prized by Chinese gourmets, snake meat has been shunned since researchers announced that the deadly flu-like disease jumped to humans from wild animals.
Restaurants in hard-hit Beijing that once served snakes are taking them off the menu and "secretly releasing" them into the streets, the Beijing Morning Post newspaper said Tuesday.
The southern province of Guangdong, where the first cases of severe acute respiratory syndrome occurred, banned the sale of wildlife in restaurants in late May. Beijing has not imposed a similar ban, but the Chinese capital already barred restaurants from serving many types of animals.
Wayward snakes have become such a problem in some Beijing neighborhoods that the city Forestry Bureau has launched a "snake capture hot line."
A woman who answered the hot line said more than 25 snakes had been caught in the past three weeks.
She said the largest snake caught yet was six feet long "and as thick as a forearm." She said she didn't know what species were involved, but said none were poisonous.
"They all seem to have been released by snake vendors," she said.
Captured snakes are taken to a "snake sanctuary" at the Beijing Zoo, the newspaper said. It said some will be added to the zoo's collection, while others that cannot be raised in captivity will be returned to the wild.
Porn On The Clock
GETTYSBURG, Pennsylvania - An Adams County, Pennsylvania, official will have to get his kicks on his own time. Commissioner Thomas Collins has admitted using his office computer to surf Internet porn during business hours. Monitoring software showed more than 450 sex site hits during a three-month period. Collins tells the Evening Sun of Hanover that the Internet was his escape mechanism. He adds he has a "mental-health issue" to deal with. The county installed tracking software after department heads complained about misuse of computers. Now, the county has installed filtering programs to block access to porno sites from official computers. But no county official or employee is facing disciplinary action.
Pizza With A Political Twist
COPENHAGEN, Denmark - A Danish pizzeria owner who refused service to French and German tourists because their governments didn't back the U.S.-led war in Iraq was convicted of discrimination Tuesday.
Aage Bjerre, who owns a pizzeria on western Denmark's Fanoe island, was investigated by police after he wouldn't serve Germans and French. He called them "anti-American."
In February, Bjerre displayed two homemade pictograms with bars through images of people colored in the hues of the French and German flags. He also reprinted his menus to eliminate German translations.
A Danish court fined Bjerre $780 or said he could spend a week in jail.
"I will not pay. I'll do the time," Bjerre told The Associated Press. "I feel that I was convicted for supporting the coalition."
However, he said he would appeal the decision, despite offers from supporters to pay the fine.
"Every day I turn tourists down, but my conscience is doing fine," he said, adding he has received more than 200 letters from around the world offering support, including letters from "nearly every single state in the United States."
"That means a lot more to me than losing money," he said, adding he's lost nearly $7,800 because of a drop in business and repairing vandalism to the shop's front.
The island, 200 miles southwest of the capital, Copenhagen, is a popular spot for visitors from neighboring Germany. Of the approximately 100,000 tourists who come, some 60 percent are German.
Stolen Diamond Swallowed
BLOOMFIELD TOWNSHIP, Mich. - A carpet cleaner is accused of swallowing a diamond ring in order to smuggle it out of the house he was cleaning.
The $3,000 ring was recovered Thursday. Daniel Dyament, 19, admitted putting the ring in his mouth in order to smuggle it out of the house, police said.
Maria Reilly was feeding her children breakfast Monday, when Dyament asked if he could use an upstairs bathroom. After the crew left, she discovered the ring was gone.
She called police, who called the carpet company. Dyament was arrested when police learned he was wanted on outstanding warrants. Dyament was charged Tuesday with larceny from a building.
The ring will be returned to the Reillys after it has been used as evidence, police said.
"I'm not really sure what to do with it," Maria Reilly said. "I need to check it out and see how I feel about it."
Vengeful Waiter Gets Just Desserts
CORONA, Calif. - Call it the case of the waiter's revenge. Police in Southern California say an angry Sizzler waiter made a mess of a couple's home. Wayne and Darlene Keller and their kids ate at a Riverside Sizzler Saturday night. The Kellers said the waiter was rude when when Mrs. Keller requested vegetables instead of a baked potato. Later that night the Kellers found their house and mailbox slimed with smashed eggs and maple syrup. Toilet paper and plastic wrap covered their yard. Police arrested several people in a nearby SUV, including the waiter. Sizzler has fired the guy, but the Kellers say they're still scared.
Govt. To Confiscate Drug Dealer's Lottery Winnings
BROWNSVILLE, Texas - A federal jury in Brownsville, Texas, has ruled that a drug dealer's millions of dollars won in a lottery can be confiscated by the government.
The jury found that 52-year-old Jose Luis Betancourt had been trafficking drugs for 20 years and that he used drug proceeds to buy the winning ticket.
The government said that two days after about $5.5 million was deposited in Betancourt's account on January 14th, Betancourt was recorded delivering 36 grams of cocaine to a confidential informant. Prosecutors say Betancourt told the informant he had more drugs at home.
Betancourt was convicted Friday of conspiracy and two counts of possession with intent to distribute cocaine. The jury returned on Monday to decide whether Betancourt's winnings could be confiscated.
Frat Boys Charged In Fish Killing
SANTA CRUZ, Calif. - Two fraternity brothers at the University of California's Santa Cruz campus are facing criminal charges for allegedly killing a beloved fish at a campus day care center.
Officials say the students have admitted the prank, in which they hit the fish with a rake and barbecued it.
Seniors Casey Loop and Matthew Cox have been charged with theft and malicious mischief.
Prosecutors say the fish was killed as part of a fraternity prank.
The Koi fish was a favorite among children at the day care center.
The fraternity spent $654 dollars on a replacement fish last month - and posted a letter on campus saying that the fraternity brothers do not condone cruelty to animals.
Pictures Are Worth $8,000, To Be Exact
LONDON - If a picture is worth a thousand words, how much is that in cash?
For Mark McCarthy, who took a supermarket and Kodak to court when they lost his vacation pictures, it was worth $8,000.
McCarthy refused to accept it when a Tesco supermarket and Kodak declined to compensate him for losing slides from his vacation, including pictures of Las Vegas and the Grand Canyon.
The two companies agreed to settle the suit out-of-court for 5,000 pounds, news reports said Monday.
In an interview published Monday in the Daily Mail, 41-year-old McCarthy, from Potters Bar, north of London, said Tesco initially took refuge in a disclaimer on its forms that it would only pay for a new film in the event of photos being lost. Kodak was also initially only prepared to offer a new film, he said.
"I eventually established that the slides had arrived at Kodak's processing laboratory in Northampton, and they confirmed that they had developed them to be returned to Tesco, but after that the trail went cold," he said in an interview published in the tabloid Daily Mail Monday.
"It became apparent to me that no one at either Tesco or Kodak was going to accept any responsibility for the fact that my pictures were lost."
McCarthy, a business consultant, went to the United States in January 2002.
Under the agreement, neither company was prepared to comment on the case. A Tesco spokeswoman said the company will continue looking for the slides for a year.
Thanks for reading CBS NEWS.
Create your free account or log in
for more features.