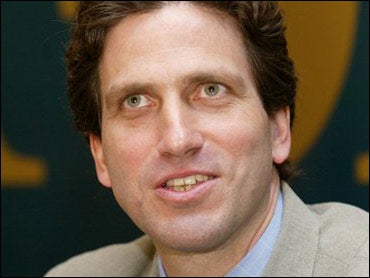 The Man Who Knew Too Much
This story originally aired on April 30, 2005.
On a July night two years ago, Paul Klebnikov, 41, sat alone in the Moscow office of Forbes magazine. He picked up the phone, and called three of the people he was closest to -- his brother, his sister and his wife.
"He was very happy, he was very exhilarated, and he said he'd never worked harder in his life," says his sister Anna.
"It was a very normal conversation," recalls his wife, Musa. "It seemed very calm."
"He was in a wonderful mood," adds his brother Peter, who says it was only the second time Klebnikov had called since he moved to Russia. "But on the other hand, it was so strange that he called me. I've heard stories of people before they die, [who] suddenly call their loved ones. And maybe this was such a case."
His brothers, Peter and Michael, firmly believe that Klebnikov was killed simply because of his work as an investigative journalist. And that Klebnikov, who was given information about corruption among Russia's rich and powerful, had become a man who knew too much. Correspondent Susan Spencer reports.
---
"He was becoming a safe harbor for information," says Michael Klebnikov.

"People started giving him information - all types of people, from military generals to cops on the street," says Peter Klebnikov, who believes his brother died at the peak of his life.

The murder of a journalist is hardly unheard of in Russia. Roughly a dozen have been killed since President Vladimir Putin took office. But Paul Klebnikov was the first American journalist to be killed - and he was an American who considered himself a son of Russia.

Descended from Russian aristocrats, Klebnikov and his brothers and sister grew up in New York City, but they never lost their Russian roots.

Klebnikov was the youngest in the family, but he more than held his own. "He had a tremendous spirit of discovery," says his brother, Peter. After college, Klebnikov trained to be a U.S. Marine, and entered an officer's candidate school. Klebnikov was offered a commission but turned it down. Then in 1989, he took what would become his dream job - working in New York as a reporter for Forbes magazine.

Klebnikov found his true calling, and his true love - Helen Train, known as Musa. They met in childhood. They were married in 1991 in a traditional Russian ceremony, and eventually had three children.

But just three months after they married, the Soviet Union collapsed, and Klebnikov's attention was lured away to his other great passion: Russia.

Klebnikov started writing about the new Russian robber barons, who were grabbing up factories and businesses, and making billions -- leaving ordinary Russians with virtually nothing.

"He was agonized about how older people had to sell matches in the winter streets under the snow," says his brother, Peter. "How people would have to sell their books and their collections."

Outraged, Klebnikov jumped at the chance in 2004 to move to Moscow and become editor in chief of the new Russian edition of Forbes. There, he met some powerful people in politics and business, and began learning some of their secrets as well. He learned that one secret can hide another, and uncovering the truth would be both difficult, and dangerous.

"Last spring, he received some documents," says Michael Klebnikov. "He said they were very, very serious documents, and he wasn't quite sure what to do with them." His family never has learned what was in those documents. But if Klebnikov felt threatened, he didn't show it. He had Musa and their oldest child come visit. It was the last week of Klebnikov's life.

"It's in many ways a silly thing to say, but at that moment, he had four days left to live," says Mark Franchetti, a reporter for The Sunday Times of London . He had dinner with Paul and Musa. "He was incredibly excited about Forbes. He was very happy to be here. He'd even talked about bringing his family here."

But that was not to be. Musa and her son ended their visit, and on the last night of his life, Klebnikov stayed late at the office. One by one, he called his brother, his sister, and Musa. But on the street, outside his office, someone was watching and waiting.

The relentless beat of Moscow's super-charged nightlife pounds on into the wee hours. But for Klebnikov, it was all background noise. "He was working so hard, he had no time to socialize, no time to go out," says Franchetti.

A true workaholic, Klebnikov usually spent his evenings in the sixth floor offices of Forbes Russia. Then he would head home on the subway, just as he used to do in New York.

He wrapped things up late on July 9, 2004. "About 10 p.m., he left the building from that entrance," says Capt. Vassily Glushchenko, of Russia's General Prosecutor's Office. He traces what investigators think happened next: "We think he was being watched."

A dark car with darkened windows trailed Klebnikov as he walked to the subway station. "He was on his way, and we think the car was still following him," says Glushchenko. "The whole way from his office." Less than two blocks from the Forbes office, the car made a fast, left turn, and cut Klebnikov off. Glushchenko says Klebnikov was shot nine times. He was gunned down with a 9-millimeter Russian Makarov pistol.

His assailants vanished within seconds, their getaway car speeding off into the shadows of the Moscow night. A passing ambulance was first to call in the shooting and quickly radioed for full medical backup.

Cops from the local precinct rushed to the scene. Despite multiple gunshot wounds, Klebnikov was still alive. When asked if he knew who shot him, he managed to say, "No, I don't know. No."

"I was working when somebody called and told that Paul Klebnikov is dying on the street," says Newsweek reporter Michael Fishman, who rode in the ambulance with Klebnikov.

"At that moment, I understood very well that he was very bad, and he started losing consciousness. The nurses and myself we were trying to get him back, shouting 'C'mon you're strong, you can do it.'"

The ride to Hospital Number 20 took only a few minutes, but Klebnikov's injuries were devastating. He couldn't be saved.

The murder of an American may be unusual, but unfortunately, contract killings in Moscow are not. By one estimate, there are as many as 500 a year. It's said you can arrange a contract hit for a little as a bottle of vodka -- but not a hit like this one.

"To kill a person like Paul Klebnikov, you can't hire an amateur," says Glushchenko, who seems sure that the intricate planning of the murder points to a very professional hit. "They knew when he's leaving his office, when he was on his way to the underground station. They knew where to put the car - and to shoot." Investigators found the getaway car just a day later, abandoned about half a mile away: a black Lada, its serial numbers scratched out, with stolen plates. The killers' fingerprints were left behind inside the car, and filed as evidence.

The shocking news of the first murder of an American journalist in Russia got worldwide coverage. "There's been a huge, huge interest worldwide," says Musa. "It's so obvious that he was killed for speaking the truth."

A memorial service for Klebnikov at Moscow's Christ the Savior Cathedral drew nearly 1,000 people. "Most of them had never met him, and people would walk up to us," says Peter Klebnikov. "And many of them would say, 'Forgive us for not having protected your brother. In a way, it made it all sort of easy to take."

Even before the funeral ended, the guessing game began. Who would have any reason to have Paul Klebnikov murdered?

Moscow today is a far cry from the Moscow of the old Soviet Union. It's said that this city has more billionaires than any other city on Earth. Think of anything overpriced, overdone and over the top, and you'll probably find it here.

It's an atmosphere that seems perfectly natural for someone like pharmaceutical king Vladimir Bryntsalov to produce a home movie, bragging about his own country house, which he says puts Donald Trump to shame. His city house isn't bad either.

Franchetti says given Russia's history, none of this is a surprise: "You have the cash today. You blow it in case, you don't know what's going to happen tomorrow. So people who do have money, yeah they flaunt it. It's very in your face. It's very brazen." Still, it was a shock to many when Klebnikov's fledgling Forbes Russia published a list of the 100 wealthiest Russians -- complete with their financial details. Heading the list was an oil tycoon with a cool $15.2 billion.

"The Forbes report on the 100 richest Russians was actually a fairly scandalous publication," says Carl Shreck, an American who covers crime for the English language Moscow Times. He thought the list was asking for trouble. "As far as the business world is concerned, as a general rule, people don't like to officially announce how much money they actually have."

In a 2001 interview with CBS News, Klebnikov blasted rich Russians for taking their fast-made billions of the 1990s, and moving the cash out of the country.

Forbes' new ranking of the rich got a lot of attention in Moscow. Yelena Khanga, an Oprah-like afternoon talk show host in Moscow, invited Klebnikov to be a guest on her show.

"He charmed the whole team," she says. "Paul was smart, and the way he cared about the subject, he was able to win the hearts of our television."

Khanga admired Klebnikov and was becoming increasingly concerned about what he was investigating. "I asked Paul how dangerous were the articles that he was working on," says Khanga. "And Paul didn't hesitate for a moment. He said that everything was under control. He was sure what he was doing, and he had absolutely no fears."

But even Khanga wonders if Klebnikov fully grasped how complicated Russia had become: "He was too American. He still didn't get the sense of what's dangerous, what's scary. And probably he crossed somebody. ...I guess there is an expression, 'If you play with fire, you get burned.' I'm afraid that's the case."

It seems hard to believe that a rich businessman would murder simply for being outed as rich. But Franchetti says in Russia today, it's a plausible scenario: "What people said at the time was that it was dangerous and provocative thing to do because it's almost an invitation to the tax police and to the prosecutor to come and investigate."

Klebnikov tried to put a positive spin on it when he'd rolled out the names in the magazine: "All the participants of this list are happy to be entering this new stage." But Klebnikov clearly had a larger purpose in mind. "I think he really wanted to help Russia go back to what was a more energetic and positive mindset that they had before communism," says Musa. "He wanted virtue to succeed."

Klebnikov had become quite optimistic about the prospects for the new Russia, but it was not so in the '90s, when he was openly disgusted with all the corruption he saw around him. As he wrote in one book, "the country was being run by killers and crooks with everyone in government an accomplice."

These were not exactly words to win friends -- especially when you call someone the godfather of the Kremlin.

Boris Berezovsky was once in Russia's inner circle, until he had a falling out with the Kremlin. In 2000, he went into self-imposed, though hardly self-denying, European exile. Paul had him at only No. 47 on Forbes' richest Russians list, with a mere $620 million.

He started as a mathematician, making just $10 a week. But Berezovsky became Russia's richest and perhaps most notorious businessman. And Klebnikov had little use for him.

Klebnikov once told an interviewer that Berezovsky was an unprincipled person, immoral and absolutely cynical.

"In Russia, we have a tradition about the dead. One either says good or nothing," says Berezovsky.

Despite a tradition of not speaking ill of the dead, Berezovsky seemed to welcome a chance to tell 48 Hours about his bitter feud with Klebnikov. It began when Klebnikov linked him to the murder of a Russian TV personality, with whom Berezovksy had business ties. The allegations appeared in Forbes. Berezovsky sued for libel. But instead of backing down, Klebnikov turned the article into a book, "Godfather of the Kremlin," one that did even more damage to the tycoon's reputation.

Years later, to settle the libel suit, Forbes was forced to acknowledge in print: "There is no evidence that Berezovsky was responsible for this or any other murder." Today, Berezovsky still views that case as a triumph over Klebnikov: "I proved in English court that he's a bad journalist."

But despite their long feud, Berezovsky dismisses any suggestion he could be involved in a contract hit - saying it's just another outrageous lie. "It's again the reason why I decide to give this interview," says Berezovsky. "Maybe this [will] help to understand better reality."

In Russia, understanding reality, and seeing beyond the surface, is never simple. The real answers to this crime may lie not in what Klebnikov already had written, but rather in what he was working on - a new project, in a place known as a killing ground.

The mystery of who ordered Klebnikov killed, and why, still haunts his family.

"Writing the truth or speaking the truth ought not to be rewarded with assassination," says Michael Klebnikov. "All of us started recalling conversations or hints of conversations. He was extremely careful about what he said, how he said it. He was very, very careful."

But never so careful as to shy away from treacherous territory, like Togliatti, home to the country's car industry and possibly the key to Klebnikov's death.

The industry, he told an interviewer, was the most criminalized in all of Russia, "drenched," he said, "in blood." What possible connection could that have had with his death? "He had visited Tolyatti, and he was very interested in the car business in general," says Michael Klebnikov.

"If it's true that Paul was preparing something big on Togliatti, or had received documents, all I can say is that's a very, very dangerous area to be looking into," says Franchetti.

In Togliatti, murder is a way of life. In fact, Klebnikov said, he'd learned that when the authorities finally cracked down on local gangs, they uncovered 65 contract killings. Most of the killings involved local mob bosses fighting for turf. But reporters have been targets as well.

One of the last journalists to die was a newspaper editor who was writing a series of articles on fraud at the Togliatti auto plant. He was stabbed to death with something resembling an ice pick.

"Paul Klebnikov had just started looking into this murder when he was gunned down," says Karan Nersisyan, the lawyer for the editor's family. Nersisyan was about to give Klebnikov papers found on the man's desk - rough drafts of articles the editor had been working on before he was stabbed.

"There are very few journalists in Russia today whom I would trust enough," says Nersisyan. "Very few, almost none. But I did trust Klebnikov. I believed that this information would be in good hands with him."

Was there something in those papers, something in the Togliatti story itself that someone wanted to stop Klebnikov from publishing -- and wanted it badly enough to order his murder?

Who else might have had a motive? Another of Klebnikov's journalistic targets comes to mind, a man who Klebnikov called one of the leaders of the Chechen mafia. He was profiled in Klebnikov's most recent book, "Conversation With A Barbarian." "It's quite easy to offend a person like that. And just the title itself, you don't know, he may find it pretty offensive," says Franchetti. "They can be pretty dangerous people to write about. ... It can be deadly dangerous to make enemies. Deadly dangerous."

In recent years, Chechen rebels, fighting for freedom from Russia, have shot hostages inside a Russian theater, blown up an airplane, and killed 170 schoolchildren at Beslan. Murdering a journalist who had displeased their leaders would not be out of the question.

But, after taking a look at all the possible motives for this murder, Franchetti comes back to the simplest - money: "For someone to make the decision to kill someone like Paul Klebnikov, which is a very high profile killing, he had to have had something which really was damaging to the business interests."

All roads seem to lead back to business, to the unmasking of corruption -- Klebnikov's trademark. And in the weeks before he was killed, he'd found a new target, Moscow's building boom, and its systematic destruction of historic landmarks.

Musa says that Klebnikov sometimes wished Russia could be a little more like the United States: "He was very motivated to bring a lot of our best American things to Russia, to really insist that we need laws. We need people to respect rules, and we can't have this kind of attitude where you can tear down a city block if you feel like it."

As the old buildings come down, the fortunes being made go up, including those of many politicians. One example is Elena Baturina, wife of the mayor of Moscow. She runs a huge construction empire. And an American official in Moscow told CBS News that, when it comes to building, little happens in the city without her approval.

Baturina claims her husband's job actually hurts her business. But it's hard to see how. She was No. 35 on Klebnikov's richest Russians list, and Forbes had put her at $1.3 billion, a fact not previously known to most ordinary Russians. She reportedly was furious with Klebnikov for telling them.

Baturina did not respond to 48 Hours' requests for an interview, and there is no evidence linking her to this murder.

But colleagues say that Klebnikov seemed about to tread on some powerful toes. "That is a very dangerous area to be looking into if you're going to start doing real investigative journalism because it's a dirty business," says Franchetti.

"We spent the whole last taxi ride I had with him in Russia talking about the articles he wanted to write about preservation," says Musa.

And these are articles that someone may have wanted to stop. "He felt no fear," says Michael Klebnikov. "He had a very strong sense of good and evil, or right and wrong. There was no gray. There was no gray." Musa says she doesn't know who is responsible for her husband's death: "I think Russia's very hard to understand. Paul was probably one of the people who really knew Russia the best."

But if taking on the powerful led to Klebnikov's death, then what really are the chances this murder ever will be solved?

Klebnikov's family not only misses the man they knew, they also mourn the man he was becoming. "All of a sudden you realize that this man is doing something which is pretty amazing, which is, in a small way, perhaps changing the world," says Peter Klebnikov.

And brother Michael vividly recalls a heart-to-heart talk he and Paul had the summer before the murder.

"It was a chrystal-clear day, beautiful white sand, cold water, nobody on the beach. And we just sort of lay side by side on our towels and caught the early June sun and talked about life, talked about Russia, about his ambitions, and his hopes."

Michael told his wife that for the first time he felt that his brother had "reached a level of impact and level of importance that I'll never be able to achieve. ... having an astounding impact on Russia and on the way that Russia's developing."

"Civil society requires a free press and killing the journalist doesn't solve your problems," adds Musa. "We need to solve this to make other journalists feel safe and I think the average Russian has to believe their country can be better. It's not just about killing people."

"There's a sense that this is sort of a litmus test for Russia," adds Peter. "Russia can never be a free democracy if they let these kind of people go loose."

Facing international pressure, authorities arrested one suspect late in 2004. And months later two others, all members of a Chechen gang. Russian prosecutors said the assassins were hired by this Chechen "Barbarian" featured in Klebnikov's critical book, a theory the family seriously doubts.

"We are working hard," says Glushchenko. "[This is] one of the most important cases for the general prosecutor's office."

But even if this case does have the full attention of the prosecutor, even if it is a top priority here at the Kremlin, contract killings still are notoriously difficult to solve."It's not going to be enough just to find some scapegoat," says Michael Klebnikov. "It has to be taken right to the very top, wherever that top is."

The Russians insisted they had their men and in January began their jury trial. Two men charged with murder, one with conspiracy. The proceedings were secret. Then four months later, a verdict: not guilty on all counts.

Russian law allows acquittals to be appealed - but that process is now stalled despite official American efforts. And the Klebnikovs' earlier confidence in Russian justice has been shattered.

"My fear is that at a certain point, the investigation will reach a level high enough where it reaches some very powerful people and then it's gonna stall out," adds Peter Klebnikov.

High-ranking U.S. officials assure the family they are keeping pressure on the Kremlin, but will that be enough?

"People abroad make a mistake in the West very often about Russia," says Franchetti. "They think that they can come here and start telling the Russians what to do. The Russians don't react to that kind of pressure. They just don't."

It's still unclear where this mystery will end: back in the killing ground of Tolyatti, in the violent landscape of Chechnya or perhaps back in Moscow and the massive money machine of its new economy.

As Franchetti points out, no one at this point is even sure of the motive: "Most likely, it's something that he was actually working on, as opposed to something he already published. But I'm afraid that we just don't know."

And it something we may never know.

When the Committee to Protect Journalists presented its International Press Freedom Award to Paul, Musa accepted on his behalf.

"One great journalist has been killed but I hope other journalists will pick up the banner and fight on -- because an attack on one journalist is an attack on all journalists. And in this case, on hope itself. Thank you," she said.

In the end, it's not symbolism but cherished memories that will keep Paul Klebnikov alive for his family, memories and the music and culture of the country he loved as much as his own.

"What he really loved was the old Russian songs," says Musa. "One of the things that really makes me think about Paul is that these songs would go way down with the whole choir."
---

The Committee to Protect Journalists wants President Bush to urge Russia's president to pursue justice in the Klebnikov murder. The two presidents meet this month.

An international team of investigative reporters, calling themselves "Project Klebnikov," is developing new information in the case.
Thanks for reading CBS NEWS.
Create your free account or log in
for more features.