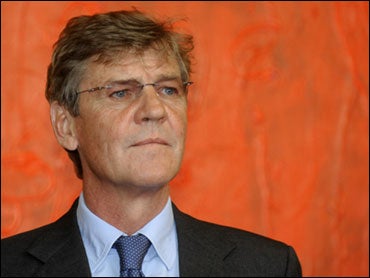 Sooner or later, we all learn that there is no area of the face more vulnerable to aging than the area around the eyes. But whether it's fine lines, puffy eyes or dark circles, there is an eye cream out there to help you, says Beauty and Wellness Contributor Dayle Haddon.

Did you know?


Because the area around the eyes is so thin, it's not only more vulnerable to damage, it's the first place we begin to notice changes.
Most eye creams go through rigorous safety testing because of the potential for the product to enter the eye.
There are two types of aging: genetic, which we can't really control, and environmental, which can cause up to 80 percent of signs of aging.
Facial moisturizers will NOT work in place of eye creams, because most contain active ingredients that are far too potent for the fragile eye area.
No eye product or cream should cause burning or stinging in the eye. If you experience these types of symptoms, discontinue use immediately.
Eye creams come in two basic "flavors": anti-wrinkle, and those that fight bags, puffiness and dark circles.
According to many experts, an eye cream should be the first step in any anti-aging protocol.
Eye creams tend to be more moisturizing (emollient), which makes them better for the area around the eye (due to the lack of natural oil glands and moisture on the skin nearest the eye), and less so for the facial skin.
Consumers think the more eye cream they apply, the better the product works. This is not true. Use the directed amount because the active ingredients are taken into account when the directions are given.
Eye-tightening creams should be the last product you apply to your face (over foundation), because other creams, lotions and foundations can break down the active ingredients.
Creams, serums and gels all have pros and cons: Gels (provided they don't provide alcohol, which dry out the skin) are better for acne-prone skin. Emollient creams (suitable for normal to dry skin) work better under makeup.

The choices in eye creams can be overwhelming, especially in light of the fact that there are only three main problems that these creams work to treat (dark circles, fine lines, and puffiness). What happens if you have crow's feet and dark circles? Do you need two eye creams?

Here is a review of the causes of and treatments for dark circles, fine lines and puffiness, as well as a list of recommended products.

Puffy Eyes & Bags

Puffy eyes are caused when fluid gets trapped under the eye, and is usually most severe when you wake up.

In some cases, allergies and sinus problems may also contribute to puffiness. (If you think puffiness and bags may be a result of allergies, consult a physician for treatment, such as Claritin.)

If the problem isn't due to a medical condition, some quick-fix solutions are:

Applying cool cucumber slices or tea bags, which will help in the short term by reducing swelling;
Steering clear of salt and alcohol (especially the night before an event);
Exercising, which will help your body get rid of excess water;
Raising your pillow when you sleep, so that your head is higher than the rest of your body.

You may find that gels work better than creams. Gels are faster drying, while creams often contain added moisturizers, compounding the problem of puffiness.

Application: Gently tap the eye area with the ring finger, no pulling or tugging, above eyebrow, and top of the cheek.

Products:

Origin's No Puffery - "30-day solution for puffy eyes". Once puffiness is reduced, apply the product as needed. Note: Most skincare products should be used for at least 30 days before a noticeable improvement is seen. It uses botanical extracts to release trapped fluids. Smoothes and firms skin around eye area.
Prescriptive's Magic Cooling Wand - A gel stick that contains 70 percent water that firms the skin as it evaporates; provides an instant cooling effect to the skin as it refreshes the eye area and works to reduce puffiness. The secret to the 'Magic' line of products is that these products manipulate light - the products reflect light and trick the eye into thinking it sees a more perfect complexion; the wand uses a blue-based brightener to make the eyes look whiter. Would be a good product to use in the middle of the afternoon, when you're tired and need a pick-me-up.


Dark Circles

Dark circles can be a hereditary condition - deeply pigmented skin, or can be caused by aging. As we get older, the skin under the eye can become even thinner, which causes the veins under the eye to become more prominent. Dark circles can be exacerbated by lack of sleep, overexposure to the sun, and menopause.

Dark circles are one of the most difficult problems to treat. If the problem is hereditary, you may want to see a dermatologist who may provide a lightening cream.

If the problem is due to bad habits, or aging:

Use common sense, such as choosing products with an SPF to prevent pigmentation.
You'll see a lot of eye treatments for dark circles that contain some sort of optical diffusers.


Products:

L'Oreal's Hydra Fresh Circle Eraser - Uses optical diffusers to minimize the appearance of dark circles, and vitamin C to treat the appearance of expression lines and wrinkles.

Some early research indicates that vitamin K, the vitamin that the body uses in clotting, may be beneficial in reducing superficial dark circles,

Peter Thomas Roth Power K Eye Rescue - Contains vitamin K, Q-10, and vitamin C to fight dark circles and fatigue.





Crow's Feet, Fine Lines And Wrinkles

Crow's feet are fine lines and wrinkles appearing near the corner and under the eye area. There are two reasons that wrinkling seems to occur in the eye area earlier than the rest of the face:


There are fewer oil glands located around the eye area; therefore, the skin is thinner.

Most of our facial expressions, such as smiling and squinting, influence the area around the eye.


While we can't do much about genetic aging, we can work to prevent and treat environmental aging (caused by factors such as sun exposure and smoking). Products for fine lines and wrinkles tend to be more emollient, therefore better for normal to dry, and aging skin.

There have been some amazing advances in treating fine lines and wrinkles, which is why a lot of these products contain antioxidants, vitamins A, C, and E. Especially promising, is the use of retinoids, or vitamin A, which protects the skin from breaking down, and smoothes fine lines and wrinkles. Most of the anti-aging regimens will contain some form of vitamin A. Retin-A, or other types of retinoids, helps to increase collagen production, strengthening the skin and reducing the appearance of wrinkles.

Products:

Prescriptive's Lsw Retinol Treatment For Eye Area Wrinkles - Contains Retinol. The company promises an improvement of 20 - 48 percent in 8-weeks for problems such as expression lines and fading the appearance of age spots. Diminishes the look of fine expression lines by up to 35 percent, fades the appearance of age spots up to 28 percent, evens skin tone by up to 42 percent, reduces appearance of deeper surface wrinkles by up to 45 percent, improves skin smoothness by up to 36 percent, softens up to 48 percent, improves skin moisture content by up to 40 percent.
L'Oreal Line Eraser For Eye With Pure Retinol - Vitamin A (retinol) to reduce fine lines and wrinkles - Noticeable improvement within 2 weeks.

Moisturizing Treatments

Applying an eye cream that moisturizes only won't cure crow's feet, but will help to make the skin look more supple and decrease the appearance of fine lines. Dry skin tends to highlight wrinkles and fine lines, so moisturizing treatments are more of a cosmetic than a treatment.

Products:

Clinique's Moisture Surge Eye Gel - A light, oil-free gel moisturizer that hydrates the skin around the eyes. Contains aloe leaf water and glycerin. Light enough to wear under makeup.
Ellen Lange Microthera Eyecare Moisturizing Lotion - Hydrates and provides a moisture barrier to seal in moisture. And contains small molecules (1/10th the size of traditional skincare molecules) to penetrate the skin quickly. It also has antioxidants to soften fine lines.


Multi-Taskers

Women are confused about when and how often to use eye creams and whether they need multiple products for morning and night. So, some companies are working to create "multi-taskers" - formulations that treat everything from moisturizing, dark circles, fine lines, puffiness, etc.

Products:


Estee Lauder's Advanced Night Repair Eye Recovery Complex - Treats dark circles, puffiness, fine lines, and dryness. Works at night to repair damage, and during the day to protect the skin. It's a serum with vitamin E that neutralizes up to 90 percent of environmentally generated free-radical damage.
MD Skincare Firming Eye Gel With Vitamin C - Plumps up fine lines and minimizes dark circles.

Contains added moisturizers for continual hydration.
Antioxidants (vitamins C & E) to protect against free-radical damage and salicylic acid to treat fine lines.
Includes cucumber extract, caffeine and emu oil to reduce puffiness and firm the skin around the eye area. The emu oil acts as an anti-inflammatory, which has more moisturizing properties than mineral oil, with a lower incidence of pore clogging.
The formula is an emollient CREAM (despite its name) and would make a good choice for someone with aging skin, or normal to dry skin.



Note: The longer a moisturizer can stay in contact with the skin, the greater the immediate effect.

Eye Masks



Shiseido Benefiance Eye Treatment Mask - Small eye pads that immediately provide a moisture surge to the eye area. The pads are shaped similarly to the area under the eye.

How to apply: Remove the gel pads from the sheet and apply directly to the eye area. Wait 15 minutes before removing.


Estee Lauder Stress Relief Eye Mask - A 10-minute mask that improves hydration up to 40 percent with benefits lasting up to 6 hours. Pre-moistened pads hydrate the skin with aloe vera and cucumber. Pads fit under eye area.



Male Treatments

Products:


Clinique's Skin Supplies For Men Eye Treatment Formula - Because men need help too! We're seeing more skincare lines dedicated to men. From Clinique to Neutrogena, more and more companies are providing men the treatments that have been available to us for years, such as: Clinique's Eye Treatment for Men. It is a light, oil-free cream that minimizes fine lines, lightens dark circles, firms skin (with caffeine and green tea extract) and moisturizes the skin.
Thanks for reading CBS NEWS.
Create your free account or log in
for more features.