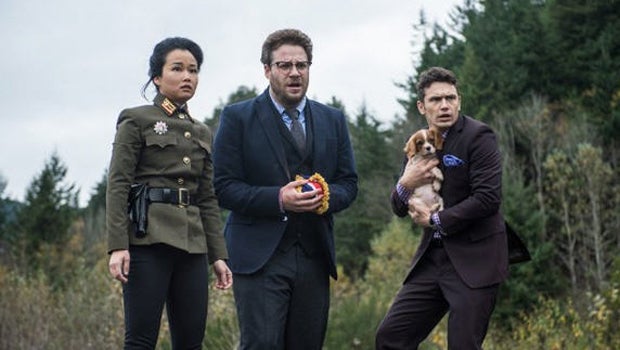 "The Interview": How the film did in theaters and online
"The Interview" sure drummed a lot of buzz prior to its release, making it one of the most talked-about films of the year. But how did the movie -- co-starring Seth Rogen and James Franco -- perform in theaters and online?
Sony Pictures Entertainment says "The Interview" was rented or purchased online more than 2 million times, raking in over $15 million through Saturday. Updated figures through Sunday have not yet been released. "The Interview" is now available on iTunes, Google Play, YouTube Movies, Microsoft's Xbox Video and the dedicated Seetheinterview.com. "The Interview," which costs $5.99 to rent and $14.99 to buy, now marks Sony Pictures' highest-grossing online release of all time.
"The Interview" also debuted at 331 arthouse and independent theaters beginning Christmas Day, grossing an estimated $2.8 million from for the four-day holiday weekend.
"I'm so grateful that the movie found its way into theaters, and I'm thrilled that people actually went out and saw it," said Rogen, who made a pop-up appearance at a midnight screening in Los Angeles on Christmas Eve. "The fact that people actually left their houses when they had the option of staying home is amazing."
Various U.S. theater owners reported sell-outs, including the Alamo Draft House, which says most of its 19 locations were sold out.
The movie's fictional plot involves a plan to assassinate North Korea's leader, Kim Jong-Un -- a storyline that didn't sit well with everyone. The release of the R-rated comedy had been up in the air for days leading up to its eventual opening. Originally scheduled to hit roughly 3,000 theaters on Christmas Day, "The Interview" release plan was sidetracked after a major cyberattack on Sony that later found hackers threatening violence against moviegoers. That prompted major theater chains to yank the movie from its Christmas Day lineup. Hours later Sony pulled the movie altogether. In the end, Sony decided to make it available online and offer it up to theaters willing to show it during the holiday week.
Over the weekend, Rogen and Franco live-tweeted a viewing of "The Interview," revealing small tidbits about the making of the movie:
Tell us: Did you see "The Interview"? What did you think?
Thanks for reading CBS NEWS.
Create your free account or log in
for more features.