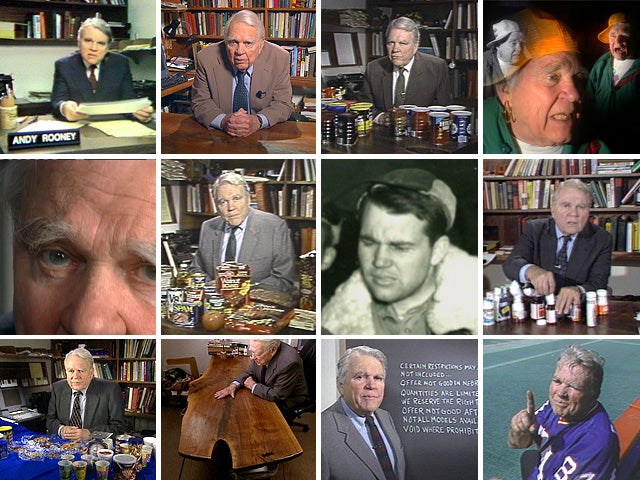 On the first anniversary of Andy Rooney's death, there is no better way to celebrate America's favorite curmudgeon than to let Andy do the talking. In his 40 years on the "60 Minutes" broadcast, he did well over a thousand essays, airing complaints on every imaginable topic. In memory of Andy, here are a few of his best.




Even though few of us here at "60 Minutes" can remember a time when Andy wasn't on the show, he had a long reporting and writing career before "60 Minutes." Andy was a newspaper man for "Stars and Stripes" during the World War II; a writer for Arthur Godfrey's variety show and "The Garry Moore Show" in the 1950s; and then he switched to news and public affairs reporting, which included producing pieces for colleague and friend Harry Reasoner.

His very first piece was called "A Digression," but known around the office as "Silhouettes." It was seen on the premiere episode of "60 Minutes" back on September 24, 1968.

Watch "A Digression" by clicking here.

By 1978, he was the Andy we know today -- a voice of opinion, candor, and humor here at "60 Minutes."
Thanks for reading CBS NEWS.
Create your free account or log in
for more features.