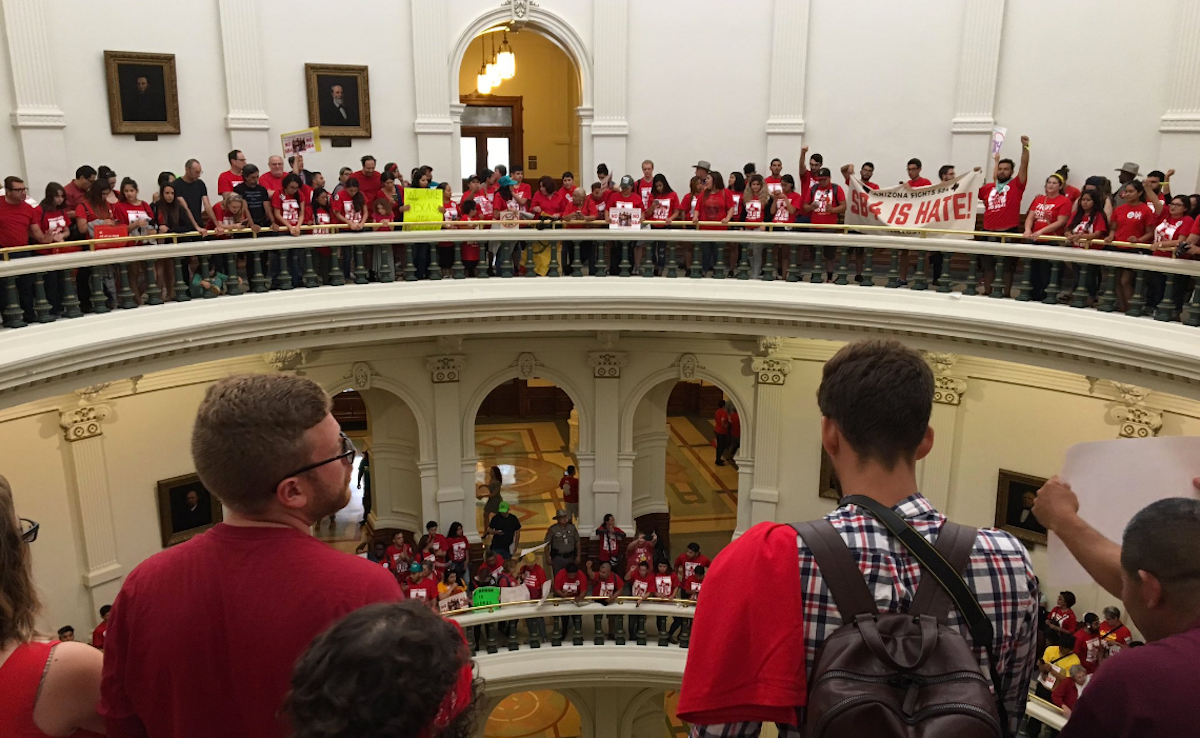 Some fight, others flee over Texas immigration crackdown
AUSTIN, Texas -- Abril Gallardo rode 15 hours in a van to urge fellow Hispanics living in the Texas capital of Austin to fight back against a new state law targeting "sanctuary cities," an immigration crackdown reminiscent of one her home state of Arizona enacted a few years ago.
"Fear motivated me to get involved," said Gallardo, a 26-year-old Mexican native who entered the U.S. illegally at age 12.
Gallardo was among dozens of activists from around the country who canvassed over Memorial Day weekend in Austin. They informed anxious immigrants about rights they retain despite the law, urged grassroots resistance against it and were joining local organizers for an all-day Monday rally on the grounds of the Texas Capitol.
Under Arizona's 2010 "show your papers" measure, which was eventually struck down in court, police were allowed to inquire about a person's immigration status during routine interactions such as traffic stops. One positive effect of what Gallardo views as an odious law was that it emboldened immigrants to "come together to fight for their families."
Under the Texas measure, which Gov. Greg Abbott signed this month, local police chiefs and sheriffs would be required -- under the threat of jail and removal from office -- to comply with federal requests to hold criminal suspects for possible deportation. Police officers would also have the option to ask the immigration status of anyone they stop. The bill was viewed as a crackdown on Austin and other "sanctuary cities," a term that has no legal meaning but describes parts of the country where police are not tasked with helping enforce federal immigration law.
CBS Austin reports that hundreds of protesters filled the Texas Capitol to speak out against the law banning "sanctuary cities" on Monday afternoon. Raven Ambers, of CBS Austin, posted images of the protest to Twitter.
Protesters wearing red "lucha" or "fight" T-shirts chanted their opposition to the new law, forcing the Texas House to interrupt its floor session.
About 40 minutes into the proceedings on the final day of the legislative session, protesters began cheering and chanting from the gallery: "Here to stay!" and "Hey, hey, ho, ho SB4 has got to go!"
Some waved banners reading "See you in court!"
The House leadership stopped the session and asked state troopers to clear the gallery. The demonstration continued for several minutes as officers led people out of the chamber peacefully in small groups.
The resistance in Texas is coming too late for a small portion of foreign-born residents who have begun evacuating the state, fearing policies that could make their ordinary lives more difficult.
Their ranks are still too small to quantify, but a larger exodus -- similar to that what occurred in Arizona -- could have a profound effect on the Texas economy. The state has more than 1 million immigrants illegally in the country, according to the Migration Policy Institute.
Some are abandoning Texas for more liberal states, where they feel safer -- even if it means relinquishing lives they've spent years building.
Jose, a 43-year-old Mexican living in the U.S. illegally since 2001, and his wife Holly left Austin for Seattle in January in anticipation of Texas' immigration crackdown. That meant parting with Jose's grown son, their community of friends and their beloved home of eight years.
"I felt like we ripped our roots up and threw ourselves across the country," said Holly, a 40-year-old Kentucky native who wanted to protect her husband.
Holly said as soon as President Trump was elected president, she and her husband began preparing to move. They expected Texas would "follow Trump's agenda trying to force local law enforcement to do immigration's job." And when they heard Texas had approved a crackdown on "sanctuary cities" she said they "finalized the decision."
"I was living in constant fear in Texas," said Holly, who works as an immigration paralegal and has been married to Jose for 11 years. "Now I know my husband is safe, and I don't have to worry every day about whether he's going to come home."
Others are doing the same. Miriam, a 34-year-old Mexican house cleaner who has spent the past 10 years in Austin, plans to move with her husband and two U.S.-citizen children to Oklahoma in September, when Texas' law goes into effect. Like Jose, Holly and others who were interviewed, she asked that her full name not be used to prevent possible deportation.
"We can't even go out to get food or to go to work," she said of the law. "A police officer can find you in any place."
Texas cities and immigrant rights' groups have challenged the legality of the law, hopeful for a legal victory like the one in Arizona, but that could take months to have any effect.
Abbott defended the measure, arguing after he signed it that the U.S. is "nation of laws and Texas is doing it parts to keep it that way."
Austin immigration attorney Kate Lincoln-Goldfinch, who conducts know-your-rights workshops, said she has heard far more confusion about Texas' new law than plans to leave - at least for now.
"Most people are totally freaked out, but don't understand what the law means or what they should do," Lincoln-Goldfinch said.
Gallardo said immigrants can help "dismantle" the Texas law, like civil rights groups' legal challenges did to Arizona's.
"My family had two choices: One was to hide or leave the state, and the other was to join a grassroots organization and start taking to the streets," said Gallardo, who has since qualified for the Deferred Action for Childhood Arrivals program, shielding her from deportation - after the Arizona law had been passed and overturned. "More than ever people now should stay in Texas."
Thanks for reading CBS NEWS.
Create your free account or log in
for more features.