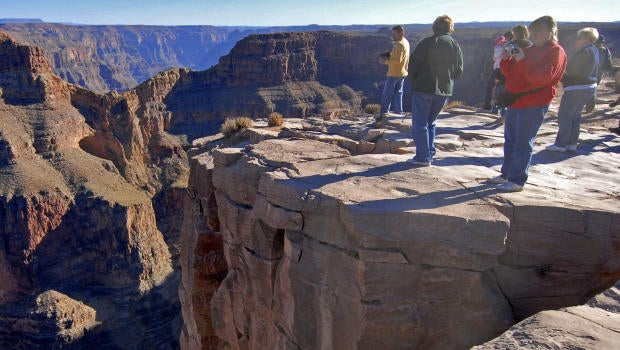 Texas man falls 350 feet to his death at Grand Canyon
GRAND CANYON NATIONAL PARK, Ariz. - Authorities investigating the death of a Texas man at Grand Canyon National Park believe he fell about 350 feet from the canyon's edge after trying to retrieve something, possibly a hat.
John N. Anderson, 53, of Grapevine, Texas, died Saturday after falling about 350 feet from the South Rim near El Tovar Lodge, park officials said. Witnesses reported seeing Anderson near a small rock wall that serves as a barrier between visitors and the massive gorge, but no one saw him fall, Grand Canyon Chief Ranger Bill Wright said Tuesday.
Wright said authorities believe Anderson was trying to retrieve something, possibly a hat, when he fell over the edge. The Grand Canyon Regional Communications Center received a report of a man falling around 8 a.m. Saturday.
Rangers found the man's body in a rock outcropping and began CPR, but efforts to resuscitate him were unsuccessful. A helicopter was used to remove Anderson's body, park spokeswoman Kirby-Lynn Shedlowski said.
The National Park Service and the Coconino County Medical Examiner are investigating.
"You always want to rule out foul play," Wright said. "You want to rule out whether somebody did this to him or he did it to himself. We believe based on reports and the circumstances that it was accidental."
The medical examiner's office has labeled Anderson's death accidental, due to multiple injuries from a fall.
Anderson was visiting the park with family. About 4.5 million people visit the Grand Canyon each year, and an average of 12 people die there annually, according to park statistics. The deaths can be attributed to anything from natural causes, medical issues and suicide to heat, drowning and traffic crashes. An average two to three deaths per year are from falls over the rim, Shedlowski said.
Park brochures, newsletters and signs at the canyon warn of the dangers of getting too close to the edge. Shedlowski said visitors should be aware of their surroundings.
Thanks for reading CBS NEWS.
Create your free account or log in
for more features.