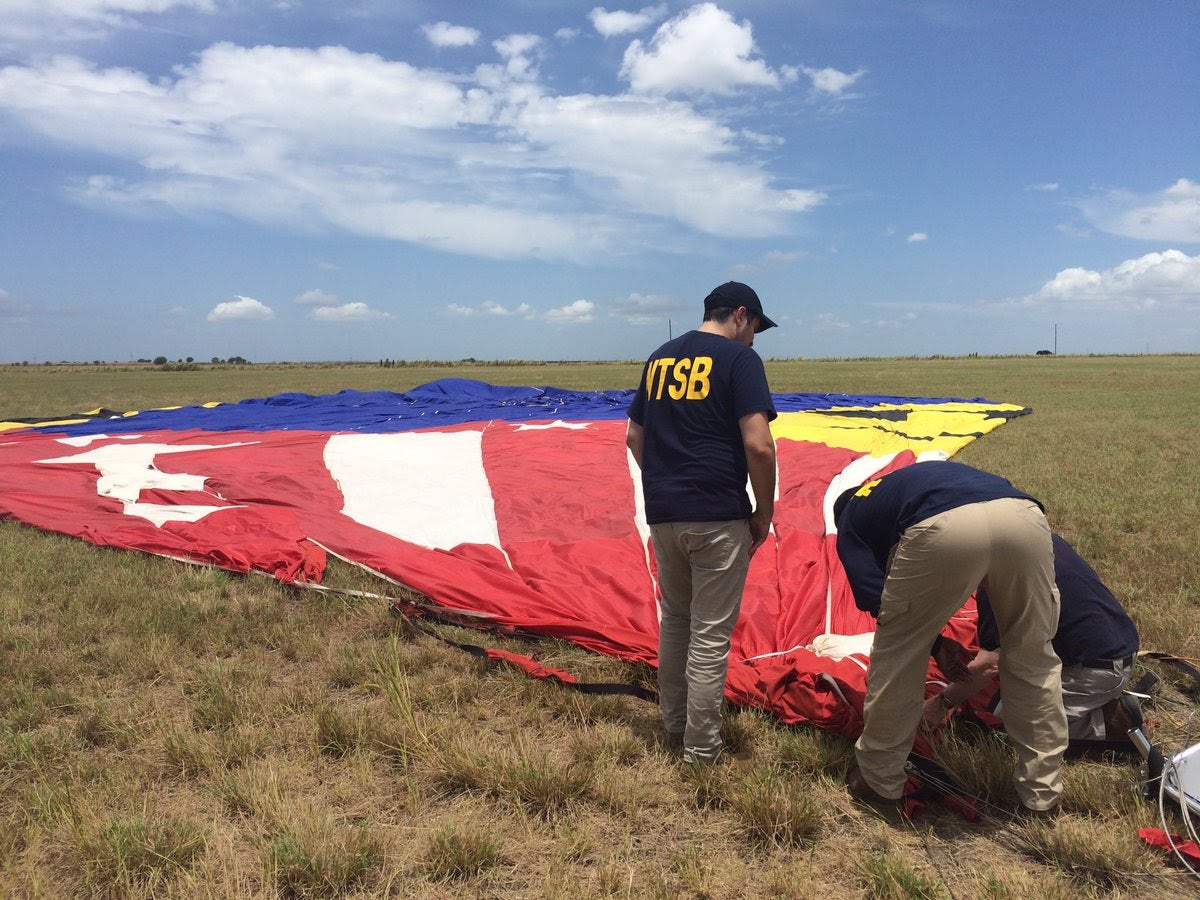 Friend defends doomed Texas hot air balloon pilot
LOCKHART, Texas - The pilot of a hot air balloon that crashed in Texas and killed all 16 people aboard was arrested in Missouri in 2000 for driving while intoxicated, and the Better Business Bureau warned consumers about doing business with a balloon touring company he used to operate in that state.
The pilot was convicted of drunken driving at least four times in Missouri and twice spent time in prison, court records show.
A former girlfriend described Alfred "Skip" Nichols as a recovering alcoholic. She said the 49-year-old had been sober for at least four years and never piloted a balloon after drinking.

Nichols also had a long history of customer complaints against his balloon tour companies in Missouri and Illinois dating back to 1997. Customers reported to the Better Business Bureau's St. Louis office that their rides would get cancelled at the last minute and their fees never refunded.
Nichols pleaded guilty to driving while intoxicated in St. Louis County in 1990, then twice in 2002 and again in 2010, according to online court records.
He was also convicted of a drug crime in 2000 and spent about a year-and-a-half in prison before being paroled. He was returned to prison in April 2010 after his parole was revoked because of his drunken driving conviction that year. He was paroled again in January 2012.
Authorities haven't publicly named anyone killed in the crash, saying it could take a while to identify the bodies. But Alfred "Skip" Nichols was identified as the pilot by his friend and roommate Alan Lirette, who said that Nichols was a good pilot.
"That's the only thing I want to talk about, is that he's a great pilot," Lirette said, speaking to The Associated Press from a house he shared with Nichols in Kyle, Texas. "There's going to be all kinds of reports out in the press and I want a positive image there too."
Authorities say the balloon, which was operated by Heart of Texas Hot Air Balloon Rides, hit high-tension power lines before crashing into a pasture Saturday morning near Lockhart, which is about 60 miles northeast of San Antonio. Margaret Wylie, who lives a quarter-mile from the site, said she heard popping sounds and saw what looked "like a fireball going up."
The passengers met the balloon operator in the San Marcos Wal-Mart parking lot at about 5:45 a.m. Saturday, and traveled to Fentress Texas Airpark. Ground crew members told the NTSB that they launched about 20 minutes after the expected 6:45 a.m. time, communicated with the balloon by cellphone and the pilot navigated with an iPad.
The balloon traveled about 8 miles from takeoff to crash, and the basket was found about three-quarters of a mile from the balloon material itself.
National Transportation Safety Board investigators are trying to determine what caused the crash, said board member Robert Sumwalt. He said the pilot was licensed to fly the balloon, but that it was too soon to say whether he had a criminal history.
The NTSB said the balloon was run by Heart of Texas Hot Air Balloon Rides. Nichols' Facebook page identifies himself as the chief pilot of that business, which does not appear to be registered with the state of Texas.
There were reports of foggy weather in the area of the crash around the time of the flight.
Matt Rowan and his wife, Sunday Rowan, were among those on board the hot air balloon. His brother, Josh Rowan, said that as the two prepared to take the balloon ride they texted family and posted on social media pictures of the balloon set up, the rising sun, them in the basket.
"It's a bit haunting now but I guess it was a bit of a play-by-play," Josh Rowan told The Associated Press on Sunday.
He said the two, both 34, lived in San Antonio and just got married in February. "They were really happy and they were in love and they were really starting a life together," he said.
NTSB investigators recovered 14 personal electronic devices, including cellphones, an iPad and three cameras from the crash site, which will be sent to a lab in Washington for analysis.
Sumwalt, the NTSB member, said the immediate focus of the investigation would be gathering witness testimony, starting Monday with the ground crew.
"They've been busy trying to collect the maintenance records for us," Sumwalt said of the crew.
Thanks for reading CBS NEWS.
Create your free account or log in
for more features.