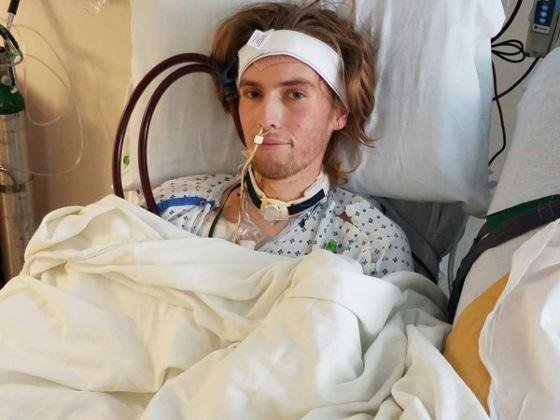 Teen denied lung transplant after smoking marijuana, family says
A Utah teen was denied a life-saving transplant after he tested positive for marijuana, his family says.
Nineteen-year-old Riley Hancey was hospitalized just after Thanksgiving after coming down with a severe form of pneumonia that caused his lung to collapse.
According to a YouCaring fundraising page, he "lost all gas exchange function of his lungs due to scarring, as a result of the infection."
Hancey required a double lung transplant, but according to his family, because he tested positive for THC – the chief intoxicant in marijuana – he was denied a spot on the transplant list at University of Utah Hospital.
Hancey's family describes him as a "healthy teen" engaged in summer and winter sports. He worked for his brother at a ski resort and loved to travel.
His father said he had smoked marijuana on Thanksgiving night with friends but had been drug-free for a year before he got sick.
The University of Utah Hospital could not comment on Hancey's case specifically but told CBS News that they use different guidelines for the transplantation of different organs based on the difficulty of the surgery, the risk of rejection and the ability of a patient to adhere to a strict post-operative care plan. The hospital's statement reads:
"For heart and lung transplant, we follow guidelines set by the International Society for Heart and Lung Transplantation (ISHLT). For liver, kidney and pancreas transplant, we follow guidelines set by the American Society of Transplant Physicians. We also evaluate cases individually. The reason for these guidelines is that we have a responsibility to ensure our patients have the best possible outcomes and that we are good stewards of the rare resource of the donated organ.

"Generally speaking, we do not transplant organs in patients with active alcohol, tobacco or illicit drug dependencies or abuse until these issues are addressed, as these substances are contraindicated for a transplant."
Hancey's family searched for another hospital that would provide him with the life-saving transplant and two months ago, the Hospital of the University of Pennsylvania agreed.
On March 29, Hancey received a new set of lungs.
"His transplant surgery went well and the Dr. is optimistic," the family wrote on the fundraising page. "There is still a very long road ahead so please keep Riley and company in your thoughts."
Thanks for reading CBS NEWS.
Create your free account or log in
for more features.