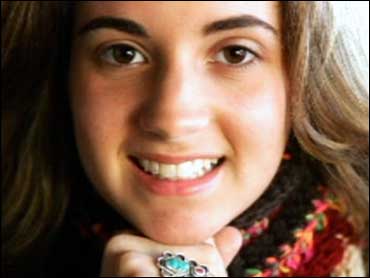 Taylor Behl: Searching For Secrets
This story originally aired Jan. 16, 2007. It was updated July 6, 2007.
For 17-year-old Taylor Behl of Vienna, Va., happiness was sipping cappuccino and listening to live music at her favorite neighborhood coffee shop. But on Labor Day 2005, having spent the long weekend at home, all Taylor wanted was to get back to her freshman year of college.
Virginia Commonwealth University -- known as VCU -- was only two hours away in Richmond, but it was too far away for Taylor's mother, Janet Pelasara. "I was having migraine headaches, panic attacks just knowing that she wasn't going to be around," Janet remembers.
Taylor is Janet's only child, and the two were inseparable.
Matt Behl, Taylor's dad, and Janet divorced when Taylor was almost 2, but they shared a profound love for their daughter. "She didn't have a wide circle of friends, but those that really knew Taylor really liked her," he remembers.
"She would always stand up for her friends, and you could turn to her for anything. She would always be there," says Taylor's best friend, Glynnis Keogh.
So on that Labor Day weekend, no one wanted to see Taylor leave, as she headed back to VCU.
Several hours later after leaving home, Taylor arrived in Richmond at her college dorm. She unpacked, chatted with her friends, and called both her parents to let them know she was okay.
But as correspondent Erin Moriarty reports, Taylor disappeared later that night.
Her roommate, Emma Ellsworth, says the last thing Taylor said to her was that she'd be back in three hours.
Asked when she first got worried that something might be wrong, Emma says, "The next night when we realized she hadn't been back for a day. Her books were still there, she hadn't gone to any of her classes, which was odd."
Emma notified the VCU campus police, who told Janet that both her daughter and her car were missing. VCU police questioned friends and acquaintances; they wondered if Taylor could have simply wandered off.
Desperate for information, Taylor's mom turned to the press to get the story out and the search for Taylor went nationwide.
"Hope became less and less. I kept telling everyone around me, you know, 'It's gonna be ok. She's gonna come back alive,'" recalls Glynnis Keogh.
Ten days after Taylor's disappearance, VCU turned the case over to the Richmond police. Chief Rodney Monroe organized a task force made up of university, state, and federal investigators.
"The task force was mainly created just so that we could handle the volume of information that had to be processed," Monroe explains.
"Where do you start? You start with your victim. Everyone your victim knows, every place your victim's been and that was our starting point," explains Richmond Police Capt. John Venuti.
Ben Fawley was one of the last people to have seen Taylor the night she disappeared. Asked what happened when Taylor came over, Fawley tells Moriarty, "She was all upset because she had been dumped online by her official boyfriend."
But when police interviewed the boyfriend, Jacob Cunningham, they learned he and Taylor had dinner that night and had made up.
"Once you talk to Jacob, he's a very nice young man. We narrowed his timeline to where we felt comfortable excluding him from any person of interest," says Detective Jason Hudson.
After dinner, Taylor told Jacob she was planning on going skateboarding. The last sighting of Taylor the night she disappeared was captured on a campus surveillance video at 10:24 p.m.
After 10 excruciating days, there was finally a break when Taylor's car was found on a quiet residential street not far from campus.
Detectives called in a bloodhound, which picked up a scent around the car; that scent led them to a location five blocks away -- the home of 23-year-old Jessie Schultz's relatives.
Investigators searched the house but came up empty until they asked one last question. "On leaving, they asked my aunt and uncle 'Who was the last person to visit here?' They're like 'Probably our nephew Jessie,'" Jessie tells Moriarty.
Detectives brought Jessie in, questioning him for several hours. Later, they asked him to take a polygraph. Police tell Moriarty "the polygraph indicated deception."
But Jessie says he didn't know Taylor Behl, and that to his knowledge, he had never met her. As days passed, Jessie's story began to ring true. Capt. Venuti said, "Do I think Jessie had anything to do with Taylor's disappearance? No."
As for the scent picked up by the bloodhound, Venuti says that still remains a big question mark in the investigation.
Just as Jessie was being cleared, police took another look at Ben Fawley, one of the last people to have seen Taylor before she disappeared.
Fawley was known around campus for his colorful hair and his equally colorful, sticker-covered van -- so distinctive that it was even featured on local TV.
Fawley had been a suspect almost from the very beginning. "His story had lots of holes in it. He left a gigantic gap in the timeline. We knew he was affiliated with Taylor. So he was a good suspect," explains Venuti.
Fawley first met Taylor in February 2005, when she and her father visited colleges and checked out the VCU campus.
Fawley talked with "48 Hours" about the encounter. Asked what his first impression of Taylor was, he says, "Very beautiful, very attractive young lady with her dad at the door."
Taylor planned on staying over with a friend already enrolled at the university; Fawley was the friend's roommate.
Taylor's dad matt spoke with Fawley, before leaving Taylor for the night. Matt Behl says he had no reservations about leaving his daughter behind, because "Taylor was comfortable."
"He was very friendly, very personable. Dressed a little differently. But appropriately for what you would think you would see on a college campus," he remembers.
What Matt didn't know was that Fawley was no longer a student at VCU. Even more alarming, Fawley was 37 years old; Matt thought Fawley was in his mid-20s, at most.
Back home, while still in high school, Taylor continued communicating with Fawley by e-mail and when she visited the campus again, this time on her own, she again saw Fawley.
"It was mostly just him showering her with attention," says Taylor's best friend, Glynnis. "She never thought of him seriously. It was never, 'I wanna date him.' It was more like intriguing."
But at one point, Taylor shared with Glynnis that she and Fawley had been intimate. "It was a one-night thing. She didn't regret it, but she didn't want to do it again," says Glynnis.
Erin Crabill, another of Taylor's VCU friends, understands how she could have been drawn to Fawley. The 24-year-old once dated him.
Asked what the attraction was, Crabill says, "You were the only person in the world. All of his attention was on you. And he had all these crazy stories."
But she ended her relationship with Fawley almost as soon as it began, because she says he became very jealous.
"And the thing that caused me to end it was he broke into my apartment in the middle of the night," she says.
Crabill says Fawley entered her apartment holding mace and a hammer. "I felt like I don't know what this man is capable of," she remembers.
Taskforce detectives continued questioning Fawley about Taylor's disappearance and as they delved deeper into his past, they discovered a disturbing pattern.
"We found that there were other young girls who had been in contact with him over the years. And then, been assaulted or had been threatened, or felt threatened by him," says Les Lausiere, an investigator from the Virginia Attorney General's Office.
In fact, Fawley was convicted of assaulting one former girlfriend in 2003.
But the task force needed proof linking Fawley to Taylor's disappearance. Under questioning, the only thing he had admitted to was having sex with Taylor, who was a minor. That violation gave detectives what they needed to search Fawley's apartment.

What they found disturbed even the most experienced investigators: police say they discovered a "massive amount" of extremely graphic child pornography, featuring children as young as three and four years old being raped.
But Fawley says none of the pornography found in the apartment was his. He claimed it had been left behind by the previous tenant. Still, possessing child pornography is a felony, and police immediately arrested him.
The search of Fawley's computers yielded an unusual clue that led investigators to an unlikely crime solver: Fawley's ex, Erin Crabill.
For detective Jeffrey Deem, revelations about Fawley began with the sheer volume of data he had stored away on his computers.
In an endless variety of random photos, abandoned buildings, secluded locations, maps and weapons, the truly bizarre, along with photos of Taylor, investigators sensed a jigsaw puzzle of evidence.
Fawley was now a prime suspect in the disappearance of Taylor, and police were looking for someone who could link the talented student to the temperamental college dropout.
Crabill soon figured out just what the police were beginning to conclude. "They were looking for someone who was dead. They weren't looking for a live Taylor anymore," she says.
Investigators showed Craybill thousands of images. She recognized one photo pulled off Fawley's computer; it was of a small house, near her parents' house.
After Craybill told two VCU cops how she had once taken Fawley to an abandoned house next to her parents' property, it was pure police instinct that led them to rural Mathews County, Va., some 90 miles from Virginia Commonwealth University.
Still, Craybill wasn't sure what -- if anything -- police would find.
"I was thinking I felt so bad, I'm wasting their time, they could be doing other things, other things that were much more important," she recalls thinking.
At that point, it had been a month since Taylor had disappeared. Craybill led the way.
"The first officer said, 'Do you smell something?' I said 'Yeah.' It smelled like the end of something," she remembers. "The officer saw her before I did. He said, 'We found someone.'"
Police found a shallow grave, with human remains.
It was not just the news of her daughter's death that hit Janet Plesara so hard, but how Taylor died. "For him to leave her in a shallow grave, a ravine to be eaten by animals, by insects, she was a skeleton. That was what was left of my baby, because of him," she tells Moriarty.
Fawley says he didn't murder anybody. "But you know that's what everyone expects me to say," he says.
In a rambling statement to police, he adamantly denied killing Taylor, though he did admit he was with Taylor the night she died.
But that would be virtually the only part of his story that would be clear, or straightforward.
"I was very drunk and very high and I don't know why Taylor died," he told police.
Fawley claims that everything about that evening was consensual, starting with his picking up Taylor at her college dorm.
Police discovered Fawley on the college security videotape, waiting just outside Taylor's dorm at 10:21 p.m.; minutes later, the same camera captured Taylor leaving.
Fawley says they ended up at his apartment. He started drinking, and she started egging him on.
He admits he drank "a bit" and that he also took narcotics.
The way Fawley tells the tale, Taylor was a daring teenager, out for a thrill. And, he adds, there was much more that she wanted to do, so they drove her car out towards Mathews County and started to play a different, far deadlier game.
Fawley says Taylor wanted to try an activity, one he says Taylor called "drunk monkey."
Ultimately, this is how 38-year-old petty thief Ben Fawley claims 17-year-old college freshman Taylor Behl died: at her own game, a sex game known as "erotic asphyxia."
"It's where you pass out during sex," Fawley tells Moriarty.
He claims he had never heard of erotic asphyxia before that night. That night, Fawley says Taylor wanted to pass out during sex, for "the ultimate orgasm."

Fawley claims, that at her urging during sex in the back seat of her car, he tried various ways to restrict Taylor's breathing.
"She wanted me to put a bag over her head," he tells Moriarty. "We tried that several times."
Fawley says he held it over nose and mouth. "At first I thought she was laughing 'cause we fell off the seat," he says. "I thought everything was fine and dandy. ... But she was passed out. And that's what she wanted."
Then, he claims, unable to wake Taylor up, he froze into a stone-cold panic.
Asked why he didn't call for help, Fawley says he thought about it but didn't "because by the time I tried to wake her up, what was running through my head, was 'I'm in some serious s--- here."
Fawley then claims he panicked again and that he drove the body of Taylor back to Richmond, left her in her car, went to sleep and then a day later returned to Mathews County, dug a shallow grave, and left the once-vibrant girl by the side of the road.
By the time her body was discovered a month later, it was impossible to tell exactly how Taylor had died.
Fawley was charged with first-degree murder.
One day after what should have been a celebration of Taylor's 18th birthday, family and friends were instead mourning Taylor's death.
On that wet, gray October day, Janet Pelasara was filled with grief and rage for the man believed to have murdered her daughter. "My prayer ... may the courts see fit to give him the death penalty so he will continue his downward spiral into the depths of hell," she said.
But Fawley claims that Taylor's death was an accident, the result of a sex game that went horribly wrong. "I definitely did not murderer Taylor. Am I the direct cause of her death? I very well could be. But am I guilty of murder? No," he says.
Prosecutors Jack Gill and Chris Bullard disagree. "This predator descends upon her, selects her, picks her out and kills her," Gill says.
Asked if it isn't possible that Taylor's death really was an accident, Bullard says, "It's possible a meteor landed on Taylor Behl. Is it probable? No. The evidence shows that Mr. Fawley killed her."
The prosecution's theory? Fawley took Taylor for a drive to a secluded area to have sex. When Taylor rejected him, an angry Fawley strangled her.
Prosecutors point out that in Fawley's own statement to police, he admits he "flipped out" and told Taylor to "shut up."
"He says he thinks he put his hand over her mouth and told her to shut up. That's 'I'm angry,'" Bullard says.
But Fawley says he and Taylor were not mad at each other. "She was not rejecting me, she was not telling me it was over. There was nothing for there to be over between us," he says.
Prosecutors also say Fawley duct-taped Taylor's wrists -- not as part of a sex act -- but to restrain her.
"Now that's not erotic asphyxiation, bondage, or any kind of sex in any of the textbooks that I've looked at," Gill says.
"Her hands, according to your own statement, were tied behind her back," Moriarty remarks in her interview with Fawley.
"I know, at one point they were," he acknowledges.
Asked if that isn't more consistent with abduction, Fawley says, "I did not abduct Taylor. It was two people consenting."
In his statement, recorded by police, Fawley insists the duct tape was simply part of the game. "She said she wanted to feel like I was kidnapping her, make her feel like she was being kidnapped. Tie her up. She said really tie her up," he told investigators.
"She was a sweet, young college girl who was experimenting with sex and who knows what else and unfortunately it led to her death," says attorney Chris Collins, who along with Bill Johnson, is defending Fawley.
"How would Taylor have any kind of knowledge about this bondage or any of these sexual practices?" Moriarty asks.
"Fawley showed her," Johnson says. "He had a computer that was filled with pictures of you know young ladies involved in various bondage poses."

At trial, the defense planned to show that Taylor wasn't a naïve college freshman.
"It sounds as if, in order to save Ben Fawley from a long time in prison, you're gonna really have to put the blame on Taylor Behl, the victim here," Moriarty remarks.
"We're not going to put any blame on her," Collins replies. "But we're certainly gonna incorporate her activity. And I think that's fair."
But it's not fair according to Taylor best friend and confidant, Glynnis. She says the defense theory is simply ridiculous.
"I know for a fact that Taylor would never have done that. She would have never been into bondage. She was not a sexually experienced person," Glynnis explains.
Glynnis says Taylor never talked about an interest in bondage, and that by 17-year-old standards, she was "a prude."
In fact, prosecutor Chris Bullard says he was unable to find any evidence, other than Fawley's word, that Taylor had any interest in bondage and risky sex acts. "There's no computer evidence to show that she was visiting Web sites about erotic asphyxiation," he explains. "
What's more, prosecutors say they can prove that Fawley is lying about how Taylor died that night. By re-enacting Fawley's story, Richmond police showed "48 Hours" what they learned.
Officer Sarah Powell portrayed Taylor, while Jason McCleellan of the Richmond Police Department played the role of Fawley.
The two young officers are the same size as Taylor and Fawley, and the car used for the re-enactment was an exact replica.
Det. Jason Hudson read from Fawley's own statement as a script. The two officers tried to physically follow the "script" as they were in the car.
"I've only been here a few minutes and already half my body is completely numb," Officer Powell, who portrayed Taylor, remarked. "So I know that any teenage girl wouldn't settle for this too long."
The obvious takeaway, say the officers? "Someone could not get any kind of enjoyment out of this," McCleellan said.
As for Hudson? "It tells you it didn't happen the way he said it did."
But would this be enough to prove that Fawley intended to kill Taylor? Or, as the defense was counting on, would 12 jurors have their own doubts about the victim herself?
"Rural jurors expect, you know, men to act like gentlemen and they expect young women to act like ladies," defense attorney Bill Johnson explains. "That mindset, we believe, certainly played into our favor."
And Mathews County is as rural and conservative as it gets. The quiet, conservative community of Mathews County, Va., was bracing for a sensational trial.

Everyone seemed to know about the 17-year-old college freshmen, abandoned by the side of a country road.
Janet feared the trial would force her to confront all the horror of what had happened to her child.
The trial seemed set to begin, when suddenly, defense attorneys learned about a startling statement made by Fawley from behind bars. Even from the isolation of his cell, Fawley managed to do what he'd done all his life: putting his foot in his mouth.
In a flip jailhouse conversation with an officer, Fawley described his previous statement to police as nothing more than a cynical strategy to beat the system, leaving the impression his story about "erotic asphyxia" was completely made up.
It put his lawyers in a very awkward position.
Then there was a jailhouse letter, penned to an ex-girlfriend. "I can't quote it verbatim. It simply said that, 'I'm the reason that Taylor is dead. I deserve to be imprisoned,'" one of the defense lawyers explained.
Prosecutor Bullard planned to use Fawley's jailhouse letter against him in court. "People are right. Something is wrong with me. All the thoughts of death and killing in my head. And now it's true. I've killed," the prosecutor read from Fawley's letter.
The letter, coupled with his description of the proceedings against him as nothing more than "a chess game," left Fawley with few options. Trapped by his own boastful words, Fawley could only manage a whisper, as he agreed to a plea deal.
The deal: second-degree murder and the child pornography charges dropped.
Instead of life in prison, Fawley got 30 years, which his lawyers thought was a pretty good deal for their client.
"If this is a big chess game, did you win or lose?" Moriarty asks Fawley's attorneys.
"It's pretty close to a tie I think," Collins says. "I agree. I think things could have gone far worse for Mr. Fawley. I think he may have come out on the better end of the stick, all things considered," Johnson adds.
Before the sentencing, Fawley had nothing else to say. But Taylor's mother, Janet, didn't keep silent as her daughter's killer was led out the courtroom, shouting "Murderer!"
"After the trial, when he was put away I thought there'd be some relief. Some, OK I can get on now. But it hasn't really made a difference," she says.
"It's something that you think of every single day of your life," Taylor's father says.
But Janet Plesara has vowed to keep going. She's written a book, titled "Love You More" -- a special little phrase, she and Taylor always ended their conversations with.
"It's about her. About what he took from her. She was so excited about the future," Janet says. "The list of things that she wanted to do, and who she wanted to be. And she would have succeeded. She would have been all those things."
---

Ben Fawley is scheduled to be released from prison in 2031. He will be 64 years old.

Taylor's friend, Erin Crabill, received a $20,000 reward for assisting the investigation. She established a fund for women in crisis, with part of the money, in honor of Taylor Behl.
Produced By Jay Young
Thanks for reading CBS NEWS.
Create your free account or log in
for more features.