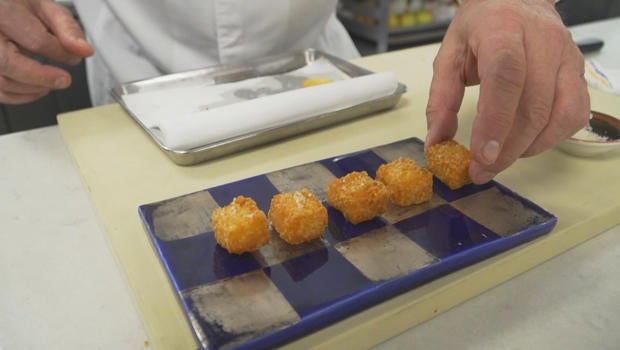 A staple of American casseroles and cafeterias, the humble tater tot was created back in 1953 by Nephi and Golden Grigg, co-owners of the Ore-Ida potato company. They were looking for something to do with all the potato scraps left over after cutting French fries.
"It's a show of true American ingenuity, [using] scraps," said Dan Whalen, a food blogger and author of "Tots!," a tater tot cookbook. "It was trash.
"They put the scraps together, put it in the deep-fryer, and realized that it would be delicious."
Delicious, but not popular, initially. The problem? If you can believe it, tater tots were too affordable. "People not only knew it was scraps, but the price point was very low," said Whalen. "And classic economics, they just raised the price, and people are like, 'Wow, these must have value to them now!'"
Eventually Americans fell in love with the bite-size potato nuggets. According to industry statistics, Americans ate about 38 billion tater tots last year.
And it wasn't just at bowling alley snack bars, either. Tater tots have appeared on the menus of some of the finest restaurants in the country, like chef David Kinch's Manresa, in Los Gatos, Calif. It has three Michelin stars – and serves tater tots (herb flecked and fried in duck fat). "Beware the person who doesn't like potatoes," Kinch said.
Whalen, who works out of his Boston kitchen, doesn't have any Michelin stars, but he has explored the tater tot in all its nuggety glory, like tater tot nachos (which he called Totchos), and tater tot latkes with caviar.
Correspondent Luke Burbank asked, "What's the price per tot here if you factor in the caviar?"
"I don't know. $3, $4?" Whalen replied.
And even a holiday classic, just in time for Thanksgiving: Tater tot stuffing. "It is all the ingredients you would use for stuffing, but instead of bread, tater tots," he said.
Burbank asked, "Do you feel like this is a dish that could actually keep a number of American families together, because when they're talking about the tater tots they're not talking about politics?"
"If the food's that good, then that's all you're gonna talk about as a family," he laughed.
Just another reason to love the tater tot, that most American of things – something once ignored, which has persevered, and now truly become a hot potato.

Tater tot recipes from Dan Whalen:

For more info:

Story produced by Young Kim.

For more recipes from "Sunday Morning" visit the 2018 "Food Issue" Recipe Index.
Thanks for reading CBS NEWS.
Create your free account or log in
for more features.