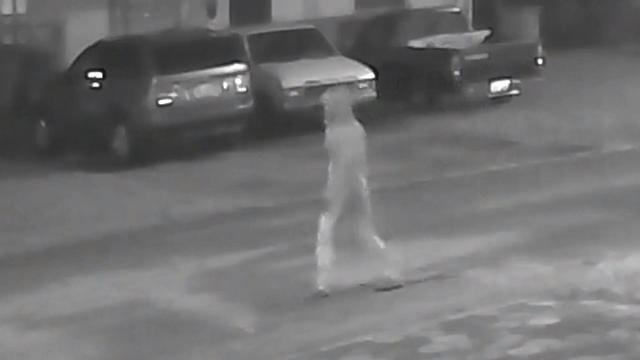 Tampa mayor vows to catch "SOB" amid serial killer fears
Police in Tampa, Florida, are intensifying their hunt for a possible serial killer. Dozens of officers are patrolling around the clock, looking for anything suspicious. They are also warning residents not to travel by themselves. Three people were shot and killed in the past two weeks while walking alone in the same neighborhood.
Not only have police increased patrols in this neighborhood, they've handed out lightbulbs to homeowners to keep their front porch lights on, reports CBS News correspondent Omar Villafranca. City crews are even replacing street lamps. The goal is to get rid of dark spots where someone could hide. People aren't relaxing until a suspect is caught.

"Can you tell maybe the audience some tips for those people who may have to go to work at night, who may have to walk at night – what they can do to be safe," one man asked at a Monday night community meeting about the shootings.

Anxious for answers about a possible serial killer still on the loose.

"We keep saying one person or we think one person, but isn't this kind of what we would see with a gang?" another said.

Roughly 400 people packed into an elementary school auditorium to hear any updates from city officials.

"We filmed him. We saw him walking, you notice that person. So, why was he not walking – was he walking to a home?" one woman asked.
There are also questions concerning this surveillance video showing a man police say they want to talk to. He was walking in the area when one of the three victims – Benjamin Mitchell – was murdered.
"There's a very good likelihood that someone in this room knows who's doing it," said Tampa Police Chief Brian Dugan.
Dugan wasn't ready to dismiss anyone in the community as a potential suspect or even a person of interest.
"This pains me to tell you that if you're out there walking alone, that you're either a suspect or a potential victim," Dugan said.

Tampa Mayor Bob Buckhorn didn't hold back in pleading for the public's help.

"We need you to call us and let us know what's going on. That's how we're gonna catch this guy. And we will hunt this son of a b**** down until we find him!" Buckhorn said.
Police are urging homeowners who have security cameras to turn over any video of suspicious activity. With Halloween just a week away, many parents are worried. Tampa's police chief says the area will be flooded with officers and that even he will be on patrol.
Thanks for reading CBS NEWS.
Create your free account or log in
for more features.