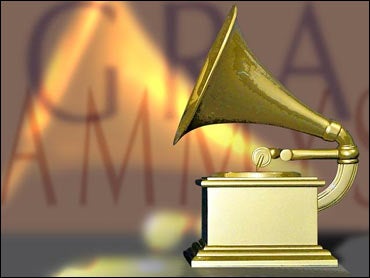 Take a Grammy quiz to test your knowledge of the popular music awards!
This year is the Grammy's 50th Anniversary, and Blender Magazine editor Rob Tannenbaum joined us on The Saturday Early Show to pose some musical stumpers.
Question 1: Which rock group has collected the most Grammy Awards to date?
A: The Beatles
B: The Rolling Stones
C: Bruce Springsteen and the E Street Band
D: U2
Question 2: Which U.S. president was not a Grammy winner?
A: Jimmy Carter
B: Ronald Reagan
C: Bill Clinton
Question 3: Which "American Idol" alum has received the most Grammy nominations?
A. Chris Daughtry
B. Carrie Underwood
C. Kelly Clarkson
D. Fantasia
Question 4: Who were the first artists in Grammy history to be stripped of their awards?
Question 5: In 1989 the Grammys began honoring rap music. Which artist has won the most awards?
A. Will Smith
B. Eminem
C. Kanye West
D. Jay-Z
Question 6: Who is the only artist to ever refuse a Grammy?
A. Sid Vicious
B. Sinead O'Connor
C. Janis Joplin
D. Ozzy Osbourne
And here's a bonus question:
How many Grammys did Elvis Presley, the King of Rock 'n' Roll, win in the Rock category?
For the answers, turn to page two:

ANSWERS TO THE GRAMMY QUIZ:
Question 1: The most Grammys by a rock group were won by U2, which has collected 22 awards. In comparison, the Beatles have won seven (three of which were for music videos the surviving Beatles made more than a quarter century after the group broke up), New Jersey's most famous rocker has won 15 (some for solo performance), and the Rolling Stones won precisely two. Two!?!
Question 2: Ronald Reagan did not win a Grammy Award. Bill Clinton won in the Spoken Word category for his audiobook, "My Life," and Jimmy Carter won also for the audio version of his book, "Our Endangered Values: America's Moral Crisis." Both former presidents are nominated again this year for book readings, along with Barack Obama ("The Audacity Of Hope"), Maya Angelou ("Celebrations"), and Alan Alda ("Things I Overheard While Talking To Myself").
Question 3: Of the "American Idol" veterans listed, Fantasia has copped the most Grammy nominations, with seven.
Question 4: Milli Vanilli, the pop group comprised of Fab Morvan and Rob Pilatus, sold more than 30 million singles and won the Best New Artist Grammy in 1990. But the award was revoked when it was learned that the vocalists did not actually do their own singing.
Question 5: Eminem (a.k.a. Marshall Bruce Mathers III) has won nine Grammys, his first in 1999 for his solo performance in "My Name Is."
Question 6: The only artist to refuse a Grammy was Sinead O'Connor, whose win for "I Do Not Want What I Haven't Got" went uncollected as she boycotted the show, saying that the Grammys honor commercial success instead of artistic merit.
Bonus Question: Elvis won exactly ZERO Grammys in the rock category. The King of Rock 'n' Roll's three awards all came in the Gospel category.
Thanks for reading CBS NEWS.
Create your free account or log in
for more features.