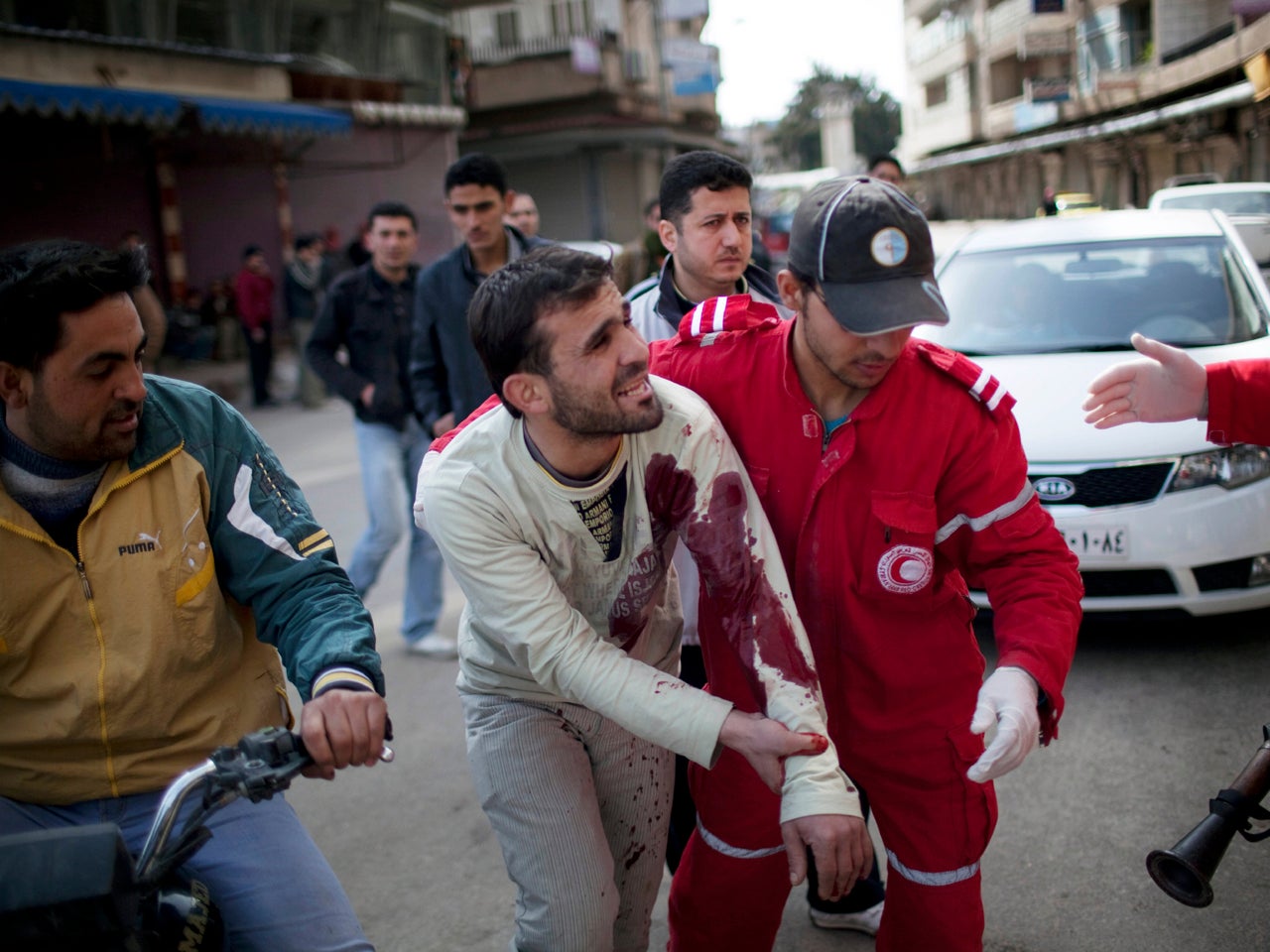 Syrian opposition group suffers internal blow
(AP) BEIRUT - Two prominent Syrian dissidents said Wednesday they have quit the main opposition group that emerged from the year-old uprising against the regime in Damascus in protest over what one of the men described as an "autocratic" organization.
The resignations from the Syrian National Council dealt another blow to the opposition, which has been hobbled by disorganization and infighting since the popular revolt against authoritarian President Bashar Assad started a year ago with protests calling for political reform.
Meanwhile, Amnesty International said Wednesday that Syrian security forces routinely torture people detained during the uprising. In a report, the London-based group said detainees are beaten with sticks, cords and rifle butts and sometimes suspended inside tires for further beatings. Others are sexually assaulted or killed.
Special Section: The Arab Spring
"Widespread and systematic" torture in Syria
Journalist recounts fleeing Syria under fire
One of the dissidents who resigned, Kamal al-Labwani, accused the leadership of the Syrian National Council of controlling the body's work while sidelining most of its 270 members.
"There is no council, it's an illusion," said al-Labwani, who worked for years against the Assad family regime before being jailed in 2005. He joined the council soon after being released in November.
He accused council chief Burhan Ghalioun and a few others of running the organization autocratically, even comparing it to Assad's ruling Baath party.
"They are trying to build an autocratic rule inside the council," he said. "There is no group work. Everyone is working by himself and the whole council has not met once."
He said that another council member, Catherine al-Talli, also quit and said he expected many more to quit soon.
Neither Ghalioun or al-Talli could be reached for comment Wednesday. Council spokeswoman, Bassma Kodmani, did not respond to an email requesting comment.
Another dissident, 80 year-old lawyer Haitham al-Maleh, also said he quit over lack of cooperation in the council.
"There is no transparency and there is no respect for other opinions," he said. "They aren't given the work the attention that it needs to fulfill the ambitions of the Syrian people."
Both men said they would remain involved in the quest to topple Assad. Al-Labwani called for an international conference to be held in Turkey to make the council more democratic while al-Maleh said he was working to build support for armed rebels of the Free Syrian Army.
Since the uprising's start, the opposition leadership has failed to create a united front to guide the anti-Assad struggle. Prominent members have publicly disagreed on fundamental issues such as whether the struggle should be peaceful or armed.
Activists inside Syria, who face the greatest danger from Assad's security forces, accuse the council of being out of touch with the struggle on the ground. Most council members are Syrian exiles who have long lived in Europe, the U.S. and other Arab countries.
Anti-regime protests have spread across Syria over the last year despite a harsh government crackdown by Assad's security forces, which have deployed snipers, troops and pro-government thugs to quash dissent. Some in the opposition have taken up arms to protect themselves and attack government troops, and the uprising has evolved into one of the bloodiest of the Arab Spring.
The U.N. said in late February that more than 7,500 have been killed and Assad has faced mounting international criticism.
The U.S. and many European and Arab countries have said Assad must go but remain opposed to military intervention. Joint U.N.-Arab League envoy Kofi Annan ended his first visit to Syria Sunday without obtaining a cease-fire to make way for political dialogue.
Russia and China have stymied efforts to censure Syria in the U.N. Security Council, fearing that a resolution calling for Assad to leave power could open the door to an international bombing campaign, as in Libya last year.
Russia's foreign minister said Wednesday that Moscow is providing Syria with weapons to fend off external threats but has no intention to use military force to protect Assad. Sergey Lavrov also said Russia isn't supplying arms that could be used against protesters.
Like Assad, Russia has blamed the uprising on foreign actors.
Meanwhile, French President Nicolas Sarkozy said Wednesday that Assad is "behaving like a murderer" and should be sent to the International Criminal Court. He also called for the creation of humanitarian corridors to allow aid to enter and refugees to leave the country.
In its report Wednesday, Amnesty said that torture appears to be part of a strategy to punish and intimidate dissidents. It called on the ICC to charge Syrian officials with crimes against humanity.
"Torture and other ill-treatment in Syria form part of a widespread and systematic attack against the civilian population, carried out in an organized manner and as part of state policy and therefore amount to crimes against humanity," it said.
Amnesty's report was based on interviews in mid-February with dozens of Syrians who had fled to neighboring Jordan. Twenty-five said they had been tortured or ill-treated.
The group said it has documented 276 cases of death in detention since the uprising's start. But given the large number of people who have been detained, it says the number of those killed is likely much higher.

The report also accuses armed opposition groups of kidnapping and killing people believed to be associated with the regime. Syrian officials were not immediately available for comment.

Activists reported more deadly attacks on opposition areas around the country Wednesday.

The Britain-based Syrian Observatory for Human Rights said government forces and rebels clashed in northern Idlib province, a day after the provincial capital Idlib had fallen into government hands.

Another group, the Local Coordination Committees, said 5 people were killed in the central city of Homs where regime troops have been shelling civilian neighborhoods and clashing with rebel holdouts since seizing the neighborhood of Baba Amr on March 1.

Government forces also attacked homes in the southern town of Daraa, said a spokesman for the Free Syrian Army in Jordan, Munceef al-Zaeem. He said there were tanks in the area and reports of dead and wounded, but that numbers could not be confirmed.

"We are not able to leave our houses. People are panicking because of the shooting," Daraa resident Abu Ahmed told The Associated Press by phone. "We are fearful because the shells can explode and kill everybody present in our homes."

Italy on Wednesday followed the U.S. and many other countries in closing its embassy in Damascus. A Foreign Ministry statement expressed "the strongest condemnation of the unacceptable violence by the Syrian regime against its own citizens."

The Syrian government has barred most media from operating in the country, and some foreign journalists have sneaked in.

On Wednesday, the Turkish newspaper Milat said it had lost contact with one of its reporters and a freelance cameraman working in northern Syria. The reporter, Adem Ozkose, was last heard from on Saturday when he called from near Idlib.
Thanks for reading CBS NEWS.
Create your free account or log in
for more features.