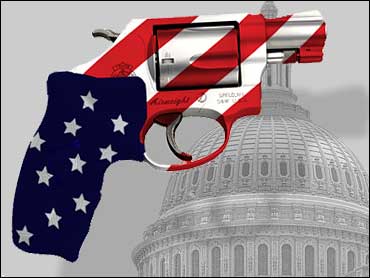 Supreme Court gun rights decision: A win or a setback?
Updated 4:59 p.m. Eastern Time
Both sides of the gun rights debate are claiming some degree of victory concerning today's 5-4 Supreme Court decision restraining government limits on gun ownership while also allowing for the possibility of some governmental regulation.
The decision did not explicitly strike down a Chicago law banning handguns, though it did seem to set a course for an eventual overturning of the law. The majority opinion, however, also said the decision that local governments are fully subject to the Second Amendment "limits (but by no means eliminates) their ability to devise solutions to social problems that suit local needs and values." The position echoed a decision two years ago regarding District of Columbia gun laws.
Despite the perception that the decision was a setback for gun control advocates, Paul Helmke, President of the Brady Center and Brady Campaign to Prevent Gun Violence, said in a statement that he was "pleased that the Court reaffirmed its language in District of Columbia v. Heller that the Second Amendment individual right to possess guns in the home for self-defense does not prevent our elected representatives from enacting common-sense gun laws to protect our communities from gun violence."
Helmke argued that Chicago can now amend its laws to comply with the decision and also maintain its regulations on firearms.
"We are reassured that the Court has rejected, once again, the gun lobby argument that its 'any gun, for anybody, anywhere' agenda is protected by the Constitution," he said. "The Court again recognized that the Second Amendment allows for reasonable restrictions on firearms, including who can have them and under what conditions, where they can be taken, and what types of firearms are available."
National Rifle Association Executive Vice President Wayne LaPierre, meanwhile, called the decision a "constitutional victory" that could still result in "practical defeat."
"The NRA will work to ensure this constitutional victory is not transformed into a practical defeat by activist judges, defiant city councils, or cynical politicians who seek to pervert, reverse, or nullify the Supreme Court's McDonald decision through Byzantine labyrinths of restrictions and regulations that render the Second Amendment inaccessible, unaffordable, or otherwise impossible to experience in a practical, reasonable way," he said.
The NRA is preparing lawsuits to what it sees as overly-restrictive gun laws based on the decision, chief NRA lobbyist Chris Cox told Politico's Ben Smith. "We're going to be in courtrooms making sure these aren't just words on a piece of paper," Cox said.
New York City mayor Michael Bloomberg, who has pressed for tighter gun laws and enforcement, released a relatively upbeat statement following the decision, saying today's ruling and the D.C. ruling "both make clear that we can work to keep guns out of the hands of criminals and terrorists while at the same time respecting the constitutional rights of law-abiding citizens."
"That's what New York City has always done," he said. "And, I will continue to collaborate with mayors across the country to pursue common-sense, constitutional approaches to protecting public safety."
During the Elena Kagan confirmation hearings today, Democratic Sen. Dianne Feinstein of California said she is "extremely dismayed" by the decision, which she said holds "that common sense state and local gun laws across the country now will be subject to federal lawsuits."
"This decision and its predecessor -- the District of Columbia v. Heller -- have essentially disregarded the precedent of 71 years embedded in the United States v. Miller, a 1939 case," she said. "I find that shocking as a former mayor. I believe the proliferation of guns have made this nation less safe, not more safe. We now have more guns than people in this country. They are sold everywhere: on street corners, in gun shows, with no restraint whatsoever, any type of weapon. They fall into the hands of juveniles, criminals, and the mentally ill virtually every day of the year. And the Supreme Court has thrown aside seven decades of precedent to exacerbate this situation."
Feinstein's claim that there are "more guns than people" in the United States may not be accurate, though it is at least close. According to the Brady Center, which cites a 2004 national firearms survey, there were about 283 million guns in the county at that time. That figure is about 20 million less than the total population. (Interestingly, a 2009 Pew study found that gun ownership is concentrated in 1/3rd of U.S. households, which suggests the average gun owner has nearly three guns.) Feinstein's office did not immediately provide sourcing for the claim but promised to do so.
UPDATE: Here's a response from Feinstein's office:
"A UN Small Arms Survey in 2003 found that there were up to 96 guns per 100 people in the United States. A recent Congressional Research Service (CRS) put the number at 294 million: 106 million handguns, 105 million rifles, and 83 million shotguns.
Senator Feinstein meant to remark upon the fact that there are more guns than there are adults capable of handling them. The figure is not entirely accurate if you include infants and children."
Thanks for reading CBS NEWS.
Create your free account or log in
for more features.