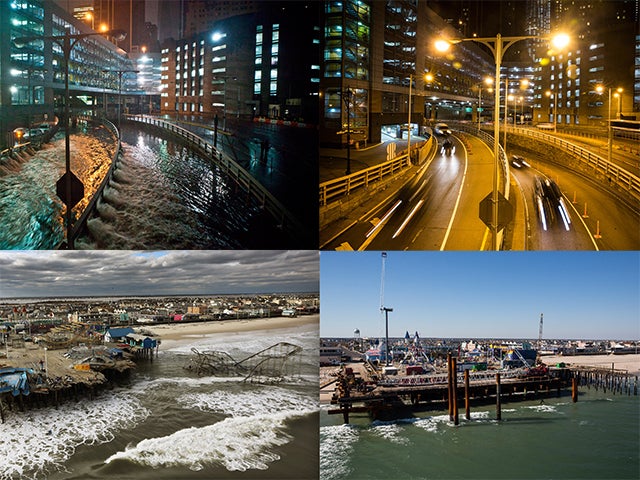 Superstorm Sandy: Residents mark deadly storm's 5th anniversary
NEW YORK -- Communities across New York and New Jersey marked the fifth anniversary of Superstorm Sandy on Sunday, a day that ironically saw the region hit by another strong storm system containing soaking rains and strong winds -- prompting flood and wind warnings, according to CBS New York.
"Of course Mother Nature is taking another shot at us today. She has a sick sense of humor," Richard Thompson said Sunday while watching the rain fall at a convenience store in Toms River, New Jersey. "This storm obviously won't be anywhere near what Sandy was, but it would have been nicer to have a sunny day today."
CBS New York cites the National Weather Service as saying that heavy rain will cause flooding of small creeks and streams, urban areas, highways, streets and underpasses, along with other low-lying spots.
Thompson said his family's summer home in the Mantoloking area was destroyed by Sandy, a meteorological hybrid "superstorm" created when a former hurricane merged with other systems. The home has been rebuilt, but the lengthy process of getting the work completed was "a nightmare. Just so many people and agencies involved," Thompson said.
Sandy was blamed for at least 182 deaths in the U.S. and Caribbean and more than $71 billion in damage in this country alone. It swamped coastline communities, knocked out power to millions of people and businesses, flooded parts of New York City's transit system and set neighborhoods ablaze.
As a light rain fell on the Rockaway Peninsula on Sunday, New York City Mayor Bill de Blasio marked the anniversary in the waterfront neighborhood.
"Five years later, it's impossible to forget what happened," de Blasio said at a neighborhood YMCA. "We're talking about the worst natural disaster we have ever faced in this city."
Later, steady rain continued to soak the region as the National Weather Service issued a high wind warning for New York City until 6 p.m. Monday.
Many say there still are people struggling to repair and rebuild their homes. Rallies were being held from Asbury Park, New Jersey, to Lindenhurst, New York, by those hoping the damage doesn't fade in the national psyche, especially in light of the recent spate of storms in Texas, Florida and the Caribbean.
"Families go through this hell every year around the anniversary," said Michele Insinga, executive director of a Long Island-based nonprofit called "Adopt a House," which advocates for Sandy victims still struggling to repair and rebuild their homes. "Then another 51 weeks goes by where no one is talking about it. We feel like Sandy is the forgotten storm."
Insinga was among a coalition of Long Island activists who gathered near the shore Sunday, despite the severe weather, to keep the focus on recovery.
"Sandy is not over," says Ryan Madden of the Long Island Progressive Coalition. "Long Islanders are still not in their homes; communities are in need of vital infrastructure and resiliency improvements; and New York State has not done enough to safeguard us from future climate impacts."
In Asbury Park, the New Jersey shore town synonymous with Bruce Springsteen, more than a dozen environmental organizations marked the anniversary by linking hands across the boardwalk and sharing stories of loss and recovery. Organizers said the event also laid out steps needed "to address climate change and save lives."
Back in New York, the city of Long Beach, on Long Island, paid tribute to first responders and groups that assisted in the recovery. The entire barrier island community just east of New York City was swamped by the Atlantic Ocean during the storm. Its 2½-mile boardwalk had to be completely rebuilt at a cost of $40 million, and the city has spent $122 million on other recovery efforts.
"Five years after the storm, we are stronger as a community, more united than ever in fighting for what we need and deserve," City Manager Jack Schnirman said. "With all of that said, we fully recognize that we still have much more to do."
Flights were delayed at two of the three major Tri-State Area airports due to the weather Sunday, CBS New York reports.
Flights headed to Newark Liberty International Airport were delayed 4 hours and 23 minutes Sunday evening, while flights to LaGuardia Airport were delayed 3 hours and 30 minutes.
Flights were also delayed an average of 3 hours and 59 minutes at John F. Kennedy International Airport, but that was due to runway-taxiway construction rather than weather, the Federal Aviation Administration reported.
Meanwhile, Cuomo ordered the Metropolitan Transportation Authority to watch over changing storm conditions. Debris trains and extra personnel have been set up within the New York City subway system, as well as on buses.
Thanks for reading CBS NEWS.
Create your free account or log in
for more features.