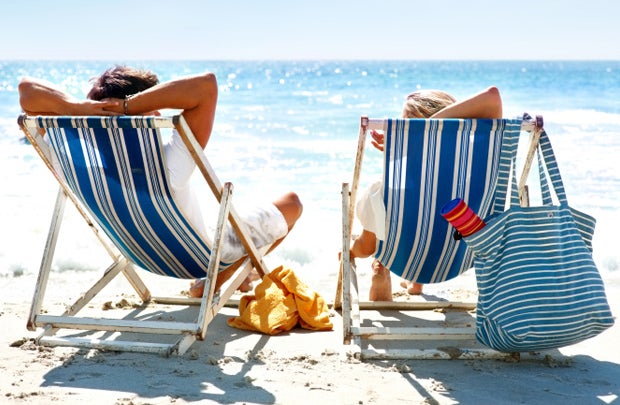 Summer Fridays: 9 pros and cons
(MoneyWatch) When it comes to "summer Fridays," different companies may take a starkly different approach. Even within the same employer, several departments can vary on whether they allow workers to curtail their hours during the warmer months. But do such policies really boost company morale and productivity, or do they just end up creating more stress and work?

Here's what the experts have to say about the pros and cons of Summer Fridays.
Pros
Employees love them. This one is clear: Few employees don't welcome a half or full day off a few times a summer. "It is a great recruiting device that can also help with employee retention," said HR consultant Sharon Armstrong, author of "The Essential Performance Review Handbook." Happy employees are ones who stay with a company for an extended period, and that saves time and money.
Distance may not interrupt work. Just because employees are out of the office doesn't mean they're not available digitally. "In fact, there might almost be an argument that when an executive is away from the stress and distraction of the office, he or she may in fact be more responsive and more productive while sitting on that sandy shore or next to that smoking barbecue," said Mark Jeffries, author of "The Art of Business Seduction: A 30-Day Plan To Get Noticed, Get Promoted and Get Ahead."
They can prevent burnout and boost productivity. Yes, summer Fridays mean people will work less on that particular day. But they may work even harder once they're back, said efficiency expert Andrew Jensen, CEO of consulting firm Sozo Firm. "Employees return to the office after the longer weekend refreshed and ready to work." And the effects aren't only in terms of productivity. Taking these mini-breaks may even lead to lower stress levels and better health -- and as a result, decreased health insurance costs for a company.
It may make people more efficient. If people have more time to do a task, it doesn't mean they'll do a better job at it. In fact, they may just do it faster if need be. "A half day on Friday motivates employees to work as hard as possible to get as much done as they can in four hours, and it is empowering," said Roy Cohen, author of "The Wall Street Professional's Survival Guide."

Career coach Jane Horowitz, founder of More Than A Resume, fondly remembers the generous summer Friday policy at Quaker Oats, where it was expected you'd finish your work before you left -- and everyone did. "Everyone understood without being reminded to work an extra hour during the week. Friday mornings people came in early, put their heads down and got work done in order to get out by noon."
Cons
They can send the wrong message. Sometimes, employees can see summer Fridays as a reason to slack off. "A far better tactic is to offer employers a year-round flexibility program where they are allowed to work a day per week from home," said career consultant Selena Rezvani, author of "Pushback: How Smart Women Ask -- And Stand Up -- For What They Want." "This way, we avoid teaching employees that one time of year is less impactful for the business."
It may increase stress. The few workers who are offered these days off but don't take them generally say they have too much to do. "Workers are more stressed out when they know they have to complete more work in fewer days," said Dan Schawbel, author of "Promote Yourself: The New Rules For Career Success." Efficiency can only be increased so much before there is a breaking point, and good employees realize this.

The entire day can be a bust. If you have a half day on Friday, the morning can be pretty futile in terms of getting work done. "Summer Fridays can be extremely distracting for employees counting down until vacations, barbecues and weekends laying by the pool," said career expert Heather R. Huhman, founder of Come Recommended. Again, flexible hours are the answer to this issue. "Whether it's longer days earlier in the week, or another solution, flexible schedules can increase productivity before you get to Friday."
Summer Fridays can create a too casual environment. If your office offers summer Fridays, you may notice that casual Fridays turn into super-casual Fridays. "People assume summer casual is beach wear or athletic event garb," noted Elaine Varelas, managing partner at career management firm Keystone Partners. "Starting the summer off with a review of expectations for the days people are at work, and even for the Fridays or Mondays they may take off early, keeps all aware of the need to continue to run a business."
September can be tough. The days are getting shorter, the weather is getting colder and you're going back to a longer work week. This can make fall seem particularly dreary. "Keeping the three-day weekend to just occurring twice per month during June, July and August tends to keep the transition smooth into the full five-day work week once the fall begins," Jensen said.
Thanks for reading CBS NEWS.
Create your free account or log in
for more features.