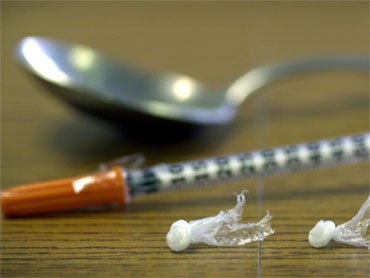 Study: Chicago Has Worst Heroin Problem in U.S.
Heroin use and its associated problems are worse in the Chicago metropolitan region than in any other metro area in the nation, a new study shows.
The report by researchers at Roosevelt University's Illinois Consortium on Drug Policy reveals that in Chicago and its suburbs, more people visit hospital emergency rooms with problems related to heroin than in any other major metropolitan area in the U.S.
The 23,000 mentions of heroin in emergency room records were nearly 50 percent higher in New York City, the second-ranking metropolitan area. [Chicago's rate of heroin admissions as a percentage of emergency admissions was just slightly below Boston's - 250 per 100,000 vs. 259.]
Chicago also ranked first in the number of emergency room admittances for heroin among females, males, individuals 21 and older, and African Americans.
Cook County Jail also ranked first in the percentage of arrestees testing positive for heroin (29 percent). Arrestees testing positive for heroin were also more likely to be white (41 percent), compared to African American (25.3 percent) or Latino (24.3 percent).
"Chicago has one of the worst - if not the worst - heroin problems in the nation," said Kane-Willis, one of the authors of the new report.
Deaths from heroin overdoses increased in Lake County by 130 percent from 2000 to 2009. McHenry County saw an increase of 150 percent in three years, and in Will County, heroin deaths doubled in just two years. And while heroin deaths in Cook County have decreased 16 percent over the period 1998 to 2008, heroin- related deaths increased 40 percent among one demographic: white women.
Kane-Willis told CBS Station WBBM that heroin users are more white, more female, and much younger than is the common perception.
Heroin is also the most common illegal substance for which Illinoisans seek public treatment - more prevalent than cocaine and marijuana - and is second only to alcohol.
African Americans accounted for 74 percent of those aged 40 to 49 discharged from hospitals for heroin. However, a growing number of users are white suburban teens.
Of those in publicly funded treatment for heroin in 2008, nearly 70 percent under age 18 were white.
Those who treat them say it's a disturbing trend.
"It's cheaper to buy heroin than to go to the movies, to buy a movie ticket. That's really frightening," Kate Mahoney, executive director of PEER Services, told WBBM.
To combat these problems, the report's authors make several policy recommendations, including:
• Comprehensive drug education for young people;
• Increased funding for treatment (there have been service cuts in all types of alcohol and drug treatment);
• Increased availability of syringes and syringe exchange programs, to prevent the spread of blood-borne pathogens, such as hepatitis or HIV;
• Support overdose prevention and Naloxone administration efforts; and
• Provide limited protection for 911 callers reporting a drug overdose and requesting emergency assistance.
For more info:
"Heroin Use in Illinois: A Ten-Year Multiple Indicator Analysis, 1998 to 2008" - Executive Summary | Full Report
Thanks for reading CBS NEWS.
Create your free account or log in
for more features.