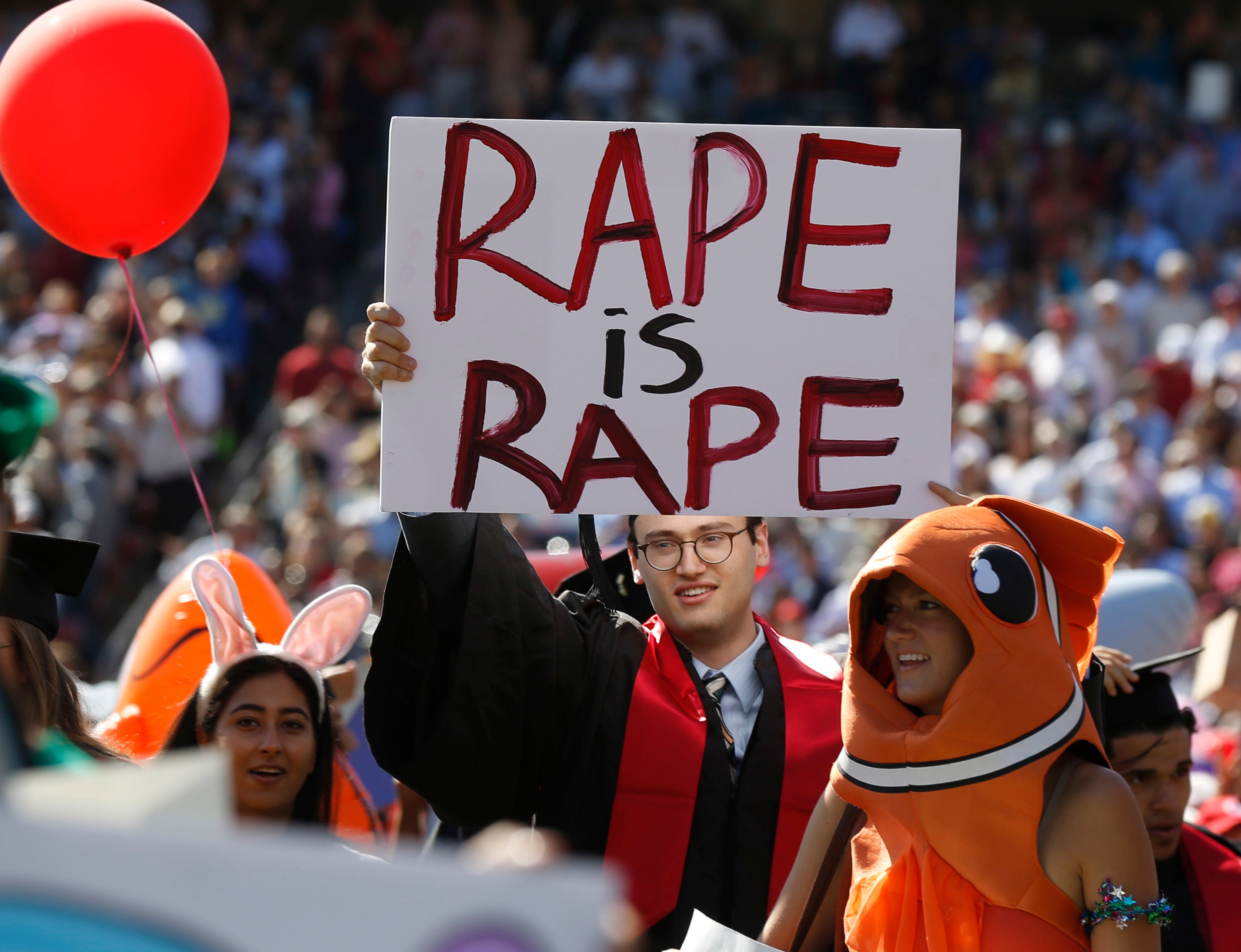 Students express anger, solidarity for victim at Stanford graduation
PALO ALTO, Calif. -- Stanford University graduating students and women's rights advocates used the school's commencement ceremony to again express their anger over the six-month jail sentence given to a former student for sexually assaulting an unconscious woman.
A handful of students demonstrated Sunday during "Wacky Walk," a rambunctious, slow-moving stroll by graduating students dressed in zany costumes that precedes the official graduation events.
One person held a sign that declared "Stanford protects rapists." Another graduate's sign was a message to the victim: "You are a warrior."
Organizers said they wanted to show solidarity to the woman sexually assaulted on campus last year by former Stanford swimmer Brock Turner.
"It's very important to amplify the voice of survivors," said Brianne Huntsman, a protest organizer.
The victim's emotional statement to the court about how the assault devastated her life was widely shared online, attracting national attention to the case.
Documentary filmmaker Ken Burns, whose rousing keynote speech called on Republicans to reconsider their endorsement of Donald Trump, closed his address urging sexual assaults be taken seriously.
"If someone tells you they have been sexually assaulted, take it effing seriously and listen to them," said Burns, who is the father of four girls. "Maybe someday we'll make the survivor's eloquent statement as important as Dr. (Martin Luther) King's letter from the Birmingham jail."
Turner's six-months in jail sentence, which also orders him to register as a sex offender for life, touched off an emotional national debate about leniency and campus sexual assault and sparked outrage with critics collecting thousands of signatures to demand trial Judge Aaron Persky be removed from the bench.
Many people who went to high school with Turner have supported him online, posting that he was a good kid and lamenting the fact that he wouldn't make it to the Olympics.
Turner, 20, of Oakwood, Ohio, is scheduled to be released from Santa Clara County jail in September, after completing three months of his sentence due to good behavior.
Many people who went to high school with Turner have supported him online, posting that he was a good kid and lamenting the fact that he wouldn't make it to the Olympics.
Backlash against those comments and others have made some people here nervous to speak publicly about Turner, his family or the town's reputation. A childhood friend and a high school guidance counselor later apologized for writing letters of support urging leniency.
Mark Otto, 19, was a grade behind Turner at Oakwood High School. While the two weren't friends, they shared some classes together.
"My school and my town are known for being quintessential and perfect and nothing bad ever happens and there is no crime," said Otto, who now lives in New York.
But troubles with alcohol and drugs were just beneath the surface, Otto said.
California prosecutors cited several examples of Turner using hard drugs and alcohol in high school and during his four months at Stanford. Text messages recovered from his cellphone showed Turner discussing using LSD and ecstasy and smoking marijuana and dabs of butane hash oil, known as "wax," according to court document.
According to court records, Turner texted a friend, saying he did acid. His friend boasts about "candyflippin," which is slang for taking LSD and the drug ecstasy together. "I gotta... try that. I heard it's awesome," Turner responded.
Kate Skardon also was in several of Turner's high school classes. She said she was shocked by news of the crime.
"I never saw a side of him that wasn't sweet and kind and funny," she said. "It makes you wonder about the people around you that you trust, what they're capable of."
The women's advocacy group UltraViolet submitted more than 800,000 signatures to the Commission on Judicial Performance's San Francisco offices Friday in a symbolic effort for Persky's removal. The group also has filed a formal misconduct complaint.
A small plane carrying a banner reading "Protect Survivors. Not Rapists. #PerskyMustGo" that was commissioned by the group flew over Stanford University Stadium ahead of Sunday's commencement ceremonies.
"Stanford students are justifiably outraged over a so-called justice system that protects privileged white rapists over the survivors of their crimes," said Nita Chaudhary, co-founder of UltraViolet. "With one in four women sexually assaulted while in college, we need judges that take rape seriously, and that's why Judge Persky should be removed from the bench."
UltraViolet said it has also paid for a full page ad in The Stanford Daily's graduation issue inviting students and alumni to take a stand against rape and that bicycles carrying billboards calling for the judge's removal will accompany student protesters. The bikes are a nod to two graduate students who were riding their bicycles when they confronted the freshman as he attacked the unconscious victim by a garbage bin.
"I sleep with two bicycles that I drew taped above my bed to remind myself there are heroes in this story. That we are looking out for one another," the woman said in her statement to the court.
Thanks for reading CBS NEWS.
Create your free account or log in
for more features.