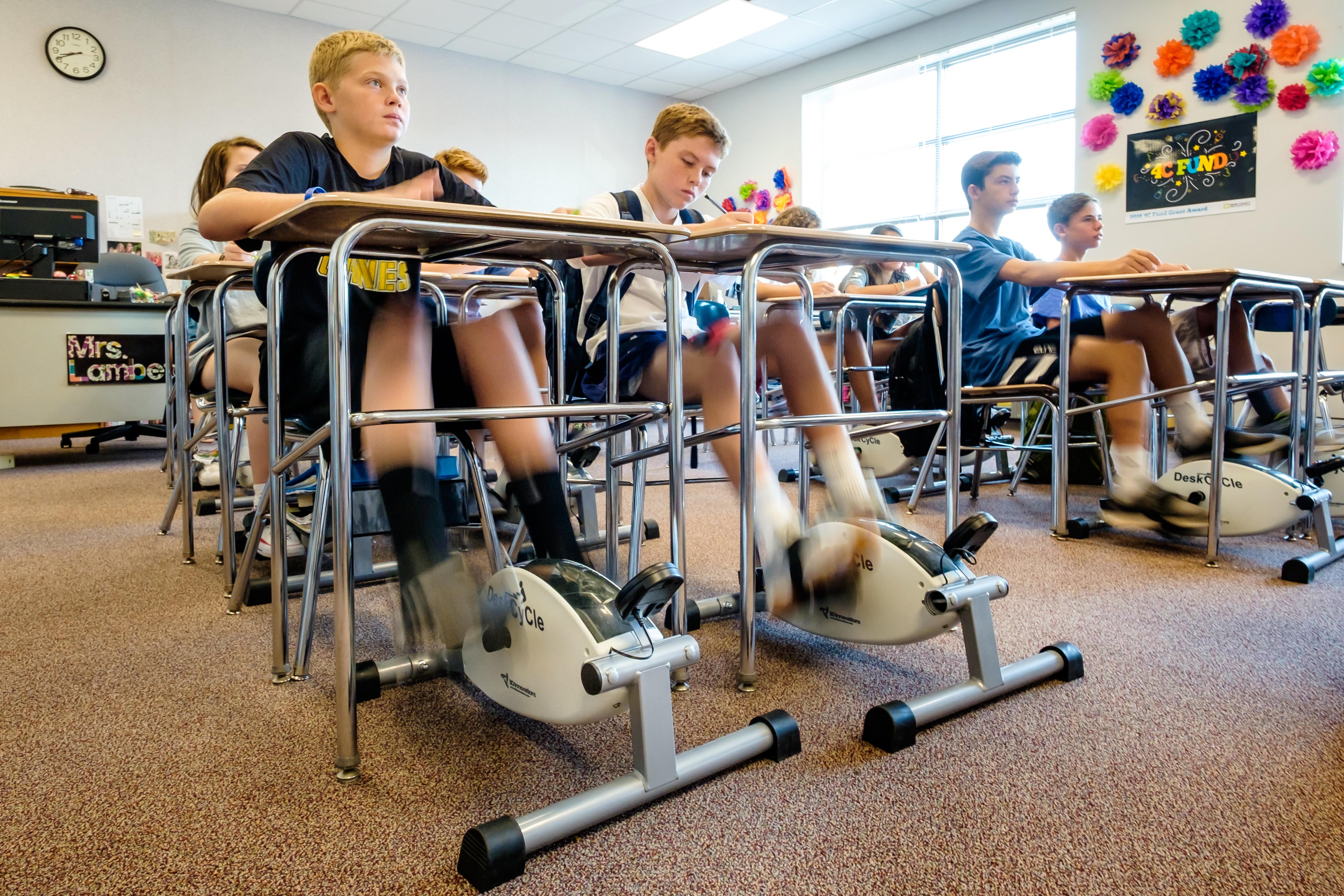 These students are pedaling their way to success
Bethany Lambeth teaches 6th, 7th and 8th grade math classes at Martin Middle School in Raleigh, North Carolina. And this year she found an imaginative way of channeling her students' energy and interests toward their studies.
Lambeth heard about Desk Cycles last year while reading an article. She immediately thought they would be perfect for her classroom, but she had one problem -- these machines were expensive.
"I really wanted to get these for my classroom, but I knew that it was expensive," Lambeth said. "At the same time, our county had an opportunity to apply for a 4C's grant."
This grant encourages teachers to apply if they can incorporate creativity, collaboration, communication or critical thinking into their classrooms. Lambeth found a way to incorporate all four.
"My justification was that through movement my students will be able to gain more focus, which would in turn help them to think more critically and be more creative with their work," said Lambeth. "As students are able to focus more, they are able to gain a deeper understanding of the content, which in turn allows them to collaborate with others more effectively and communicate their thoughts more clearly."
And she was right. Lambeth said a lot of students ask her if she can convince the other teachers to get them in their rooms. And she's compiling evidence that the machines are having a positive effect.
"I have noticed an increase in the quality and the quantity of student work," said Lambeth. "Last year I noticed an average of a 50 percent decrease in the amount of missing work for my struggling students."
The principal of the school, Lacey Peckham, believes they were well worth the investment.
"Since instituting them last spring we have already seen a positive impact on academic and behavior within the classroom setting," said Peckham. "It is truly occupying their 'nervous' energy to allow them the opportunity to focus on one thing and think it through."
Lambeth likes to let new students use them for a few days without explaining what they're for so that she can get a more honest review.
"I often hear that they feel like they can focus more and that they enjoy having something different to do," she said.
School administrators even decided to test out the benefits themselves.
"I will also admit that several of us in the front office took over these desk pedals over the summer," said Peckham. "It was a great way to burn calories while handling phone calls and computer tasks."

While it will take a few years to determine if there is any long-term educational impact, for now Lambeth recommends them wholeheartedly.
"I would recommend this to other schools, hands down," said Lambeth. "Some days they [the students] come in with a lot of energy, stressed, or frustrated and they know that spending a period pedaling will help them out."
Thanks for reading CBS NEWS.
Create your free account or log in
for more features.