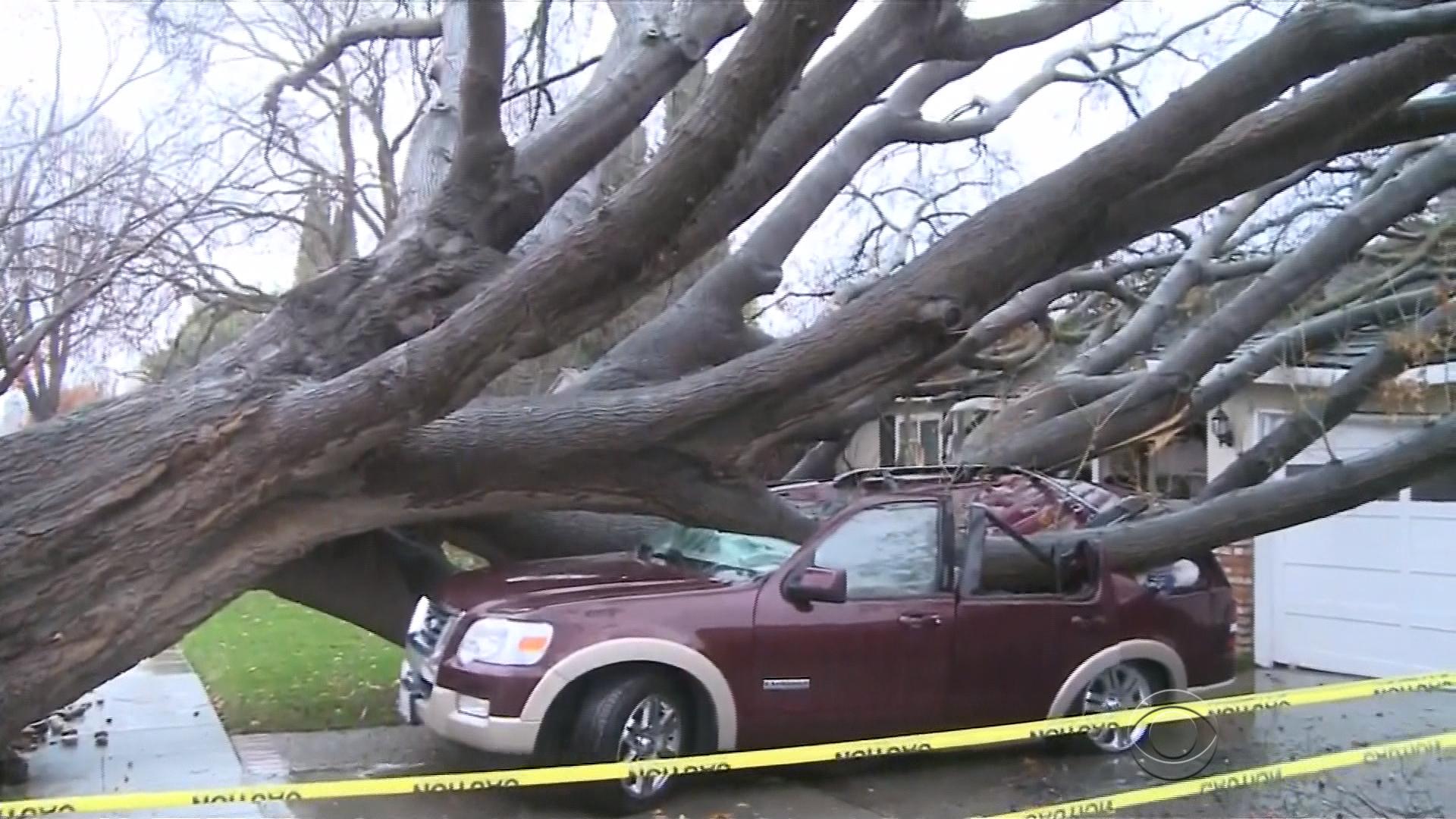 Strong West Coast storm creates widespread flooding, power outages
SAN FRANCISCO -- The most powerful storm in five years flooded roads across Northern California Thursday. Parts of Sonoma County got more than nine inches of rain. Toppled trees crushed cars and downed power lines left 370,000 homes and businesses in the dark.
At times, the storm packed hurricane-force winds. On Mount Lincoln, near Lake Tahoe, the National Weather Service clocked one gust at 147 miles per hour.
A wet and windy storm hit most of the West Coast, from central California north to Washington State, where houses in the town of Washaway Beach were washed away.
"It was hanging barely on the edge yesterday and now it's completely over," said Tom Peterson, who owned one of the damaged homes. "So it's a done deal."
Kayakers took to the flooded streets of Healdsburg, California. Hurricane force winds churned up huge waves on Lake Tahoe. In the San Francisco area, sustained winds of nearly 80 miles an hour knocked down trees.
In Santa Cruz, an 80-foot-tall tree fell on an elementary school student, trapping him for 15 minutes. He suffered a likely broken arm.
Among the trees brought down by the storm is a huge oak that fell on my neighbor's house Thursday morning. It blocked my driveway, so I had a tough time getting to work.
Many in the San Francisco area decided not to go to work. Traffic lights were out across much of the city, major roads flooded and public transit disrupted. The cable cars shut down with buses taking over the routes.
Most schools were closed, so the Ludwig family went for a walk in the rain.
"I thought we were going to watch tv all day, but now the power's out," Beth Ludwig said. Her mom added that the kids had never experienced a power outage before.
Georgia Virgili was one of the hundreds of thousands in the Bay Area who lost most of the conveniences of modern life.
"I didn't have power," Virgili said. "I couldn't get my car out of the garage, I have no food, I have no cash, so I'm trying to forage for something."
Flooding from this storm could have been much worse, but after three years of drought, the ground soaked up much of the rain. Reservoirs have plenty of room to catch the runoff -- a good thing, because the rain is expected to continue overnight and Friday, with more storms next week.
Thanks for reading CBS NEWS.
Create your free account or log in
for more features.