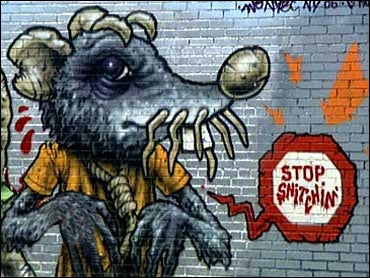 This segment was originally broadcast on April 22, 2007. It was updated on Aug. 8, 2007.
In most communities, a person who sees a murder and helps the police put the killer behind bars is called a witness. But in many inner-city neighborhoods in this country that person is called a "snitch."
"Stop snitchin'" is a catchy hip-hop slogan that embodies and encourages this attitude. You can find it on everything from rap music videos to clothing. "Stop snitchin'" once meant "don't tell on others if you're caught committing a crime."
But as CNN's Anderson Cooper reports for 60 Minutes, it has come to mean something much more dangerous: "don't cooperate with the police - no matter who you are."
As a result, police say, witnesses are not coming forward. Murders are going unsolved.
Reluctance to talk to police has always been a problem in poor, predominantly African-American communities, but cops and criminologists say in recent years something has changed: fueled by hip-hop music, promoted by major corporations, what was once a backroom code of silence among criminals, is now being marketed like never before.

---

The message appears in hip-hop videos, on T-shirts, Web sites, album covers and street murals. Well-known rappers talk about it endlessly on DVDs. It is a simple message heard in African-American communities across the country: don't talk to the police.

"When I was growing up, kids used to talk about snitching.... It never extended as a cultural norm outside of the gangsters," says Geoffrey Canada, a nationally recognized educator and anti-violence advocate. "It was not for regular citizens. It is now a cultural norm that is being preached in poor communities."

Canada has been working with children in Harlem for more than 20 years. He grew up poor in a tough New York neighborhood, but says the message kids are getting today is very different and dangerous.

"People are walking around with shirts. People are going out making, making music. People are saying things that if you're a snitch it's like being an Uncle Tom was when I was growing up," Canada says. "It's like you can't be a black person if you have a set of values that say, 'I will not watch crime happen in my community without getting involved to stop it.'"

"So this slogan, this 'stop snitchin'.' It now extends to rape, robbery, murder, really any crime?" Cooper asks.

"Any crime," Canada says. "It's like we're saying to the criminals, 'You can have our community. Just have our community. Do anything you want, and we will either deal with it ourselves, or we'll simply ignore it.'"

Canada could no longer ignore it on Feb. 5, 2006, when Israel Ramirez, a student he had mentored and loved like a son, was shot to death outside a soundstage in Brooklyn.

Ramirez was working as a bodyguard for the rap star Busta Rhymes, who was making a music video.

A person who was there told 60 Minutes Ramirez was shot in front of Busta Rhymes. He died at the scene two days before his 29th birthday, leaving a wife and three children behind.

"You know, I just think of him, being shot, falling down, probably thinking, 'This might be it.' And I just wonder, who held his hand? Who caressed his head? Who told him, 'I'm gonna be here?' Who stayed with him? Who made sure this man just didn't die alone for nothing?" Canada wonders.

New York City Police Commissioner Ray Kelly says there were at least 25 people who may have witnessed the shooting. But he says nobody has come forward to testify.

"The people that we've located, either were inside and didn't see anything. Or you'll get a version of, 'I have to work in this business. Ask Busta Rhymes what happened,'" Commissioner Kelly says.

The police would like to ask Busta Rhymes what happened but, even though he talked vaguely about the killing on a cable TV show, he refused to talk to investigators, or to 60 Minutes.

Geoffrey Canada believes it's because Busta Rhymes doesn't want to jeopardize sales of his music and videos; Canada says being labeled a "snitch" might have damaged Rhymes' "street cred."

"One of the things that sells music is when the artist is looked at as someone who's come up from the streets. Not just any streets, but the toughest, meanest streets of the urban ghetto. And that's called 'street credibility,'" Canada says.

Busta Rhymes did put a tribute to Israel Ramirez on the video he was making when Ramirez was killed. "Just wanted to make sure people seen this so they know you ain't die in vain. Love you and I miss you, Homie. Hope we make you proud," Rhymes said in the video.

"I think that's horrid," says Canada. "I ask you Busta, as a man, if that was your son and you watched someone kill your son, would you remain quiet or would you get justice for your son? This is murder. This is murder. This is watching someone getting murdered. How do we walk away from this?"

The truth is, people having been walking away for years. In 1996, rapper Tupac Shakur was gunned down in Las Vegas; the crime remains unsolved. So does the 1997 shooting of the rapper Notorious B.I.G.

Rap star Cameron Giles, known as Cam'ron or "Killa Cam," got shot in both arms in 2005. The shooting occurred in front of members of Cam'ron's entourage, but to this day, neither they, nor he, have cooperated with police.

Asked why, Cam'ron tells Cooper, "Because with the type of business I'm in, it would definitely hurt my business. And the way that I was raised, I just don't do that. I was raised differently, not to tell."

"If I was shot, I would want to know who did it. I would want the guy to get caught," Cooper remarks.

"But then again, you're not going to be on the stage tonight in the middle of, let's say, Raleigh-Durham, North Carolina, with people with gold and platinum teeth and dreadlocks jumping up and down singing your songs either," Cam'ron says. "You know what I'm saying? We're in two different lines of business."

"So for you it's really about business?" Cooper asks.

"It's about business but it's still also a code of ethics," Cam'ron replies.

Asked if he thinks there is any situation when it's okay to talk to the police, Cam'ron tells Cooper, "Yeah, definitely. Say 'Hello, how you feel, everything alright?' Period."

"That's it?" Cooper asks.

"There's nothing really to talk about with the police, I mean, for what?" Cam'ron says.

"If there's a serial killer living next door to you, though, and you know that person is, you know, killing people, would you be a snitch if you called police and told them?" Cooper asks Cam'ron.

"If I knew the serial killer was living next door to me?" Cam'ron asks. "No, I wouldn't call and tell anybody on him. But I'd probably move... But I'm not gonna call and be like, you know, 'The serial killer's in 4E.'"

If you think Cam'ron is kidding, he's not. Maintaining street cred sells record - just watch his movie "Killa Season," or his rap videos, and you'll quickly learn about his drug-dealing past. He wears it as proudly as his jeweled chains.

In a recent video, which was viewed more than a million times on YouTube, Cam'ron engages in what has become a standard attack on a competitor rapper's brand. He accuses rapper 50 Cent, whose real name is Curtis Jackson, of being a "snitch" for allegedly cooperating with a police investigation.

"You don't need someone destroying you when your own people are the worst messengers possibly," Canada says. "And this is what black people in America have not come to grips with. If we had a bunch a people in robes saying this stuff, there would be a movement all over America to shut this thing down. That it's young black millionaires, we are doing nothing."

Cam'ron acknowledges that he is a millionaire and drives "a couple" of Lamborghinis. On the streets of Harlem, he is idolized. A few years ago when he started wearing pink clothing, kids in inner city schools across the country started wearing it too.

"Whatever they dish out, we eat it up," a teenager named Victoria tells Cooper. "They could dish out the nastiest thing in the world, but we still will eat it up."

Cooper met Victoria, Alex, Derrick, Darnell, and Tess through a church-based organization called Uth Turn. They're 14 through 19 years old, and they told 60 Minutes the "stop snitchin'" code doesn't just apply to rappers.

"A snitch is a tattletale, a rat, somebody who goes around telling other people business instead of minding they own," Alex tells Cooper.

Asked if he believes that, Alex says, "Yes.

"Anybody who comes forward and talks to the police about something they witnessed, a murder or a crime, are they a snitch?" Cooper asks.

"Yes... It's a crime, remember, in our community, to snitch," says Tess.

Most of these kids had witnessed at least one violent crime but had not helped the police identify the culprits. Victoria saw someone get shot a few years ago; she says she was scared to talk to the police then, and she wouldn't identify the shooter if the same thing happened today.

Asked why, Victoria says, "Because that's the rules."

Those rules are making it much harder for the police to catch killers, according to Professor David Kennedy of The John Jay College of Criminal Justice.

Kennedy works with communities and police departments all over the country. Nationwide, he says, police are able to arrest a suspect in about 60 percent of the homicide cases they investigate. That's known as the "clearance rate."

But Kennedy says in some neighborhoods the rate is much, much lower. "I work in communities where the clearance rate for homicides has gone into single digits."

The unwillingness to come forward, Kennedy says, lies at the core of the problem.

"What does it say about what's happening in a community that if you come forward, you lose status in that community?" Cooper asks.

"In these neighborhoods, we are on the verge of, or maybe we already have lost, the rule of law," Kennedy says.

The snitchin' credo is not just a product of hip hop music, he says. Nor are people simply afraid to come forward. As Professor Kennedy sees it, and as Cam'ron portrays it in a movie, the root cause is a long-standing belief that law enforcement is the enemy.

Kennedy says that's partly because of police tactics used to fight the war on drugs.

Asked if he trusts the police, Alex tells Cooper, "No."

Why not? "'Cause there's been numerous times I've been walking, just being a regular American citizen and getting stopped for no reason," Alex says.

"Is it possible that people aren't coming forward to talk to the police not because of what rappers are saying, but just because they don't trust the police?" Cooper asks New York Police Commissioner Ray Kelly.

"Sure. There's always going to be an element that is not happy with what the police do," Kelly says. "But I think the difference here is the commercialization, if you will, of 'don't snitch.' The glorification of it."

"It's that sort of edgy, you know, kind of ghetto, everybody's kind of into it. It does package well, and it does sell well. And beneath, you know, beneath all of this stuff, there's huge corporate profits in the industries that feed off this," Canada says.

Many of the big-name rappers who rail against snitches are distributed on major record labels. Cam'ron is distributed through Asylum Records, a division of Warner Music.

When the rapper L'il Kim committed perjury rather than implicate members of her entourage in a shooting, Black Entertainment Television launched one of its most popular shows ever, chronicling her days before going to prison.

"Black Entertainment TV ran a reality series about her that was advertised with the tag line, 'She's going to prison with her mouth shut and her head held high,'" Professor Kennedy says. "This is a Joe Camel issue. This is big business selling death."

Black Entertainment Television has said its series on L'il Kim did not condone her crime, but rather took "a very serious look at her life and her choices...." As for Cam'ron's relationship with Warner Music, an executive there declined to comment.

"I dare any of those executives in the major companies to put one of those songs on in board meeting. I dare 'em. They'd never do it," Canada says. "You put on some song that has the n-word 50 times that talks about killing and murder, oh no. Board members don't want to hear that kind of stuff."

"I just think that rap takes way more slack than the video games and the movies. We don't make guns. Smith and Wesson makes guns," Cam'ron argues. "Like, white people make guns and bullets and all we're doing is rhyming and putting words together."

"If your record label said to you, 'Look, we're not going to promote you, we're not going to distribute you if you keep calling Curtis Jackson a snitch.' Or you keep, writing about guns and selling drugs, would you stop?" Cooper asks.

"No record company in the world would say 'We're not promoting if you keep calling somebody a snitch. They know what makes money," Cam'ron says. "A record company would never be that stupid. Ever."
---
After this story first aired in April, Cam'ron was widely criticized for saying he wouldn't help the police catch a serial killer. Cam'ron later issued the following apology in response to his comments:
"In 2005, I was a victim of a violent crime. I was shot multiple times without provocation by two armed men who attempted to carjack my vehicle. Although I was a crime victim, I didn't feel like I could cooperate with the police investigation. Where I come from, once word gets out that you've cooperated with the police that only makes you a bigger target of criminal violence. That is a dark reality in so many neighborhoods like mine across America. I'm not saying its right, but its reality. And it's not unfounded. here's a harsh reality around violence and criminal justice in our inner cities."
"But my experience in no way justifies what I said. Looking back now, I can see how those comments could be viewed as offensive, especially to those who have suffered their own personal tragedies or to those who put their lives on the line to protect our citizens from crime. Please understand that I was expressing my own personal frustration at my own personal circumstances. I in no way was intending to be malicious or harmful. I apologize deeply for this error in judgment."
Statement of Asylum Records:
"We expect and encourage all of our artists to behave responsibly and lawfully and we were gratified that Mr. Giles apologized for his remarks. We applaud "60 Minutes" for shedding further light on these important and complex issues and believe that the resulting dialogue among artists, law enforcement, community leaders and the media industry has been and will continue to be a constructive one."
Produced By Andy Court and Keith Sharman
Thanks for reading CBS NEWS.
Create your free account or log in
for more features.