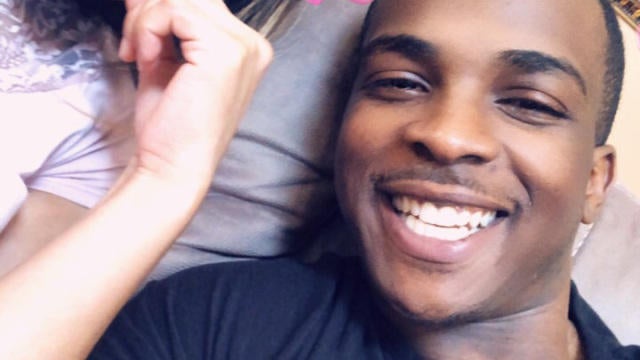 "They didn't have to kill him like that": Stephon Clark's grandmother pleads for justice
SACRAMENTO - The grandmother of Stephon Clark, an unarmed California man who was shot and killed by police last week, wept as she spoke to reporters Monday, repeatedly asking why officers didn't use a taser or other non-lethal force.
"My grandson was 23 years old," said Sequita Thompson. "And now my great-grandbabies don't have their daddy."
"I want justice for Stephon Clark. Please, give us justice!"
She spoke at a news conference alongside prominent civil rights attorney Ben Crump, who will be representing the family.
Clark, 22, was standing in his grandmother's back yard holding a cellphone last Wednesday when police fired 20 shots at him, killing him on the spot. The fatal shooting sparked days of protests in Sacramento, followed by a candlelight vigil on Sunday.
Thompson sobbed as she described hearing gunshots and dropping to the floor with her granddaughter to crawl to safety, then realizing Stephon had been hit.
"They didn't have to kill him like that. They didn't have to shoot him that many times," she said. "Why didn't they shoot him in the arm, shoot him in the leg, send a dog, send a taser? Why? Why?"
Crump announced Friday that he will be representing the Clark family. Crump has represented families in other controversial police shooting cases, including the families of Trayvon Martin, Michael Brown and Tamir Rice.
"People who committed a mass shooting in Florida were not shot once, but a young black man holding a cellphone is shot 20 times. The young man who was bombing homes in Austin, Texas, the police followed him for hours. He wasn't shot once, but an unarmed black man holding the cellphone is shot 20 times," Crump told reporters Monday.
An independent use-of-force expert who viewed police body cam footage of the shooting said that the officers may have a tough time explaining why they thought Clark had a gun, CBS Sacramento reports.
When asked for comment about the incident during a White House briefing Monday, deputy press secretary Raj Shah said: "I'm not aware of any comments that he [President Trump] has. I haven't asked him about that directly. Obviously, the president cares about any individual who would be harmed through no fault of their own. I don't know the specifics in that case and I don't want to comment any further."
Players for the NBA's Kings and Celtics wore black T-shirts with Clark's name in pregame warmups on Sunday to honor his memory.
Players on both teams also participated in a public service video promoting unity while seeking change.
Thanks for reading CBS NEWS.
Create your free account or log in
for more features.