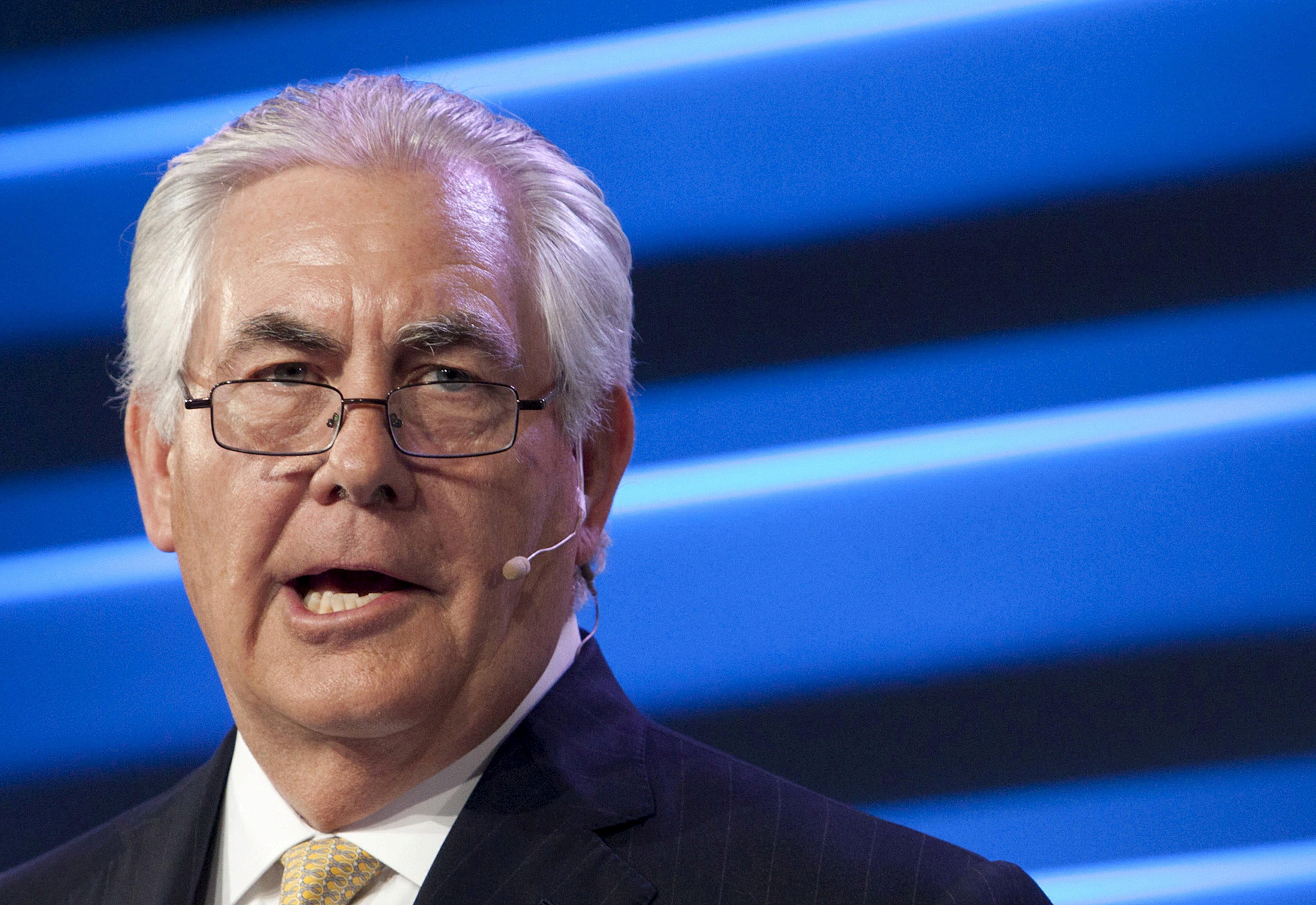 Secretary of state pick Rex Tillerson faces some Senate GOP criticism
Donald Trump's Cabinet picks have elicited plenty of criticism from Democrats: climate change denier Scott Pruitt, the pick to lead the Environmental Protection Agency, is a target for environmental groups, while other picks like financier Steven Mnuchin for treasury secretary have raised the ire of anti-Wall Street progressives.
But with the news that Exxon Mobil CEO Rex Tillerson is Mr. Trump's choice for secretary of state, there is some criticism coming from within his own party.
Tillerson's nomination is drawing bipartisan concern in the Senate -- some are suspicious of his long relationship with Russian President Vladimir Putin. Tillerson and Putin met in the 1990s when Tillerson was working for Exxon in Russia and Putin was a KGB operative for President Boris Yeltsin.
"Because of his oil background, he might find himself in a conflict of interest when he supports a lifting of sanctions, for example,...that would help his business ties," said Marvin Kalb, a national security expert with the Brookings Institution.
Tillerson's 2.5 million shares of Exxon stock could be raised during confirmation hearings -- 1.8 million of those shares are not vested and cannot be sold now. Should sanctions be lifted, Tillerson's Exxon stock would benefit, given Exxon's deals with state-owned oil company Rosneft -- all put on ice when the U.S. and Europe sanctioned Russia over its intervention in Ukraine.
Kalb added that the nation's chief diplomat "ought to be in this respect like a journalist: no emotional or financial ties to the person or country you are 'covering.'"
That issue has heated up recently, especially with the news that U.S. intelligence agencies believe Russia was working not only to interfere in the U.S. election, but to actively promote President-elect Trump. Mr. Trump, however, has rejected such conclusions, calling them "ridiculous."
Some Republican senators have not shown much enthusiasm for Tillerson -- which could slow his confirmation process. Senate Republicans have a relatively slim 52-48 margin in the Senate next year -- meaning that if Democrats vote against Tillerson, even just a couple of Republican senators who oppose him can scuttle his nomination.
Here's what's been said about Tillerson on both sides:
Critics in the Senate
Some of the most vocal opponents to a possible Tillerson cabinet pick include the senators on the Foreign Relations Committee -- the body that has jurisdiction over the secretary of state's nomination.
Reelected to the Senate following a failed 2016 presidential bid, Marco Rubio, R-Fla, serves on this Foreign Relations committee. On Sunday morning, he tweeted his opposition:
Fellow committee member Rand Paul, R-Ky, is reserving judgment on Tillerson, but he denounced the man who would likely accompany Tillerson as deputy secretary of state: former U.N. ambassador John Bolton.
"John Bolton is so far out of it and has such a naive understanding of the world," Paul said in an interview with George Stephanopoulos on ABC's "This Week." "If he were to be the assistant or the undersecretary for Tillerson, I'm an...automatic no on Bolton. He should get nowhere close to the State Department if anybody with the same worldview is in charge."
On "Face the Nation" Sunday, Sen. John McCain, R-Arizona said Tillerson would get a fair hearing, but he has reservations about Tillerson's Russia ties.
"It's a matter of concern to me that he has such a close personal relationship with Vladimir Putin," he said. "And obviously they've done enormous deals together and that would color his approach to Vladimir Putin and the Russian threat."
Likewise, Sen. Lindsey Graham, R-South Carolina, in an interview with the Washington Post, pointed at an award given to Tillerson by the Russian Kremlin two years ago.
"I don't know the man much at all, but let's put it this way: If you received an award from the Kremlin, [an] Order of Friendship, then we're gonna have some talkin'," Graham said. "We'll have some questions. I don't want to prejudge the guy, but that's a bit unnerving."
And count Oklahoma Sen. James Lankford among the uncertain, too. Lankford's communications director, D.J. Jordan told CNN that he "is not ready to vote for Rex Tillerson."
Trump allies defend Tillerson
Not all reactions in the Senate to a potential Tillerson nomination are negative, though: Senate Foreign Relations Committee Chairman Bob Corker, R-Tenn, who was also considered for secretary of state, defended Tillerson.
On Saturday, Corker applauded Mr. Trump's expected pick, calling Tillerson a "very impressive individual."
Newt Gingrich, a Trump supporter, also made the argument for Tillerson. During a Monday "Fox & Friends" interview, Gingrich, who has voluntarily taken himself out of the running for a Cabinet posting, described Tillerson "as good a catch" Trump could get for secretary of state.
"He's been crisscrossing the world, making money for his stockholders, growing a huge company, creating jobs, and helping the world economy," Gingrich added. "It seems to me that a guy who can do that, if he takes all those skills and all that knowledge, and he applies it to representing America, to making America great again, he could be absolutely the right person to be secretary of state."
Though Tillerson's Russia ties could cause problems for his nomination, Max Stier, president and CEO of the Partnership for Public Service, said it is "not unprecedented but still unusual" for a Cabinet pick to be unsuccessful.
In the last four decades, five Cabinet secretary picks have withdrawn their names after being nominated, according to congressional archives. Only one -- John Tower, George H.W. Bush's pick for defense secretary -- has been rejected by the Senate.
The New York Times noted in 1989, after his rejection, that Tower was "a nominee for a particularly sensitive job plagued by an unusually long list of allegations about purported drinking problems, misconduct toward women and lax attitudes toward conflicts created by his work as a consultant to military contractors."
Thanks for reading CBS NEWS.
Create your free account or log in
for more features.