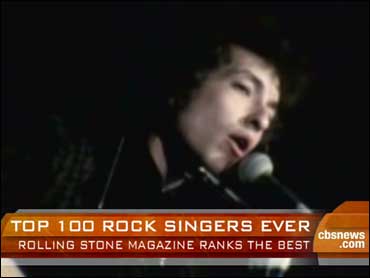 Stars Rank Rock's Best Set Of Pipes
What better way to conduct a poll about the greatest singers of the rock era then to ask musicians themselves?
Rolling Stone magazine decided to tap into the minds of a diverse group of musicians from all genres and see who they have rocked out to and who has inspired them.
Rolling Stone's associate editor Brian Hiatt sat down with Early Show co-anchor Harry Smith to dish on the list of legends.
"We reached out to lot of people; most of them rock stars and singers. Now rock stars aren't very good at filling out forms, but a lot of them did. So everyone from Bruce Springsteen to Keith Richards -- we got their handwritten ballots -- to Carrie Underwood," Hiatt said.
When asked to come up with the top 100 greatest singers of the rock era sans criteria, each musician delivered.
"We didn't really tell our voters what the criteria was, besides rank the greatest singers of the rock era in order of importance and somehow they all got it," Hiatt reiterated.
Number one on the list was the legendary Aretha Franklin, who recently visited The Early Show. Franklin was followed by Ray Charles, Elvis Presley Sam Cooke and John Lennon to make the top five.
"I think it's just when you think of a pure voice in the rock era, I really think that's one of the first you think of -- just this huge force full of soul. We had Mary J. Blige write about her for the issue and she said 'Do you know a force from god? And that's who Aretha Franklin is,'" Haitt said.
Also in the top 10 is Bob Dylan - not only a singer, but a storyteller.
Although Dylan may not come to mind as having the greatest voice, his voice had a tremendous impact on the rock era.
"I would agree if it were greatest voices, he would not make it. It's singers in the rock era. What he does is express truth in a way no one else can. He really broke down walls for the way a singer could sound on the radio. The way that a singer could express himself," Hiatt said.
The list wouldn't be complete without Stevie Wonder.
"We had Cee-Lo from Gnarls Barkley talk about him. He says he has a voice who always sounds like he is about to break into tears, except tears of joy," he said.
Like Dylan, Mick Jagger doesn't have a great singing voice, but of course he made the list for his voice that has transcended generations.
"He's a guy that can take on all of these different characters. Can sound like a country guy. He can do anything without having a great instrument necessarily, but can do a lot with it," Hiatt said.
Smith was surprised not to see David Crosby on the list.
"We spoke to him for the issue. I talked to him about Neil Young. He is very gracious. I guess it's when you're part of a group, it gets hard," Hiatt said.
Joni Mitchell who is also on the list, was referred to by Smith as "a singular, amazing, sensual and phenomenal presence."
Melissa Etheridge wrote about one of her inspirations, the iconic Janis Joplin.
The hundred greatest singers on the list were officially tabulated by Ernst & Young.
"The great thing about the list is the readers all go nuts," Smith said.
"Especially in the age of the Internet - it changes everything. The minute you put it up, it's like you're wrong - that's what we love," Hiatt said.

Thanks for reading CBS NEWS.
Create your free account or log in
for more features.