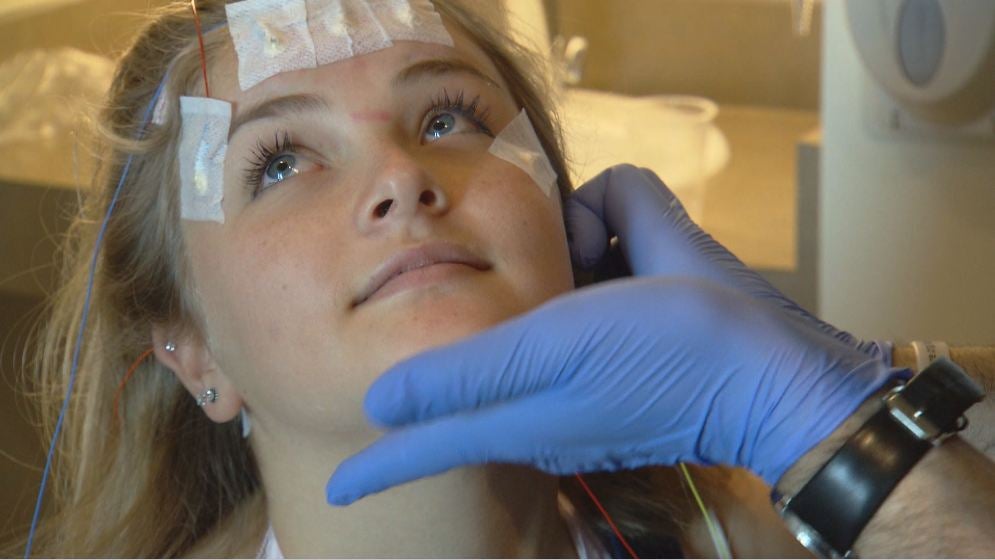 Training teens to be high school "sleep ambassadors"
Many Americans say they don't get enough sleep, especially teenagers.
Now, Stanford University is teaching high school students to become "sleep ambassadors." The unique course is designed to help spread the word on the health risks associated with sleep deprivation, reports CBS News correspondent Ben Tracy.
Seventeen-year-old Nora Siegler is being wired up in order to better understand why teenagers need to unplug.
At Stanford University's Center for Sleep Sciences, high school students are getting a crash course in why sleep is the most important part of their day.
"I'm pretty much exhausted by 2:30 every single day. People talk about how exhausted they are, how late they went to bed," Nora said.
Doctors say teenagers need eight to 10 hours of sleep each night, but according to the National Sleep Foundation, 87 percent of high school students don't get that much. That impairs their judgment and concentration and can cause anxiety, depression and even thoughts of suicide.
The American Academy of Pediatrics calls the problem of tired teens an epidemic.
"If we told you that teenagers do not get enough food, we'd have telethons, it'd be national news, covered by the presidential campaign," said Dr. Rafael Pelayo, a clinical professor and sleep researcher at Stanford's Sleep Disorders Clinic.
When Dr. Pelayo asked one group of students how many of them wake up tired, nearly everyone raised hands.
"Just because you can get by does not mean you're at your best. You could put low octane gas into your sports car. The car still functions, but it's not performing at its full potential," Dr. Pelayo said.
Research has found that when kids become teenagers, their circadian rhythm - or internal biological clock - shifts to a later time, making them biologically inclined to fall asleep about two hours later than they used to.
But waking up early to get to school on time cuts off their deepest and most productive hours of sleep.
Nora learned those lost hours are crucial to her success.
"I think the biggest takeaway from the lecture was how vital sleep is for memory retention and consolidation of memory, which is really important as a student because we're constantly trying to cram information," Nora said. "And we think that staying up later and later is the way to do it."
At her high school in Menlo Park, California, students from Stanford are training teens like Nora to become "sleep ambassadors," hoping they will give their fellow students a wake-up call on the importance of falling asleep.
Thanks for reading CBS NEWS.
Create your free account or log in
for more features.