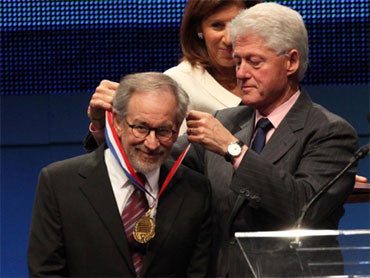 Spielberg Receives Liberty Medal
Award-winning filmmaker Steven Spielberg, long recognized for his artistic achievements, was honored with the Liberty Medal on Thursday for his compassion and humanitarian work.
Former President Bill Clinton presented the medal to Spielberg at the National Constitution Center, which offers history-based exhibits focused on the U.S. Constitution and gives the annual award to those whose actions represent the founding principles of the United States.
"We honor a man today who has always been able to make a simple story and make it scary, make a simple story and make it interesting and make a simple story and remind us of the greatness in us all," Clinton said.
Spielberg's movies include the Holocaust drama "Schindler's List" and the World War II epic "Saving Private Ryan," which both landed him Academy Awards.
"Art is and should endeavor to be among the human enterprises that contribute to the building of good and free societies," said Spielberg, whose other projects include "Amistad," about a slave ship mutiny, and the HBO series "Band of Brothers," about a company of soldiers during World War II.
In choosing Spielberg for the award, the center said he "presented stories of the struggle and triumph of humanity over tyranny, informing and inspiring millions to better understand the abiding call of liberty."
After making "Schindler's List," based on the true story of a man who tries to save Jews from the Nazis, Spielberg established a foundation to produce video and oral histories of Holocaust survivors.
The Survivors of the Shoah Visual History Foundation became part of the University of Southern California in Los Angeles in 2006. Its collection now stands at nearly 52,000 video testimonies in 32 languages, representing 56 countries.
Spielberg, who won Oscars for best director and best picture for "Schindler's List" and best director for "Saving Private Ryan," will donate the Liberty Medal's $100,000 cash prize to that organization, the National Constitution Center said.
The medal was established in 1988. Previous winners have included rock singer and human rights activist Bono, former South African President Nelson Mandela and former U.S. President Jimmy Carter.
By MaryClaireDale
Thanks for reading CBS NEWS.
Create your free account or log in
for more features.