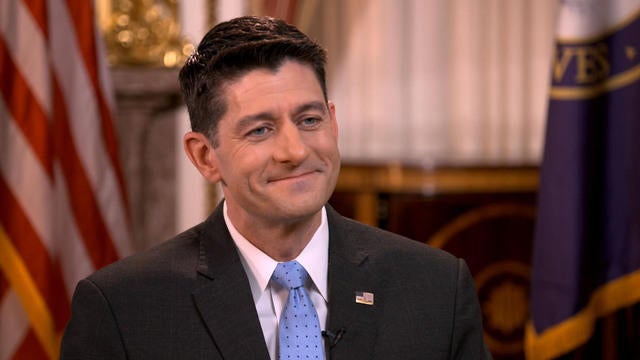 Speaker Paul Ryan on his "very candid dialogue" with Trump
A day after announcing he would not be seeking re-election, House Speaker Paul Ryan said that rumored "fatigue" created by President Trump did not play a role in his decision to resign. In an interview with "CBS This Morning" co-anchor Gayle King on Thursday, Ryan credited Mr. Trump for advancing much of the agenda that he accomplished as he looks to leave office.
"We have advanced a very impressive agenda, we ran on an agenda in 2016, we won the election and we've been executing it ever since. So I'm very proud of the accomplishments, but it really is a phase of life," Ryan said.
He added of Mr. Trump, "Obviously we've had our differences and we've disagreed privately and publicly but I really do believe I've been doing things in the best interest of the country."
Ryan disagreed when asked if Mr. Trump had made his job as speaker and ultimately his decision to leave "difficult" for him.
"He gave us the ability to get historic things in law that we've been trying to get for a generation," Ryan said. "That's not making things difficult, that's actually facilitating real reform."
Ryan said he has a much more effective relationship with Mr. Trump by having "personal dialogues" with him rather than talking about him in public.
"I always act in a way that I think is in the best interest for the country to move us forward and I've always found, especially with my relationship with the president, we have very good, very candid dialogue, and I find it's better to talk to the president instead of talk about the president on the TV and on media."
He added, "That may score points, that may make people happy but I don't see how that gets anything done."
Ryan is now looking ahead to the work yet to be done and the road ahead for the Republican party as he aims to retire from his role in Congress in January. Despite leaving the House, Ryan says he's not leaving politics altogether.
"I'm not going away from life, I'm going to keep being involved on inclusive, aspirational politics, I'm going to keep fighting for the things I believe in and that's among the things I want to do," said Ryan.
He added, "I'm not going anywhere any time soon. I'm running through the tape."
As for whether he feels like he's abandoning the majority? "I don't feel like I'm jumping ship -- we have a fantastic leadership team we can transition to easily they already know how to do that, more importantly, I don't think anyone's particular race is going to hinge on whether or not Paul Ryan is Speaker of the House or not."
Thanks for reading CBS NEWS.
Create your free account or log in
for more features.